On the tape, the Princeton boys come off as a caricature of what we would expect from Ivy League men. Suited up in matching black jackets, they look right out of a Mad Men episode. They introduce themselves with breezy self-assurance, with names like Jim, Steve, and Frank. They ooze self-confidence.
Their opponents? Four young ladies from a women's college in Decatur, Georgia, wearing brightly colored dresses and nervous smiles. The students from Agnes Scott have spent months preparing for their debut on College Bowl, telecast live from 30 Rockefeller Plaza on NBC.* The year is 1966. General Electric College Bowl is in its heyday, pitting teams of university students against each other in an intellectual gladiator match.
The host, veteran broadcaster Robert Earle, announces the competition's opening whistle, pronouncing his "wh" in the old Atlantic style of "hwh-istle." And one of the biggest upsets in quiz history is underway.
America's anti-intellectualism can be traced through the decline in popularity of the American quiz show. Most viewers think of Jeopardy! as the peak of quizzing aspirations. But Jeopardy!, while challenging, is still geared toward the viewer, feeding the audience accessible clues and manageable categories.
Take a look at Britain's University Challenge in comparison. The program, whose format is based on the midcentury GE College Bowl, is aggressively uncharismatic. The quiz itself is notoriously difficult, tasking contestants with identifying obscure Indian cities, deep-dive classical compositions, and even failed American vice presidential hopefuls. University Challenge is still wildly popular, anchoring a Sunday evening slot on BBC. While the college quiz bowl continues to exist in the U.S., American television stopped broadcasting the event in 1970.
It's been said over the years that trivia skews male. The assumption is not that women are less intelligent; the assumption is that for various reasons—structural discrimination, biology, increased pressure—women aren't as able to compete. But GE College Bowl knocked that assumption on its ass. Women's colleges won time and again on the decadelong program, handily beating elite institutions.
Barnard College beat Notre Dame and the University of Southern California in 1959 before going on a five-game winning streak in the 1967–68 season. Bryn Mawr had its own four-game tear in '67. Wellesley won four consecutive games in '70. And Mount Holyoke won twice in '66 before losing to Princeton.
And then, of course, there's the Agnes Scott game, now legendary among quiz fans for its high stakes, for the wide gap in expectations for the two teams, and for a killer last-second comeback.
For her part, Malinda Snow, the captain of the 1966 team, dismisses the idea that the tiny women's college was at any sort of disadvantage against the Ivy League boys of Princeton. "I never felt that we were a David and Goliath," said Snow. "I was assuming that Agnes Scott was an excellent college, which it was, and I was assuming that we were representing one of the best women's colleges and that we would do well and nobody was better than we were."
She was right.
College Bowl participants did not need to wait until the host finished the question to buzz in; as soon as they knew the answer, they were welcome to try for points. So Steve Chernicoff, Princeton University's captain, interrupted Earle's first question, "The year in which Napoleon made his last bid for power was also the year in which Andrew Jackson won a battle in a war—" and chimed in with the correct answer, "1815."
Thus began Princeton's opening tear. Princeton was moving along nicely, up 50–0, when Earle read, "What memorable five-word command is associated with the naval engagement in which the Shannon beat the Chesapeake?" Senior Karen Gearreald, an English major, buzzed in with Agnes Scott's first correct response of the game. "Don't give up the ship!" she said with a Southern lilt.
"We had very serious study sessions and took it very seriously," said Gearreald, who at age 73 still recalled the '66 Bowl game with startling clarity. "The Princeton boys didn't take us too seriously, but they also didn't take themselves too seriously."
According to Snow, engineers at Agnes Scott had fashioned a countertop simulation of the College Bowl studio, using doorbells as buzzers. Eight girls practiced against each other through the fall and winter of '65, under the direction of their coach, Eleanor Hutchens.*
Meanwhile, the Princeton boys' study sessions purportedly involved tossing around practice questions and beers at their professor's house. In 1966, Princeton was still an all-male institution. It would take another three years before the university opened its doors to women, following the surge of coeducational campuses in the late 1960s. They had never heard of Agnes Scott before. One of their friends had told them it was a riding academy.
At the end of the first half, the Agnes Scott girls led 100–60. Katherine Bell, a philosophy major, and Betty Butler, an English major, rounded out the other two spots on the team. But in the second half, the Princeton boys battled their way back into the front-runner position, answering a series of questions on military weapons, Silas Marner, and the Battle of Lepanto. With less than 20 seconds left in the game, the Princeton boys were up 215–190, poised to win.
With only 15 seconds on the clock, Earle threw out a 10-pointer.
"Who is said to have formulated the law of conservation of mass and energy?"
Butler rang in. "Einstein," she answered, putting Agnes Scott within striking distance. Princeton was still ahead but barely, at 215–200.
Ten seconds left.
Snow recalled looking at the scoreboard and doing the math sum in her head. Karen Gearreald could not.
Gearreald was Agnes Scott's first blind student. She was the only person in the studio who could neither see the scoreboard nor the clock. She had no cognizance of the pressure they were under.
"We had fallen behind, I had assumed we had lost," recalled Gearreald. "I didn't know they had a clock. If I had known, I wouldn't have been able to focus."
As the 10 seconds ticked down, Earle read the final question. "Bucephalus and Roan Barbary were steeds. For 20 points, what were Balmung and Durendal?"
Snow looked at her fellow teammates. Butler inhaled. Bell flinched.
Two seconds.
And then something incredible happened.
"I remember it so clearly, and the way I remember it is something almost surreal," said Gearreald. "At first, I remember saying to myself, 'We don't know the answer.' And then I remember as if the Lord had transported me back to my French class the previous semester." Gearreald says she had something akin to a transcendental experience. She could smell the grass outside the open window of her classroom, her professor lecturing on medieval literature.
"In this French literature class, I had to concentrate on every word so not to get lost," said Gearreald. "I thought about the question and it transported me back to that classroom, and I heard my professor say those words … the story of Roland, and Roland's sword is Durendal."
Gearrald's consciousness snapped back into the studio. "I wondered if we should say 'weapons' or 'swords,' " she recalled. "I'll just say it." All of this—being transported to her French literature classroom, thinking of what to say—transpired in milliseconds. With just one second left on the clock, Gearreald shouted, "Swords!"
Agnes Scott took the 20 points and, with it, the game.
Final tally: 220–215, Agnes Scott.
When the team touched down in Atlanta at 10 o'clock that Sunday night, most of their classmates had made their way to the airport to greet them. "Karen Gearreald," the crowd chanted, "she shall not be moved!"
Malinda Snow, the captain of the team, would go on to earn master's and doctoral degrees from Duke University before becoming an English professor at Georgia State.
Katherine Bell, who died in the 1980s, acquired a doctorate in botany and taught at the University of Nevada.
Betty Butler, who now goes by Betty Butler Ravenholt, became an internationally respected expert on reproductive and primary health, creating health-delivery plans in Eastern Europe after the fall of the Berlin Wall and in Cambodia after its civil war.
And Karen Gearreald? "College Bowl gave me a great deal of confidence that I could play on the same field as sighted people without any concessions," she said. There were a number of visual questions throughout the game, but "we didn't ask for any concessions." She would earn a Ph.D. at Harvard and a law degree at Duke and served as a Navy lawyer for 20 years before becoming a Braille music instructor and adviser to the Library of Congress.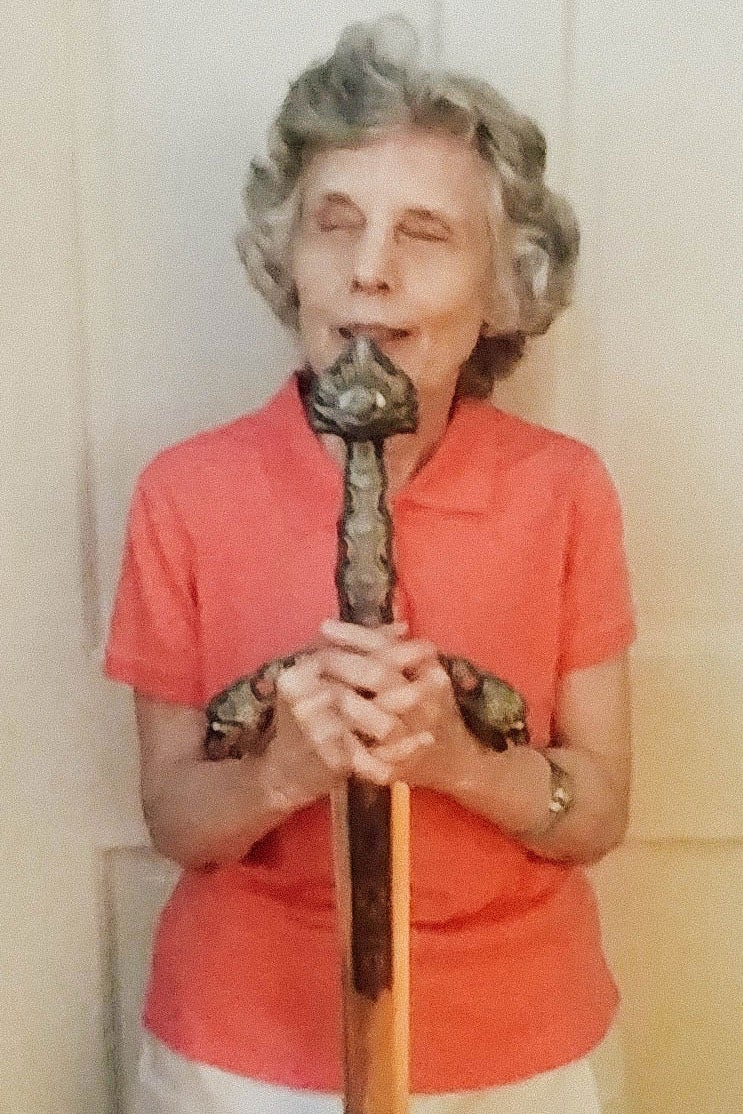 The 1960s GE College Bowl has been all but forgotten. The 1966 Agnes Scott game would have been lost to time if a librarian at the University of Arizona hadn't found an old tape and posted it online. Why didn't the tradition of the hypercompetitive intellectual continue on American television?
"There was so much social change, beginning around '68 or '69, in the innovations in dress and music and political thinking … and people got interested in other things," said Snow. "This must have seemed like a mild-mannered program in comparison." The women of Agnes Scott had manners, but they weren't mild. Their come-from-behind victory is stirring even today, a tribute to the nerd ladies, the brainy gladiators, the hypercompetitive intellectuals.
For Karen Gearreald, every March 6, the date of the taping, is a day of remembrance. "It was as if God had transported me to an eternal moment in time," said Gearreald of her winning answer in that final second. "It was something really special, even now. I didn't feel fabulous, just thankful."
Her sister got her a replica of Durendal. It hangs in her living room.
Correction, Aug. 7, 2018: This article originally misspelled Eleanor Hutchens' last name.
Correction, Aug. 9, 2018: This article also misstated that College Bowl was broadcast live from Radio City Music Hall. It was from 30 Rockefeller Plaza.