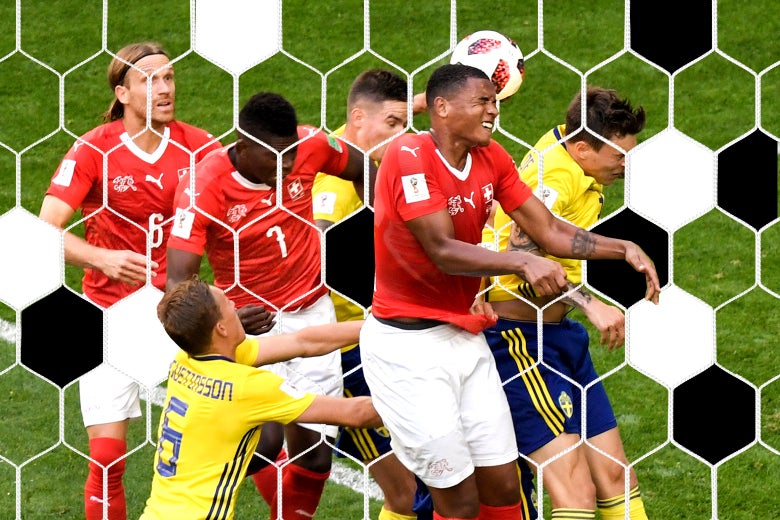 It's a testament to the quality of entertainment provided by the 2018 World Cup that there was even hope for Sweden-Switzerland.
Yes, on paper, it was the weakest of the Round of 16 fixtures, maybe even the weakest knockout matchup since Switzerland-Ukraine in 2006. But the first three days of win-or-go-home play had already seen heavyweight slugfests (France-Argentina) and shocking upsets (Spain-Russia) and thrilling last-minute comebacks (Belgium-Japan). Two scrappy, organized European underdogs who would be looking to take advantage of a favorable bracket, each of which had exciting moments in the group stages. Why couldn't this be a great game, too?
Any number of reasons, apparently. Both teams were scrappy and organized, but little advantage was taken and little was achieved. This was the first game of the knockout round where it looked like both teams were playing not to lose. Neither was willing to provide support to its attacking stars, and neither set of attackers was able to accomplish much on its own. It was a staggering, sloppy, Samuel Beckett play of a game, in which nothing happened, nearly twice. Ever tried. Ever failed. No matter. Try again. Fail again. Fail better.
There was lots of failure. On offense, the two teams resembled a pair of 18th-century armies lining up across from one another to exchange volleys of wildly inaccurate musket fire. The full gamut of ways to blow chances was on display, like a special exhibition at a museum that no one will want to visit.
Players passed when they should have shot and volleyed when they should have headed and skied shots they had time to get their bodies over and keep down. Free kicks were taken directly into the wall or softly into the arms of the waiting goalkeeper. Opportunities to shoot were spurned in favor of cutbacks.
When they did shoot, those attempts were mostly blocked en route to goal by each team's outfield players, throwing themselves in front like they were trying to take a bullet for their goalkeepers. The space that attackers attempted to buy for themselves to shoot proved too slight in nearly every instance. There were many, many appeals for handballs, though since most of the rest of the game consisted of things happening that the players hadn't intended, penalizing these consistently would have been tough for any referee.
It was one of these blocks that resulted in the game's only goal. Sweden's Emil Forsberg laid claim to a parcel of space on the edge of the box, but his shot looked to be going directly into the arms of a grateful Yann Sommer before Switzerland's Manuel Akanji stuck a foot out too late and glanced it into the top corner of the net, an own goal in all but name. (Forsberg will likely keep the credit since his shot was on target, denying Own Goal its 11th tally of the tournament.)
It was the type of goal this game deserved, and maybe, after 2½ weeks of thrilling soccer, the type of game this tournament was due for. (Sweden won, by the way. Congratulations, Sweden.)
---