Is there something unique about television made by women? Before watching HBO's crime series Sharp Objects, premiering Sunday, I thought I had a provisional kind of answer. It had to do with pleasure. The roster of contemporary TV shows made by and starring women includes comedies, dramas, dramedies, and traumadies. A partial list: Orange Is the New Black, The Unbreakable Kimmy Schmidt, Jane the Virgin, Jessica Jones, The Marvelous Mrs. Maisel, Killing Eve, Fleabag, Big Little Lies, Girlfriend's Guide to Divorce, Better Things, Crazy Ex-Girlfriend, GLOW, Transparent, I Love Dick, Divorce, The Good Fight, UnReal, Broad City, and Grey's Anatomy, not to mention the recently departed Girls, Scandal, The Mindy Project, and One Mississippi. It would be reductive to try to shoehorn all of them into any one description. So I'll just do it with most of them: These series seem to me to be uncommonly fun.
I'm not paraphrasing Cyndi Lauper lyrics here or suggesting that women are intrinsically more light-hearted than men. (Another distinctive characteristic of television by and about women is the prevalence of trauma.) But it's not absurd to ask which aesthetics connect the shows made by the vast category known as women in the way it would be absurd to ask what connects shows made by men. For decades, "shows made by men" described all of TV. But shows made by women have crept in from the margins to infiltrate the mainstream, and it's what the women who created and starred in those shows had to do to gain this foothold that suggests their shows' common denominator. Because women's stories have always been considered fundamentally less serious and less interesting than men's stories, in order to be told—really, in order to be sold—these shows often have to smuggle their ambitions inside more crowd-pleasing, playful forms.
As a lover of playfulness, I have always been thankful for this. TV made by women is sometimes mistaken for frivolous, but that's only by people who can't recognize its substance, its verve and ingenuity. Think of Scandal, an operatic melodrama about an American political system even more corrupt and destructive than our own. Or Killing Eve, which upends the standard gender roles of a crime show and re-invents the psychopathic contract killer with screwball comedy. Crazy Ex-Girlfriend is a lyrically brilliant musical about mental health. Jane the Virgin is a telenovela that, along with the soapiest of plot shenanigans, has taken on joy, loss, immigration, and breast-feeding. Jessica Jones looks at the after-effects of abuse in the context of a superhero show. And then there are the comedies, which have taken on sexual trauma, grief, art, identity, and the injustice of the criminal justice system.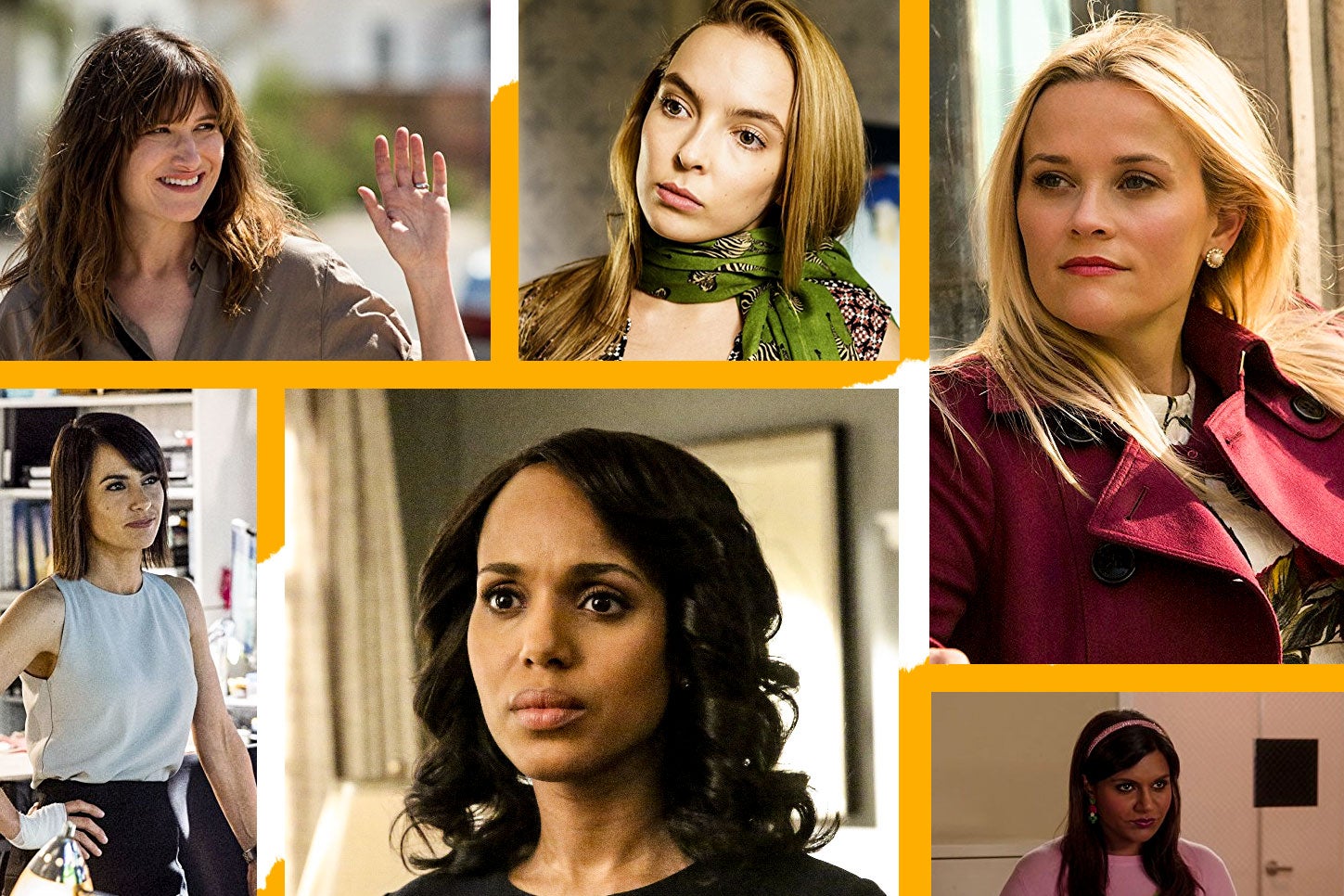 Women's television deals with weighty themes and is, increasingly, prestigious, but most of these shows do not quite belong to the genre known as prestige television, a genre closely associated with grim explorations of the emotional life of troubled, violent men. There are some shows by women that are as grueling as anything made by any men—the very good, very dark British series Happy Valley for one, and Veena Sud's less successful adaptation of The Killing, for another—but they are rare. More common are shows about troubled women created, and sold to networks, by men: Homeland, The Americans, Broadchurch, The Fall, even The Handmaid's Tale—exceptions that illustrate the rule. Shows made by and about women are not typically burdened by the clichés of prestige TV—the darkness, emotional and literal; the sad men; the body count—but they are also not often rewarded with the respect that comes from making it. Women's work, as with the work of a gay male creator like Ryan Murphy, is often considered less serious, when more often it's just not performing what I think of as "seriosity"—a seriousness so serious it edges into self-parody. It's that freedom from posturing that helps make these series so creative.
Sharp Objects, the summer's most anticipated show, upends this neat dichotomy. Based on the first novel by Gone Girl's Gillian Flynn, adapted by Flynn and showrunner Marti Noxon (Dietland), directed by Jean-Marc Vallée (Wild), and starring Amy Adams, it has a number of superficial connections to last year's female-centric, award-winning, truly delectable smash Big Little Lies—including director Vallée, a movie-star lead, and whodunit source material from a best-selling female author. But Flynn, speaking to the novelist and TV writer Megan Abbott, cautioned viewers that the connections end there. "Anyone who watches this hoping they're going to get Big Little Lies is going to be like, What the fuck have you sold me? Jesus Christ," Flynn said, before going on to compare it to another HBO prestige series—True Detective.
Sharp Objects is a disturbing and febrile Southern Gothic, following Adams' newspaper reporter Camille Preaker as she returns to her hometown of Wind Gap, Missouri, to investigate the gruesome murder of a teenage girl. Flynn is right: True Detective is a natural comparison. The shows share a lush creepiness, with disturbing details blooming in the fecund atmosphere, though Sharp Objects is without the ponderous philosophical musings. Yet, despite the shared mood, Sharp Objects is a rejoinder to the inherent misogyny in True Detective and other male-focused crime shows, in which the most important women are typically the dead ones. Sharp Objects is a horror story of matrilineal dysfunction, a feminist series that reminds us that women can do anything, and it represents a new benchmark for series by and about women—that they too, can make pure, grim prestige television.
This is an overdue development, spurred, perhaps, by recent events finally revealing to male executives just how dark the female experience has always been. It seems to me to be a necessary next step, advancing the parameters of "prestige" to include female creators—not just female characters—who are permitted to be as dark and serious as men, with the full and robust backing of a major network and its marketing department. But Sharp Objects also seems to me to be utterly burdened by the clichés of prestige TV—if very likely to reap all of that format's awards.
Camille grew up in Wind Gap, as the black-sheep daughter of the controlling, genteel Adora Crellin (Patricia Clarkson), the most powerful woman in town, an old money matriarch who runs the town's major employer, a pig slaughterhouse. Through the eerie, dreamy, quick-cut flashbacks typical of Vallée's work, we learn that Camille's beloved younger sister died as a child, just one of the severely traumatic events of Camille's youth. Camille, played with characteristic understatement by a completely convincing Adams, was something of a queen bee in high school, but as the show begins, Camille is drinking vodka out of water bottles at 9 a.m. She recently left a mental health facility and is in the middle of a fragile recovery from a lifetime spent as a self-harmer. Underneath the long-sleeved black T-shirts and jeans she wears as her uniform, Camille's skin is covered in scars, words she has carved into her own flesh.
Needless to say, Camille has reservations about returning to Wind Gap, but, pushed by her paternal editor, return she does. She even moves back into her childhood home, an enormous mansion with a wraparound porch, inhabited by an all-seeing maid, Camille's willfully passive stepfather, and her teenage half-sister Amma (Eliza Scanlen), Adora's young daughter. At home, Amma wears immaculate dresses and plays with dollhouses, but behind her mother's back, she is the most popular and scathing girl in school, roller-skating around town, drinking and doing drugs, effortlessly living a disquieting double life.
Soon after Camille returns, another body appears, and she is quickly entangled with an outsider cop Richard (Chris Messina, who could not possibly be, as the show proposes, from Kansas City), trying to figure out who could have committed these crimes. The father of one of the victims? The brother of the other? An outsider? As Gone Girl demonstrated, Flynn has an extremely fine understanding of audience expectations and the way these expectations can be used to mask surprise. Sharp Objects plays on basic assumptions about violent crimes, expectations held not only by law enforcement and members of the town, but also by us in the audience, and it uses those assumptions to wallop us with that which is hiding in plain sight. (Should you feel so inclined, the plot is available on Wikipedia, but be warned, it's disturbing even in synopsis.)
In thinking about Sharp Objects, it occurred to me that perhaps another provisional way to describe shows made by and about women is that, generally speaking, they are not overly concerned with a male audience. This, of course, is one of the reasons they are often not considered prestigious: because they are not for men. Men watch many of these shows, and more probably should—they are very good!—but you don't get the sense that Jane the Virgin cares much if closed-minded guys aren't willing to give it a try because it's too soapy. (And as with the idea of women's television being particularly fun, in a more equitable society, this distinction would dissipate.) Sharp Objects, the novel, was, like these TV shows, aimed at women. Flynn's debut is one of many genuinely disquieting crime novels written by and for a female audience, books that, as Flynn's fellow crime novelist Abbott recently wrote, serve "as the place women can go to read about the dark, messy stuff of their lives that they're not supposed to talk about—domestic abuse, serial predation, sexual assault, troubled family lives, conflicted feelings about motherhood, the weight of trauma, partner violence, and the myriad ways the justice system can fail, and silence, women."
But what counts as prestigious is a moving target in different media, traveling with elite male taste. Crime novels may not be considered literary fiction, but TV's most admired shows have often been heightened genre fare about male criminals. And that means that on TV, ambitious crime shows and the conventions around them are aimed at a primarily male audience, the default universal. Needless to say, women are much more practiced at watching these sorts of shows, ones "for men," than men are at watching ones "for women." Sharp Objects, the TV show, takes on all the "messy stuff" of women's lives Abbott mentions and will surely have a significant, likely primarily, female viewership. But when Flynn says that Sharp Objects is more like True Detective than Big Little Lies, she's not only telling us something about the texture of the show, about how it feels to watch it, about the dark, disturbing horrors in store. She's also telling us, whether she means to or not, that Sharp Objects is not just for women, that it's not that kind of show.
But that's the best kind! Give me a show that shares its themes lightly over one that intones them, one that trusts its audience to see what is there rather than mash their faces into it. This is, to a certain extent, a matter of taste, but it is also a matter of seriosity, of which there can never be too little. I can imagine—because I almost wrote it—a review celebrating Sharp Objects as a send-up and reversal of male-focused crime stories, one that re-imagines such a story from a feminist perspective sharp enough to draw blood. TV by and about women, like TV by and about men, should be under no obligation to be entertaining, or gentle, or easy to watch! But that would belie my actual experience of watching Sharp Objects, when I wished, as the female bodies piled up, not only that it would be more like Big Little Lies—what can I say?—but that it might even be more like True Detective, which before all the mumbo-jumbo, at least included some jokes. As the characters in Sharp Objects know better than anyone, women can, given the opportunity and budget, do anything a man can. This includes, it turns out, making beautiful, well-acted, cleverly plotted, exactingly glum prestige television.