Three years ago, the New York Times published a survey of exploitation thriving in plain sight. A two-part investigation into the city's nail-salon industry—the first focusing on pervasive wage theft, the second on deleterious health risks for manicurists—painted a portrait of individual misery and systematic subjugation. The exposés were so widely read and discussed that they reshaped our understanding of nail technicians, specifically Asian-immigrant technicians: as psychologically besieged, probably underpaid, possibly undocumented, and plausibly facing ethnic discrimination (in the case, for example, of Chinese or Vietnamese workers under prejudiced Korean owners).
Nails, it turns out, are a locus of multiple cultural anxieties. Manicures are one of the most visible instances of the feminist self-care movement as well as one of the most obvious embodiments of that movement's contradictions. The frequently ignored plight of nail workers also underscores how limited the larger cultural imagination is about Asian Americans as a group, who are often depicted as educated professionals. (The Huangs of Fresh Off the Boat are middle-class strivers, for example, while the upcoming Crazy Rich Asians—Hollywood's first major film about contemporary Asian Americans in 25 years—highlights eye-popping wealth on the other side of the Pacific.)
Since the Times' pieces were published, pop culture has begun to explore those anxieties. In the past three years, at least four TV series and short films have responded either directly or indirectly to their revelations: Netflix's Unbreakable Kimmy Schmidt, TNT's Claws, and the shorts Joy Joy Nails (2017) and Agua Viva (2018). But while the TV series have made the struggles of manicurists more visible, only the short films have successfully empathized with their experiences.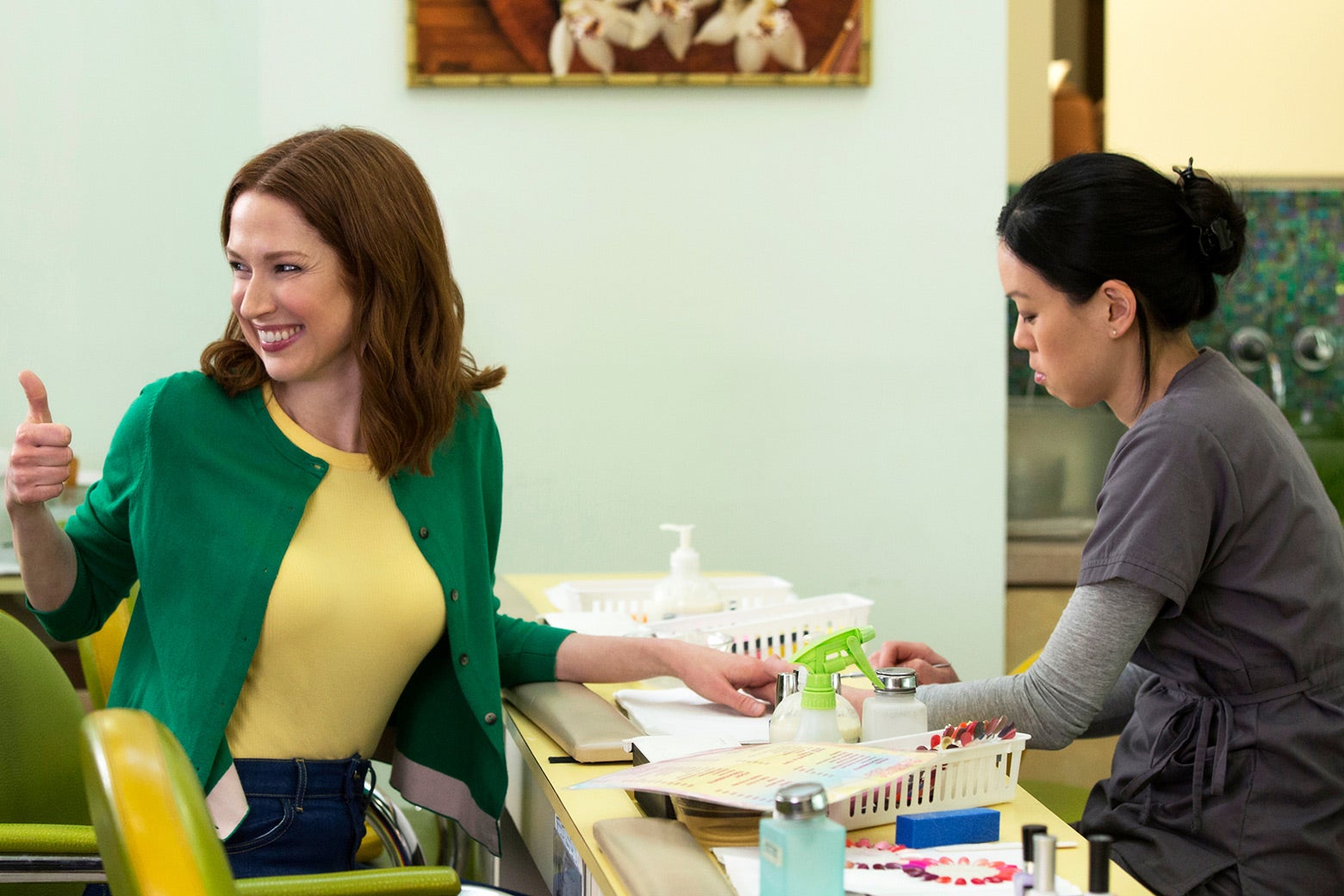 White guilt, and the attempted exorcism thereof, is the subject of "Kimmy Has a Weekend!," the second episode of the most recent season of Netflix's Unbreakable Kimmy Schmidt, in which the protagonist attempts to use her white privilege to make the working conditions slightly better at a Korean-American nail salon. From the drab, gray uniforms, iron-fisted male manager, and one customer's usage of a technician's downturned head as a stand for her salad, Kimmy concludes that the establishment has a "bunker vibe." "I'm gonna treat these women like they're human beings," she says. "Learn names, talk to them, maybe even pick up a little Korean while I'm at it. Because all lives matter." (Kimmy is meant to be a naif but not a buffoon. Her black roommate, Titus, reluctantly approves her last statement given the context.)
Co-created by Tina Fey, Kimmy is in part, like Fey's masterwork 30 Rock, a minor variation of a TV trope: that of the single woman discovering herself in the city. "Kimmy Has a Weekend!" lightly pokes fun at this trope with a 30 Rock callback: a fictional show within the show called Gals on the Town, a Sex and the City knockoff about female friends who enjoy jobs, shoes, and brunch. "One of them has to be Asian," goes its theme song, despite that patently not being the case. But the line, as well as the salon's "bunker vibe," does suggest the possibility of seeing Ji-Yeon, the nail worker whose work life Kimmy tries to improve slightly, as a fellow urban aspirant. (In Season 1, Kimmy's Vietnamese-immigrant love interest, Dong, was also seen in this light, even as the series, well, gave him that name.) Alternatively, the episode could have made a larger point about the limits of that trope—that the kinds of characters celebrated for starting over in the big city after escaping one's home, and those who can find success doing so, tend to be unhampered by limitations of race, class, and citizenship status.
Instead, the episode begins and ends by viewing Ji-Yeon as a source of white guilt, thus keeping her at arm's length. Ji-Yeon is introduced to Kimmy as Kelly, then learns that all the women at the salon are forced to pick a nametag out of a basket each morning, consistency be damned. Kimmy decides to use her newly discovered white privilege to change the salon's policy so that all the manicurists go by their real names—a dubious gain that, in real life, might actually have negative consequences for undocumented nail technicians. (Ji-Yeon herself is revealed to have been smuggled into the U.S. in the trunk of a car.) When her overtures of white saviordom are rejected by Ji-Yeon, Kimmy lashes out. "I know it's not a tragedy contest," she tells Ji-Yeon, "but if it were, I would fudging win." Incredibly, that storyline ends there, with Kimmy impotent and indignant. Whatever parallels to Kimmy that Ji-Yeon might have had—particularly the suggestion that Ji-Yeon might have her own new-in-the-city story worth telling—are discarded in lieu of a confusing message about white privilege and its limits.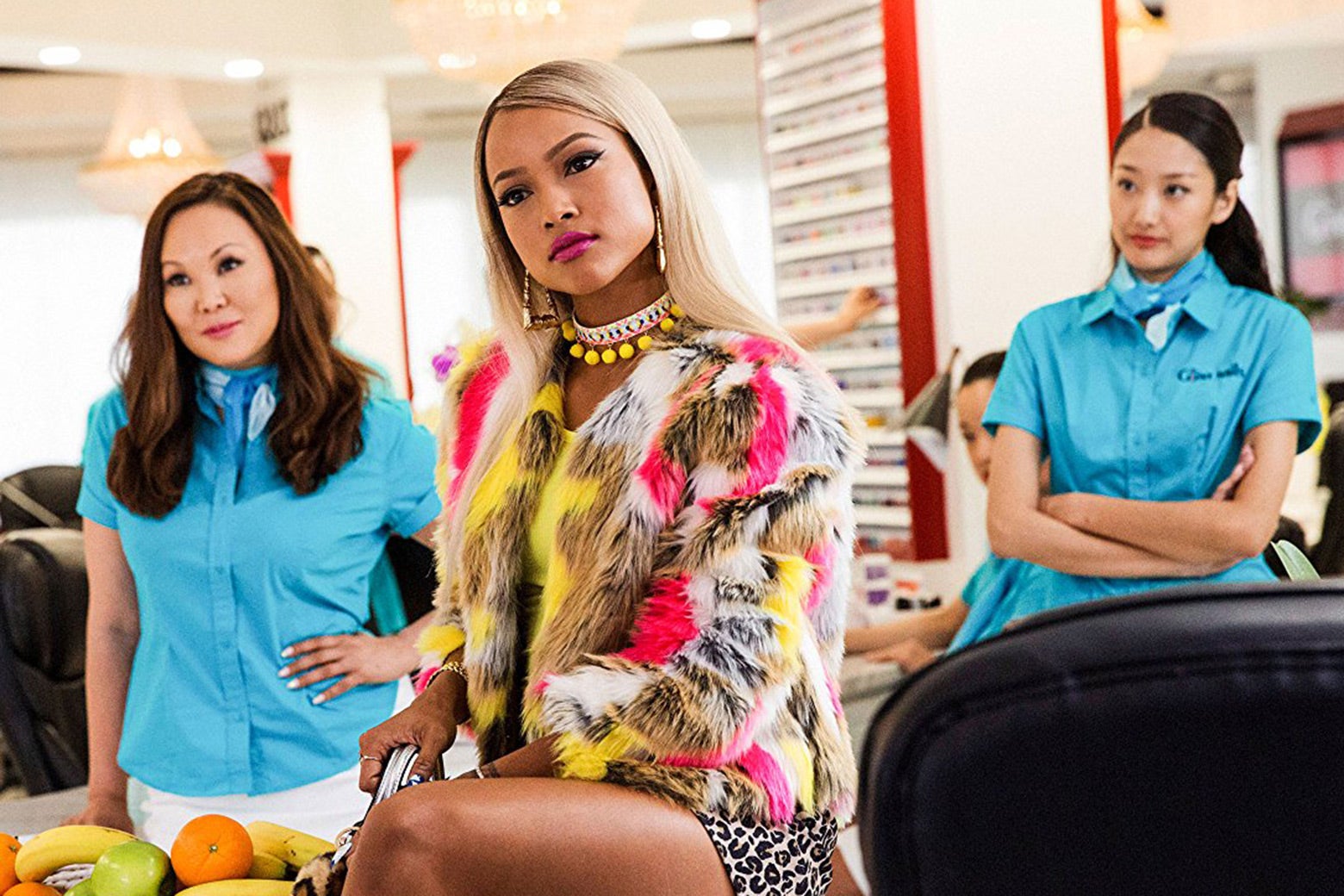 TNT's Claws, about a group of nail technicians who get mixed up in organized crime, takes an even less sympathetic view toward Asian manicurists, even as it offers a complex and loving view of nail art. The salon provides for black protagonist Desna Simms and her developmentally disabled brother, nurtures the misfit women who are Desna's friends and employees, and lets the women who come through forget their troubles for a half-hour. But in the show's universe, the Palmetto, Florida, shop is also an economic dead end. If Desna is to move up in the world, a nail salon is all right as a business but perfect as a mob front.
All of which makes for good drama—the role of manicures in the lives of black women and black entrepreneurs could be the subject of its own article—but none of this nuance is available to Desna's Korean rivals. In fact, it's difficult to think of another show with such naked and persistent bias against Asian Americans. A younger, half-black, half-Vietnamese employee, Virginia, eventually joins Desna's crew. But before that, she gets called by Desna and her ride-or-die pals any number of racialized epithets, including but not limited to "China doll," "Saigon," "Shanghai," "Gang Bang Wang," and "Love Me Long Time Cum Face." At least Virginia gains dimensions while countering model-minority clichés. The other Asian manicurists, dubbed the "Korean Barbies," simply exist to embody stereotypes.
In the first season of Claws (the series is currently airing its second), Desna was constantly thwarted in her ambitions to open up a more upscale salon in a better part of town. A Korean salon owner, Mrs. Kim, initially refuses to sell her business to Desna because of the latter's race. ("That is the problem with Koreans," Desna tuts ironically. "They all stereotype.") Claws isn't wholly unaware of Desna and her friends' anti-Asian racism, but the show clearly indulges it in some scenes while also engaging in its own. The Korean Barbies emerge as undeserving foils to Desna's warm, diverse, creative crew. As soon as Desna and her friends come through the door, the Asian women badmouth them in Korean, "confirming" the xenophobic fear that foreign-born service workers are forever speaking ill of their customers (as if they have nothing better to do or think about). The Korean Barbies are styled to resemble one another, and while they excel in nail work, they ultimately lack that je ne sais quoi to beat Desna and her team in a nail-art competition, suggesting that they're lacking in creativity in some crucial way. Perhaps most notably, Claws reduces the immigrant's American dream story—that cherished goal for millions—to just another banality. "My parents immigrated to this country with nothing. And now I own my own business," says Mrs. Kim just before losing. No swelling music underscores the emotion in those words. Once again, Asian nail workers are used to aggrandize a protagonist at their expense.
Thankfully, at least two short films have dedicated themselves to exploring the experiences of Asian manicurists from their own perspectives. The winner of South by Southwest's 2018 award for best animated short, Agua Viva, from writer-director Alexa Lim Haas, depicts with earthy, pastel-hued images the self-alienation that marks a Chinese salon worker's existence in Miami. As the manicurist helps care for strangers' bodies—"how many hours of the day do I try to make somebody happy?" she wonders—she finds herself approaching her own body as a stranger and trapped inside a new language in which she can barely express herself. She compares herself to a jellyfish (the short is named after the Portuguese word for the invertebrate creature), floating alone in a world where "there is no happy or sad." In just five minutes, we get a detailed portrait of the loneliness that comes from having to touch people all day while connecting to no one.
Update, Aug. 10: You can watch the full short here.
The most fully developed depiction of nail workers, however, lies in writer-director Joey Ally's superb Joy Joy Nails. Joy Joy derives its emotional weight from illustrating in just 18 minutes how many different types of hierarchies there can be under just one roof: managers over workers, owners (and their families) over everyone else, men over women, Koreans over Chinese, those who can express themselves in a common language over those who cannot. The plot itself is fairly simple. Newly promoted manager Sarah feels she has no reason to treat the latest hire, Mia, with respect, particularly given the latter's Chineseness in the Korean-run salon. But when the owner's caddish son, whom Sarah one-sidedly believes herself to be dating, lures Mia into a private room, the manager lets out her anger on the other woman until it becomes clear that Mia has already suffered enough.
Joy Joy obliquely alludes to the economic realities, health risks, and other hardships in the nail industry: multiple workers crammed into crowded apartments, those coughs that won't go away, workers' vulnerability to physical and sexual assaults. But the facets of the short that most stand out are the ones that represent the workers beyond the "sweatshop situation," as Ally describes the nail salons. The women come alive through the rude words they have for the departing manager, their varying opinions on waxing men, the cloying sweetness with which the Asian workers treat the white customers, the loud necklace a younger employee has to put away when work commences. That simple gesture recalls all the other ways that these workers are made invisible while visibly subservient. Here, at least, they're finally seen for who they are.