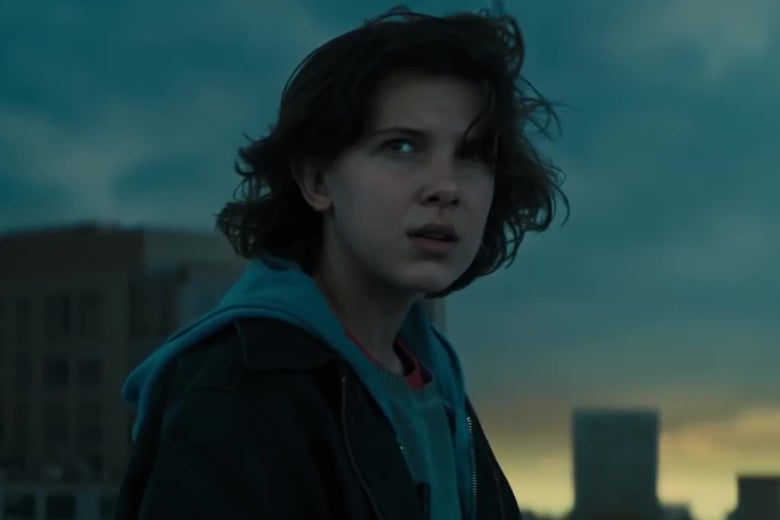 Universal released a new trailer for Godzilla: King of the Monsters at San Diego Comic-Con on Saturday, and also a gunman barricaded himself inside a Los Angeles Trader Joe's near my house, giving science fiction fans and culture bloggers a sneak peek at one of 2019's most anticipated movies, to the extent they could make anything out over the deafening roar of police helicopters.* RUN to a safe distance from the shooter or shooters, HIDE if escape is not possible, and WATCH this exciting new footage from director Michael Dougherty's entry in the long-running film series:
"The mass extinction we feared has already begun, and we are the cause," says Vera Farmiga in the voiceover, although her voice is a little hard to make out over the all-too-diegetic sound of sirens down the street. Eagle-eyed viewers will catch glimpses of Rodan, Mothra, and even Ghidorah the three-headed monster, plus is that your go-to kabob shop in the background of the local news' interviews with witnesses? Charles Dance gets some delicious, barely audible Game-of-Thrones-ey quips, but newly-minted LAPD chief Michel Moore is less well-served: his first major press conference in the wake of a shooting should be a big character moment, but his dialogue was nothing we haven't heard over and over again.
Still, the trailer's opening shots of Millie Bobbie Brown do a good job of building dread—almost as much as the realization that the Trader Joe's hostage situation began when the gunman crashed into the sign for Monon Street, which you and your wife sometimes refer to as "Moron Street," usually while making plans to park a car there while traveling, because it doesn't have street cleaning. There was one fatality at the Trader Joe's where you bought those frozen apple dessert things two days ago, at least one person on the "Yellow" triage tarp first responders put down in the parking lot where the Radio Shack used to be, and countless fictional deaths in the brand new Comic-Con trailer for Godzilla: King of the Monsters. It's so immersive, you'll think you're living in a horror movie.
*Update, July 21: Updated to make it clearer this was an attempt to describe my experience working during an active shooter situation in my neighborhood, not to make light of the horror of gun violence.
Support our journalism
Help us continue covering the news and issues important to you—and get ad-free podcasts and bonus segments, members-only content, and other great benefits.
Join Slate Plus
Join
---