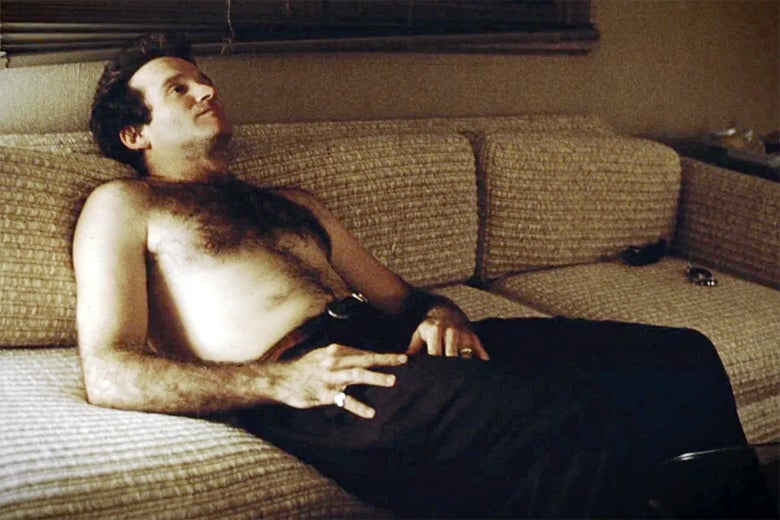 Documentary filmmaking is about editing reality. Once all the footage that can be used is gathered, documentarians cut a detail here, emphasize a conflict there, and repeat a theme at various junctures to create a sense of continuity between events. This process of pruning and sculpting is most obvious when the subject is well known: You can feel the absence of things left out or glossed over, a tingle that lets you know you're being manipulated—and not especially well. The new HBO documentary Robin Williams: Come Into My Mind should give viewers a lot of these tingles.
Directed by Marina Zenovich, who previously helmed HBO's Roman Polanski: Wanted and Desired, Come Into My Mind opens with an appearance by Williams on Inside the Actors Studio. Host James Lipton asks the question many of us would have liked to have asked Williams: "Are you thinking faster than the rest of us?" Williams is clearly embarrassed. Who wouldn't be when being feted by the unctuous Lipton? Instead of answering, Williams performs a frenzy of impressions—a frequently incomprehensible torrent of stereotypes and accents that suggests, in its unintelligibility, that the mere fact of a white comic doing stereotypes and accents is freaking hilarious. The virtuosic motormouth act speeds up even more, and the crowd loses its mind. Williams would rather entertain people than have them understand him, the clip implies. And so we have the film's forehead-slappingly obvious thesis: that Williams was driven by a near-pathological desire for laughter and applause. "He needed that extra little hug you can only get from strangers," says friend Billy Crystal, touchingly but unnecessarily.
Come Into My Mind mostly revolves around that desperation. The tight focus on Williams' misery and workaholism certainly lends itself to an HBO specialty: sympathetic documentaries about prominent figures that cast their subjects in a glowing light, but not so overtly that the films be accused of hagiography. Williams' suicide in 2014, and the diagnosis of Parkinson's disease he received not long before, also ensure kid-glove treatment. Perhaps that's why there's no mention of Mork and Mindy co-star Pam Dawber's accusation that he regularly groped her on the set of their show. "I had the grossest things done to me by him," Dawber told Williams biographer Dave Itzkoff. Though she claims she "never took offense," the actress noted of Williams' actions, "If you put it on paper, you would be appalled." Dawber appears extensively throughout Come Into My Mind. The over-reliance on Dawber and Williams' (astoundingly forgiving) first wife, Valerie Velardi, for insight makes more glaring the lack of participation by Williams' second and third spouses, two of his three children, and most recent best man Bobcat Goldthwait, who we see with Williams in an earlier interview promoting their film collaboration, World's Greatest Dad. Did some of Williams' eagerness to please rub off on Zenovich? I don't know how else to explain the inclusion of a clip of Goldthwait and Williams discussing the apparently impressive size of the latter's penis.
To her credit, Zenovich ably provides an overview of Williams' life, from his childhood in stuffy Midwestern prep schools and his arrival in a totally groovy San Francisco at age 16 to his overnight TV stardom on Mork and Mindy, his career resurgence in the late 1980s, and his dramatic roles in later decades. Williams narrates much of the doc via voiceover—from which recordings, we never learn—while a series of photographs appear on-screen. An excerpt from the 2003 Critics' Choice Awards, when Williams lost to a tie between Jack Nicholson and Daniel Day-Lewis in a three-man race and gracefully agreed to give Nicholson's acceptance speech on his behalf (and in his voice), showcases the actor's quick wit. But the film's underdog narrative feels false because it omits Williams' Oscar win for Good Will Hunting and his three other nominations. Come Into My Mind also offers frustratingly little understanding of how Williams thought of his (much esteemed, much mocked) filmography, which spanned the family-friendly fare for which he was arguably best known to darker movies like One Hour Photo that seemed to better suit his personal sensibilities.
Likewise, Come Into My Mind has little to say about Williams' stand-up persona. The actor's verbal velocity is rightly famous, but his jokes—the ones we see in the doc, anyway—are hacky, hammy, and frequently retrograde. Speaking of the heart surgery he received in his 50s, for example, Williams observes that he felt "so emotional" that it felt like "instead of a valve, they gave me a tiny vagina." Much of the comedy we see elsewhere in the film involves little more than adding profanity or sexual elements to an otherwise wholesome character or scenario, as when he imagines a horny Elmer Fudd on a date.
We also see Williams speak honestly about his struggles with alcoholism, as well as guilt about sex (a possible allusion to his constant womanizing). But instead of focusing on the comedian's complexities, Come Into My Mind focuses on his heartbreak. Perhaps Zenovich wanted to offer closure to fans still shocked by Williams' final choice. But any artist is far more than their struggles. A proper remembrance would have understood that.
---