The 2018 World Cup was the wildest sporting tournament in recent memory, and its final was fittingly off the rails. France's 4–2 victory over Croatia had own goals, VAR, screamers, punk rock political demonstrations, and one very pumped-up Emmanuel Macron. As we say goodbye to a rapturous month of soccer, let's take a second to relish Sunday's craziest moments.
Pussy Riot pitch invasion. A group of people dressed in what appeared to be military garb sprinted onto the field during a Croatia attack in the 53rd minute, and news soon filtered out that the demonstration was the work of Russian punk rock group Pussy Riot.
Security (and Croatian defender Dejan Lovren) apprehended the pitch invaders, but not before photographers snapped some pretty great pictures.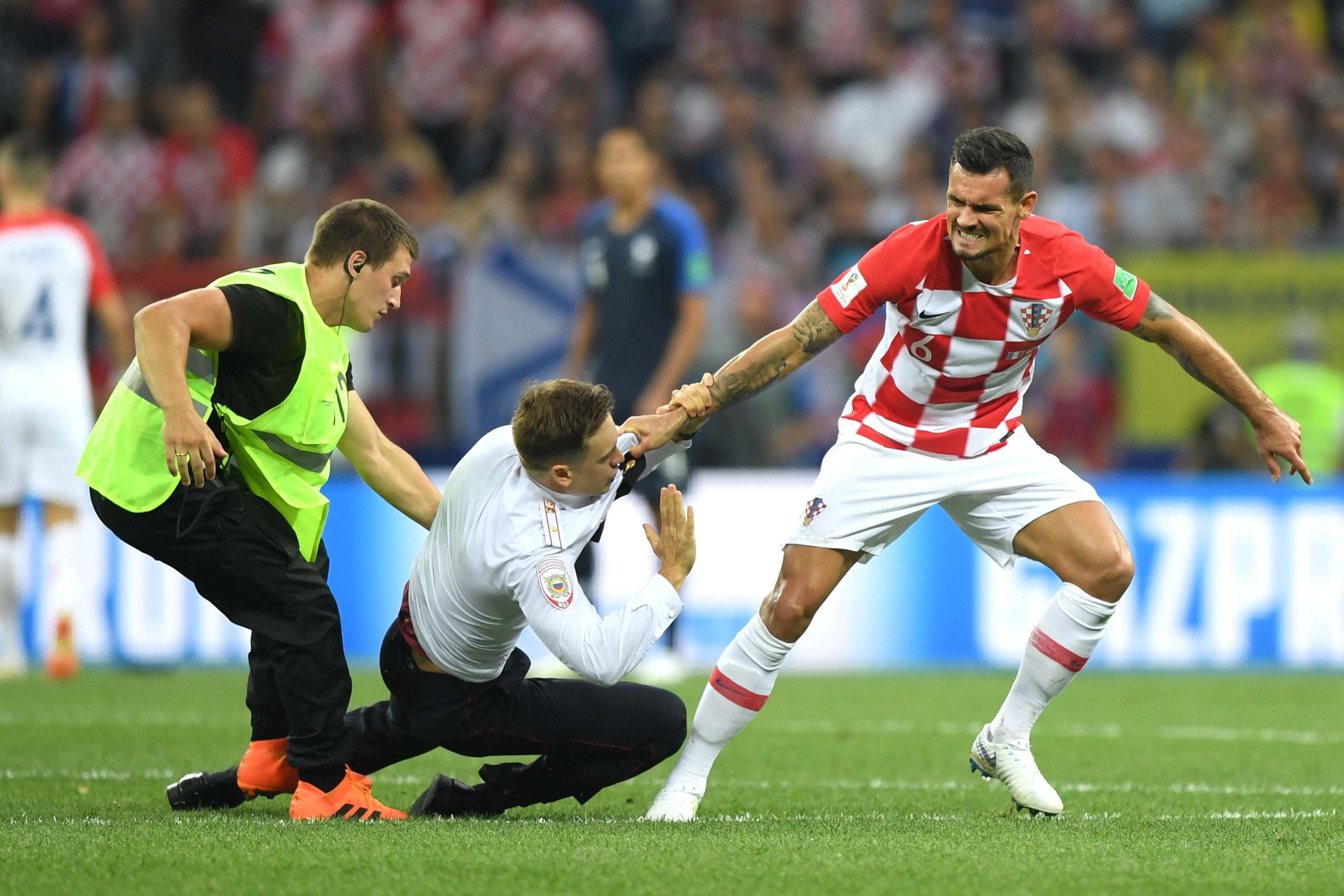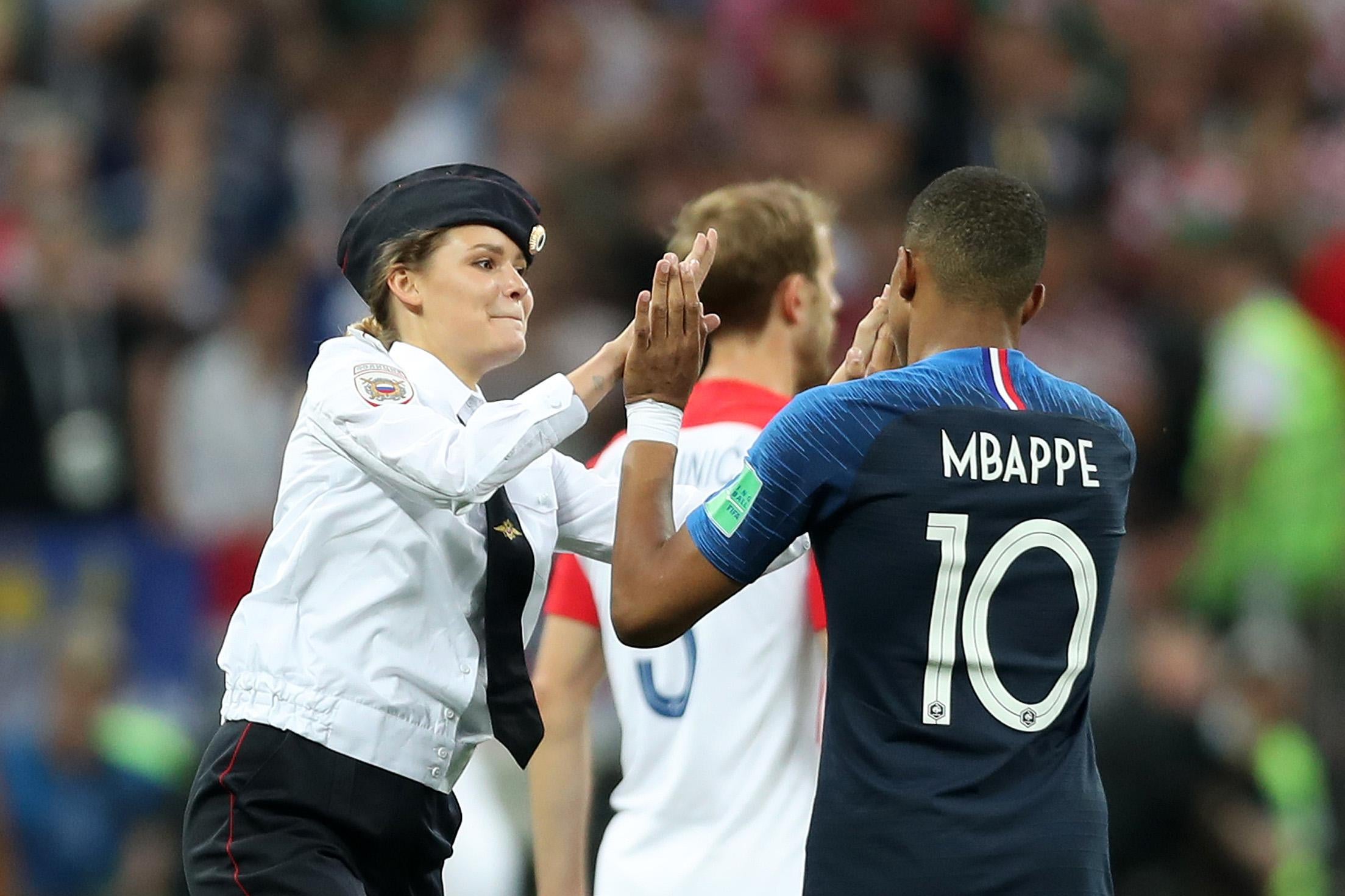 Hugo Lloris' blunder. The French goalkeeper had been enjoying a blemish-free tournament … until the 69th minute of the final. With his team comfortably up 4–1, Lloris tried to dribble around Mario Mandzukic, and the Croatian forward simply stuck out his boot and scored.
The goal gave Croatia life. It also made Lloris the neutral fans' man of the match, as he turned a blowout final into a rather compelling affair.
Marcelo Brozovic's backheel nutmeg of Paul Pogba. FIFA rules state the referee should have called the match and handed the trophy to Croatia right then and there. Huge error from the official.
Good luck to Pogba on tracking down the man who used his legs like a croquet wicket.
France's dubious first goal. Croatia's streak of playing extra time in all three of its knockout-round games meant its players had played 90 more minutes than France's. The Croatians don't really do exhaustion, however, and they pinned Les Bleus back early in the match with some high pressing and slick passing combinations. This dominance went unrewarded, and France struck first thanks to an effective combination of its own: theatrics and luck .
The ref awarded Antoine Griezmann's 17th-minute dive with a free kick, and the midfielder's ensuing delivery skidded off the head of Mandzukic and into the Croatian goal.
Liberté, égalité, fraternité, whoopsié.
It was a cheap way to take a lead, but France managed to restore its honor by scoring a few goals that were actually good.
VAR! In a World Cup Final! Video assistant refereeing has been a star at this tournament, and there was no way it would let the humans get all the glory in the final. When VAR spotted a 37th minute Ivan Perisic handball, the on-field ref took a stroll to the reply kiosk and awarded France a penalty.
It's easy to marvel at France's youth, but World Cup VAR is a full 18 years younger than teenage wunderkind Kylian Mbappé. The future is bright, pending video review.
Paul Pogba's fizzing through-ball to set up … himself, eventually. Pogba had a quietly effective (or effectively quiet?) World Cup, but he took a starring role in the final. The midfielder's strike to give France a 3–1 lead in the 59th minute was a laser, but his pass to Mbappé that started the move was even more impressive.
Being talented looks pretty fun!
Russia's umbrella shortage. Vladimir Putin has consolidated and redirected business interests and wealth to his allies, but he got to keep all the umbrellas for himself.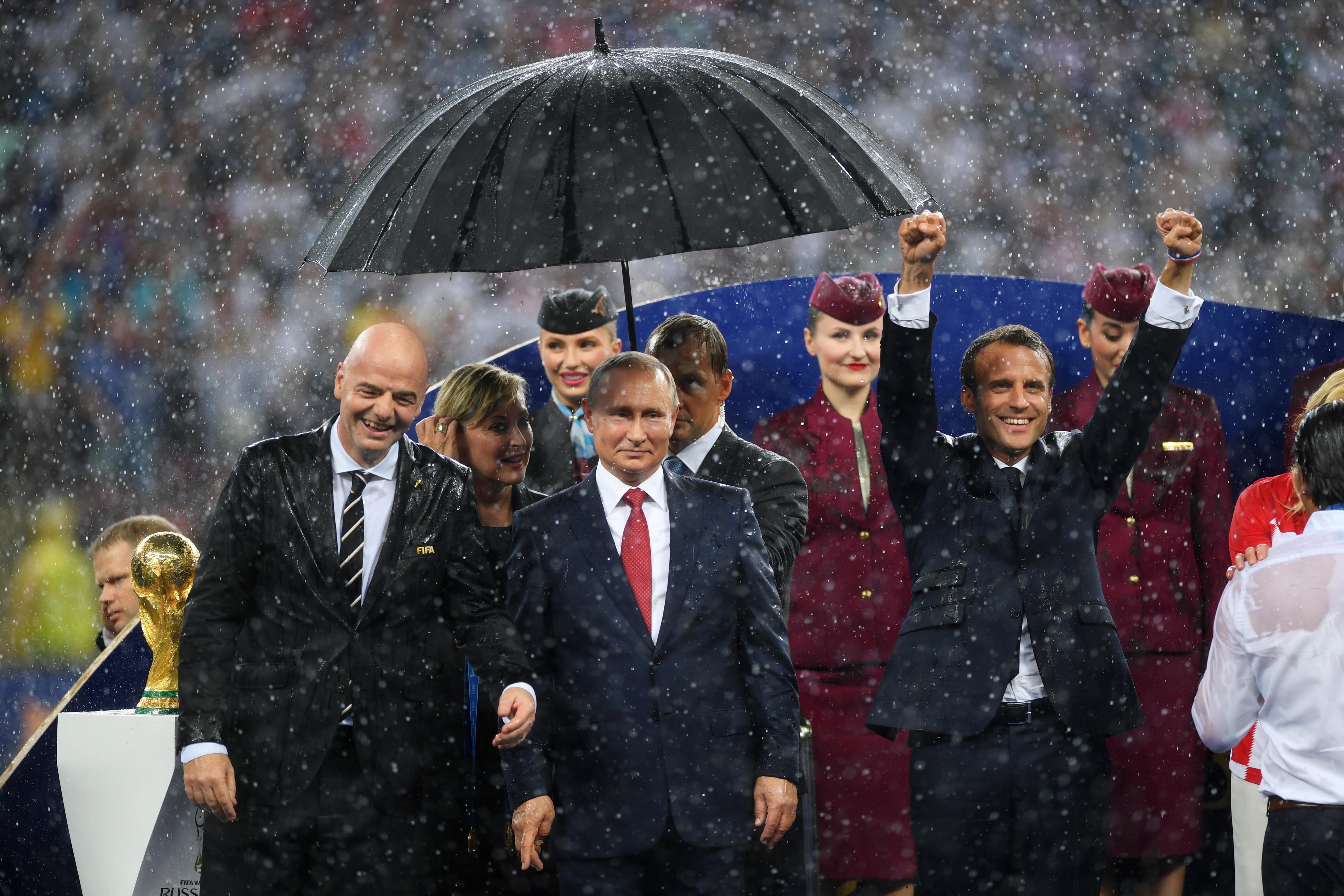 It didn't go to extra time. For the first time since 2002, the World Cup final was decided in regulation. For the first time since June, Croatia played a match that didn't go into extra time. For the first time in a month, we don't get to watch any more soccer.
This tournament gave fans seemingly everything, but we could've really used 30 more minutes to stave off withdrawal. Until 2022!