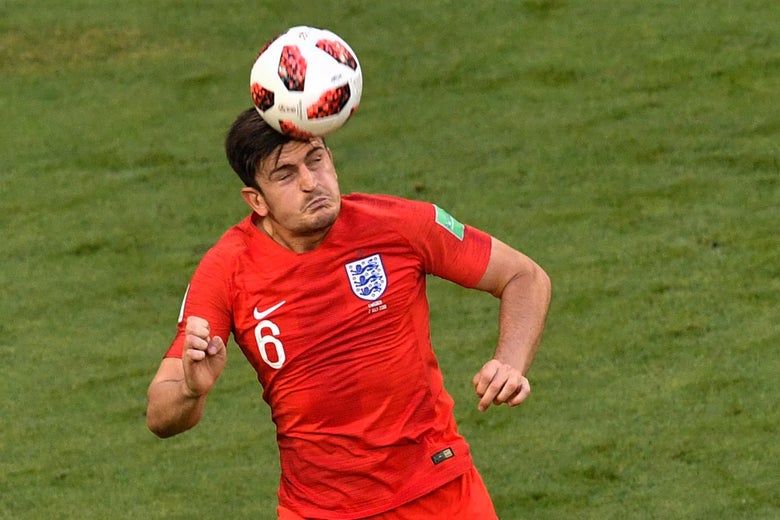 Perhaps it would have been easier on everyone in England's 2–0 win against Sweden in the World Cup quarterfinals if we had cancelled open play.
England entered the game having scored seven of its nine World Cup goals via set pieces or the penalty spot. Sweden has had one of Europe's tallest rosters for years. Based on early returns, we might as well have skipped all the running-around portions. Let the two teams play set-piece H.O.R.S.E. instead: Off the crossbar, off the back of Jordan Henderson's head, off Harry Kane's knee, nothing but net. So maybe it was inevitable that England would break the dreary deadlock on a corner kick, calling Harry Maguire, bottom left side. Eight out of 10.
England's set piece aptitude has papered over its flaws in this tournament. When the ball is moving, England provides more of the illusion of offense than the actual thing, like a man sticking his finger in his coat pocket and pretending it's a gun. Its unique formation allows Raheem Sterling, Jesse Lingard, and Dele Alli, scorers of 50 goals among them in all competitions this season, to throw defenses into disarray by combining in ways that aren't often seen in international soccer. They look consistently dangerous, and consistently draw fouls that lead to set piece opportunities, but they've scored just twice in this tournament among the three of them, including England's second goal Saturday, scored by Alli on a cross that was actually hit while the ball was live. Eight out of 11 now. Still high.
It's as if the defenses aren't the only ones confounded by those runs. England has one of the deadliest strikers in the world in Kane, but his teammates have been unable to generate chances for him in either of their knockout-round games. He might win the Golden Boot by scoring more on penalties than open play goals.
England was comfortably the better team today, but it's a sterile dominance. It controls games the way Nurse Ratched controlled her ward, all passive-aggressiveness and occasional steely looks. "The best thing we can do is go on with our daily routine," it has told Sweden, Tunisia, and Panama.
Colombia injected a bit of chaos, baiting the English players and the referee, breaking up the game with chippy fouls, throwing off the routine by scoring the late equalizer, and dragging them to a penalty shootout. But it has yet to be confronted by a true McMurphy (Belgium's B-team in a mostly dead rubber doesn't count)—by a rival that can take the fight to England for sustained periods of time.
England is well set up to nullify offenses that attack only sporadically. What would it look like if you could force Lingard and Alli further back, overload one of the sides of its defense, and make the players start scrambling? Ashley Young and Harry Maguire haven't been tested by a Kylian Mbappé; Jordan Henderson hasn't had to make the split-second decision of whether to track Luka Modrić or Ivan Rakitić.
The best examples for how it might do in a situation like this are a trio of drawn home friendlies within the last year, 0–0 against both Germany and Brazil and 1–1 with Italy. These are good results, but friendlies extrapolate poorly to actual competition, and none of those opponents remains in this tournament anyway.
Being dangerous on corners and free kicks isn't the worst strategy for winning a major international tournament––it worked for Greece in the 2004 European Championships. But England has to be ready for an opponent that doesn't treat the moments when it has the ball as a break from the action, must become a team who's good not just at H.O.R.S.E. but at the real sport too.
---