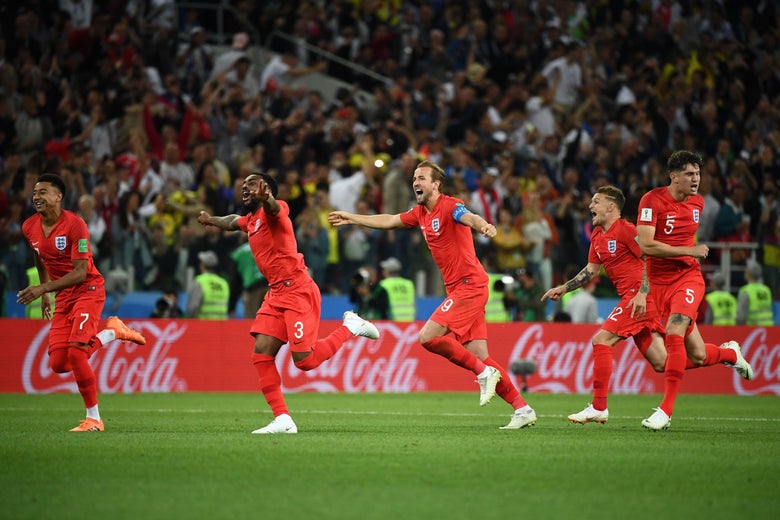 Soccer is not a sport. It is a Rube Goldberg machine invented by the English to steadily dispense national heartbreak over time via penalty shootouts. The device was humming along nicely on Tuesday during the World Cup Round of 16 match between England and Colombia, and the teams finished regulation and extra time tied at 1–1. And then it was time for penalties, which of course meant that England … won?
Can that be right? Are we talking about the same England here? You know the one. Little island, bad weather, always loses in penalty shootouts? That very nation converted four of its five attempts and, with a little help from the crossbar and one incredible save from keeper Jordan Pickford, won the shootout 4–3. Play this as many times as you want, it always ends with Eric Dier cooly slotting his spot kick past Colombia's David Ospina.
This young England squad, relatively unencumbered by past failures, somehow managed to break the Rube Goldberg machine. The Three Lions will face Sweden on Saturday in the quarterfinals.
Tuesday marked the first time England has ever won a World Cup penalty shootout (it lost its previous three), and it came after a match that seemed biologically engineered to end in familiar misery.
England was in relative control of the scrappy and ugly affair, and it took a deserved 1–0 lead in the 57th minute through a Harry Kane penalty conversion. Colombia was without injured star James Rodríguez, and it showed. The team plodded around for 93 futile minutes before finally registering a decent shot, when substitute Mateus Uribe forced Pickford into a save with a hopeful, long-range volley in stoppage time.
It was at this moment that Colombia realized it was playing against a country that invented the Benny Hill theme song, and so center back Yerry Mina scored from the ensuing corner (his third goal of the tournament). The arena immediately fogged over with half a century's worth of English agony, which I assume smelled like a mix of wool and spotted dick.
England stayed in its shell for most of extra time, which, to viewers, was akin to watching teenagers in a horror flick run upstairs to get away from an axe murderer. Go for a goal, you fools! Don't you know that penalties are coming?
When that terrifying specter of a shootout materialized, England did the unthinkable: They won. Thankfully, there is video evidence, otherwise no one would believe it.
How does England react to winning shootouts? We have only a small sample size to work with, as this has happened just once in a major tournament, when England beat Spain in the quarterfinals of the 1996 European Championship. England lost its very next match, the semifinal against Germany, and it did so … in a shootout. The player who missed the spot kick that sent his team tumbling out of the tournament was Gareth Southgate. He recovered from that heartache and parlayed a successful playing career into a coaching job, and you may recognize him as England's current, waist-coated manager at the 2018 World Cup.
Does that connection mean anything now that up is down, down is up, Germany were knocked out in the group stage, and England won a match on penalties? If there ever was a time to exorcise two demons in a row, the 2018 World Cup is it. Southgate's squad just better make sure it beats Sweden in regulation. I mean, have you seen England's shootout record?
---