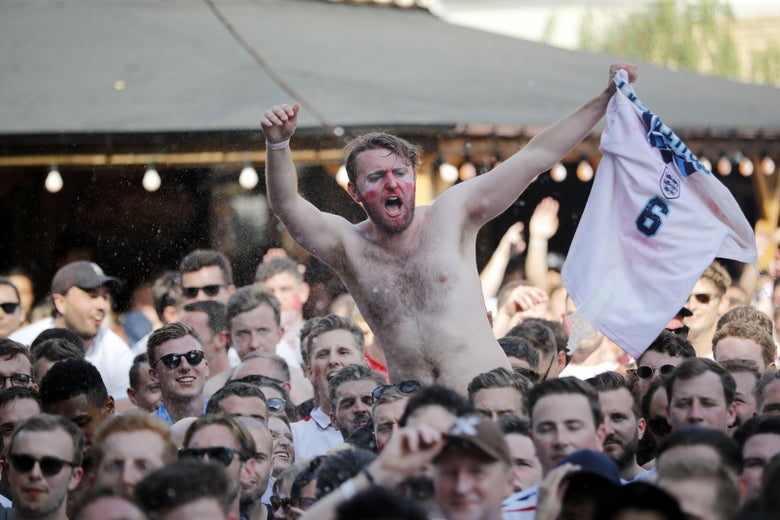 England (England! ENGLAND? Eng-ger-land!) beat Sweden 2–0 on Saturday and is heading to the semifinals of the World Cup for the first time since 1990. The Three Lions have alternated between heartbreak and embarrassment in major tournaments for decades, but Gareth Southgate has his young squad playing with confidence. England fans are rightfully ecstatic, and they can start believing that their beloved team (theoretically) could (just maybe) really (almost actually) win the World Cup. And they don't even have to worry about playing Germany!
How does an island of 53 million success-starved soccer fans celebrate? By blotting out a rare moment of sunshine with thousands of pints of lukewarm beer, of course.
In local parlance, this is what is called "scenes."
Amazingly, there were people in England who attended other sporting events on Saturday, including Wimbledon and the British Grand Prix. Fans at the latter event didn't need to eat those non-refundable tickets, however, as they put the match on at Silverstone Circuit and everyone got to watch Dele Alli head in England's second goal.
There isn't a single piece of clothing in England that is not completely soaked with beer right now. Usually, you have to wait until 8 p.m. GMT for that to happen.
England plays the winner of Saturday's Croatia-Russia quarterfinal. Fans will have to wait until Wednesday to see their Three Lions again, but something tells me they'll be able to keep the party going.
---