No matter how sticky-hot it is—or how slim the supplies in your kitchen happen to be—if you have a working freezer, you can make sweet-tart, bracing lemon ice cream all the same.
Because this no-churn recipe only asks you to juice, zest, and stir. It comes from Dori Sanders, a now 84-year-old peach farmer, novelist, and cookbook author—if you want to chat with her about it, she'll be selling peaches at her family's farm stand in Filbert, South Carolina, every Friday and Saturday till Labor Day. Here's a peek:
At big family reunions when Sanders was growing up, the adults spun lemon ice cream in a hand-cranked wooden ice cream churn (then all the kids drew straws to see who'd get to lick the dasher).
But in the 1990s as she worked on recipes for her cookbook Dori Sanders' Country Cooking, she stumbled upon a churn-free method. "I tried to go back and recreate it the very way I remember we made it," she told me over the phone. "I tried it in one of those electric churns and it didn't work—something was amiss."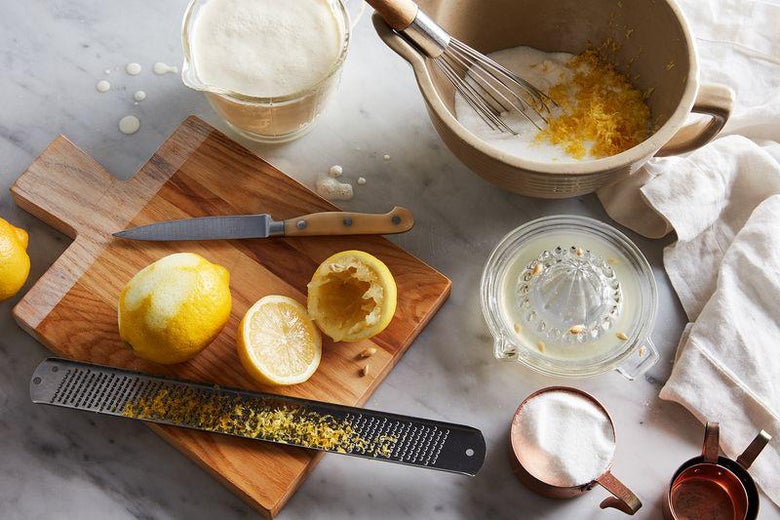 The answer she found turned out to be so much simpler. As you stir together a handful of ingredients, the acid in lemon juice magically thickens the cream, without whipping or churning. Sugar both balances out the pucker of the lemon and keeps the ice cream from freezing too hard.
What all this means is Sanders' recipe might be both the easiest no-churn ice cream yet, and also one of the smoothest and creamiest. "On a hot, hot, hot, hot summer day, it is the most refreshing ice cream," Sanders says. "Anyone can make it."
As we were shooting Sanders' lemon ice cream for our forthcoming Genius Desserts cookbook (which is out September 4th—you can call dibs on a signed copy here), we found an especially wonderful buddy for it in these Candied Sesame Seeds from Estela restaurant in Manhattan.
The two recipes aren't only soulmates in a crunchy-on-smooth, tangy-on-sweet, finishing-each-others'-sentences sense, but also in how gloriously simple they are. (When you don't need an ice cream machine, it's also handy that you don't need a candy thermometer.)
Candying sesame seeds is one of the more rewarding ways you can spend ten minutes: As you stir the seeds in a bubbling simple syrup, suddenly the water disappears and a dry crystalline layer of sugar pops to the surface.
Though you can make either recipe quite literally anytime and anywhere, I couldn't share one with you without inviting the other to tag along. I recommend bookmarking them both, and making them all summer long.
Makes 3 cups
1 tablespoon finely grated lemon zest
1/4 cup freshly squeezed lemon juice (from about 2 lemons)
1 cup sugar
1/8 teaspoon fine sea salt
1 cup heavy cream
1 cup whole milk
See the full recipe on Food52.
More from Food52
Estela's Candied Sesame Seeds
The One-Ingredient Trick to Make Any Bad Melon Much, Much Better
Why Strawberries and Cream Are The Sweetest Thing About the Wimbledon
4-Ingredient Oaty Jam Bars For Better Breakfasts, Happier Days
The Fried Chicken That's Been on Every Family Trip With Me Since 1962
This Crispy Prosciutto and Juicy Melon Salad Is Summer At Its Finest
---