Donald Trump's star on the Hollywood Walk of Fame has been demolished, and not for the first time. NBC Los Angeles reports that a man with a pickax reduced the plaque on Hollywood Boulevard to rubble early Wednesday morning, then turned himself in to Los Angeles police. Police have identified the suspect as 24-year-old Austin Clay, who concealed the pickax in a guitar case.
The scene has since drawn a crowd, and someone has placed "an exercise pull-up bar" over the mutilated star, which has been destroyed before. In October 2016, another man, James Otis, dressed up as a construction worker and smashed Trump's plaque with an ax and sledgehammer in what he called an "act of civil disobedience, freedom of expression." His intention, he claimed, was to steal it, auction it off, and give the profits to the women who Trump has allegedly sexually assaulted.
Since then, the star has been defaced with stickers, spray paint, and even a miniature "border wall" installed by an artist.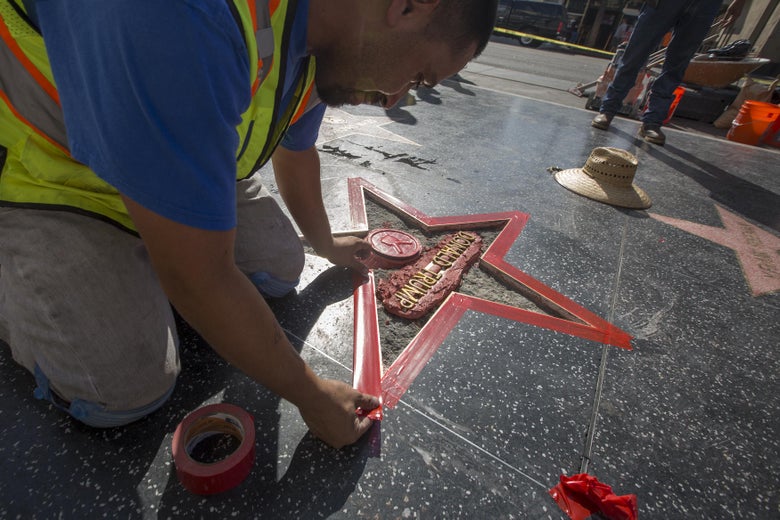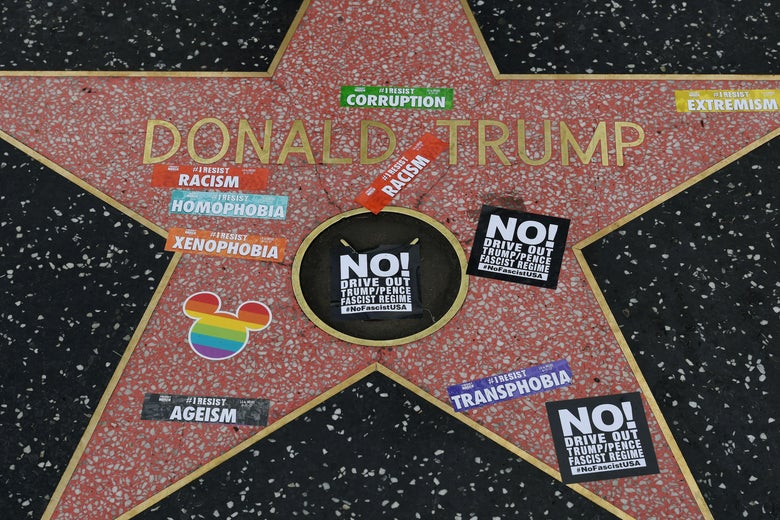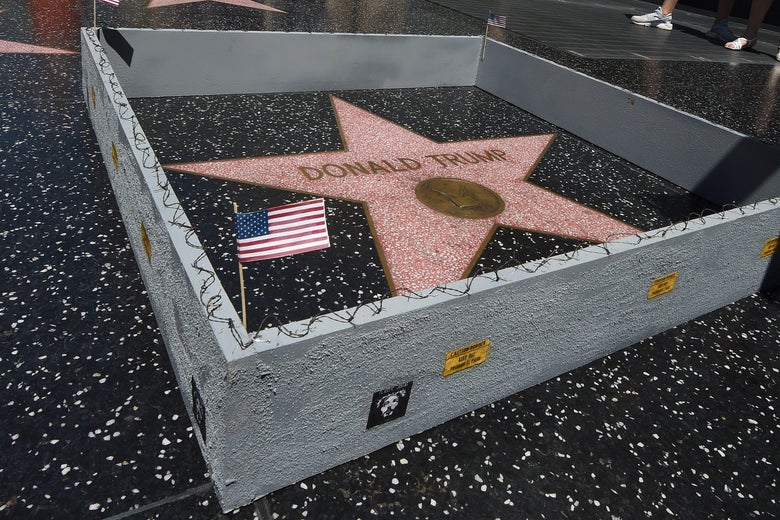 Celebrities who want a star on Hollywood Boulevard must first apply and then raise $30,000 to sponsor it, half of which goes to the creation of the star itself and the other half going to the Hollywood Historic Trust. Trump's star, which he received in 2007 for his work on The Apprentice, will be repaired immediately, according to the Hollywood Chamber of Commerce, which issued a statement:
The Hollywood Walk of Fame is an institution celebrating the positive contributions of the inductees. When people are unhappy with one of our honorees, we would hope that they would project their anger in more positive ways than to vandalize a California state landmark. Our democracy is based on respect for the law. People can make a difference by voting and not destroying public property.
Austin "Star Destroyer" Clay was booked on suspicion of felony vandalism. NBC Los Angeles spoke to one witness at the scene, who apparently does not watch the news or go online or even go outside very often: "I'm like, 'Why are you hitting that star? What did Donald Trump do to you?' " the man said.