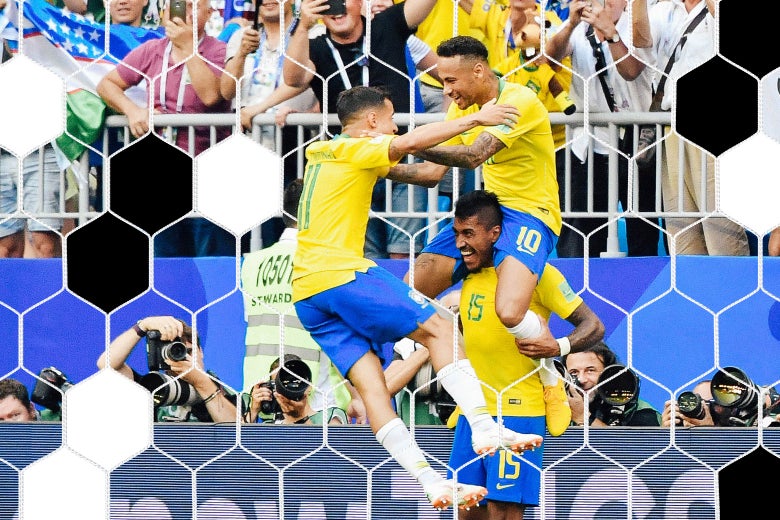 Brazil is the only international soccer team that could win the World Cup every year. The team's talent level waxes and wanes, but it hasn't dipped below a minimal "Yeah, these guys are capable of going all the way" threshold since probably 1990. It has been the bettors' pre-tournament favorite in 2006, 2014, and 2018, and it was only just beaten out in 2010 by a Spain team in the middle of the most dominant run of international soccer the world has ever seen.
Every four years the tournament provides a new puzzle for Brazil to attempt to solve, a Rubik's Cube of decisions to make and consequences to mitigate. The Brazilian dilemma is roughly the choice between "We have more quality attacking players than anywhere else in the world; how can we get as many of them on the field as possible?" and "We have better quality attacking players than anywhere else in the world; how can we shore up the defense so they're allowed to win us games?"
This year's team is no different. Though its attack features two of the three most expensive players in history, Neymar and Philippe Coutinho, it's the defense on which Brazil's World Cup hopes lie. Brazil has won three of the four games it has played by the score of 2–0, but half of the six goals scored in those games have come in the 88th minute or later, turning nervy 0–0 or 1–0 scorelines into comfortable-looking wins at the last moment. What comfort the team has been able to enjoy can be attributed to the solidity of its defense, which has given up just a single goal thus far.
That puts the team in good historic company: The past two times Brazil won the World Cup, in 1994 and 2002, they did it with teams that tilted defensively. The 1994 edition was decried back home for playing "anti-football," evidenced by its low margins of victory—they won each of their knockout round games either by one goal or via penalties—and the type of physical play that culminated in left back Leonardo fracturing American Tab Ramos' skull.
The 2002 team played the knockout rounds with seven defensive players in its back line and midfield but got away with it, because its attacking trio was a murderer's row whose members would each be named the world's top player before their careers ended: Ronaldo, Rivaldo, and Ronaldinho.
That would seem to settle it then. Brazil had found a winning formula and the makings of a national style of play: build a solid, stable base, then let your stars dance on top of it and all over the opposition. Step 3: Profit. Except—that hasn't happened, because Brazil already had a national style, the famed jogo bonito, "the beautiful game," as immortalized by perhaps the greatest team in the sport's history, the 1970 World Cup–winning Brazil squad.
The trouble is no one knows exactly what jogo bonito means; its tenets were not bestowed upon Pelé at the summit of Corcovado, or if they were, then he forgot to bring the tablets down. It's some combination of attacking bent and playful bits of skill and highlight-reel goals. What it boils down to is "Be a lot better than everyone else." It's not tactics but marketing; its Wikipedia page mentions Nike twice as often as it does Pelé.
Brazilian coaches aren't stupid. They have known this is an unreachable ideal since at least 1994. The rest of the world has gradually caught up. Declaring jogo bonito dead is now as much of a cliché as claiming Brazil plays jogo bonito. As the journalist Tim Vickery put it, "Brazil no longer seek to beat opponents on flow; they now look to win on moments."
But the gravity of a certain style as a national identity––and the national fan base's discontent with anything seen as too conservative––still pulls Brazil back toward a looser, more open, more attacking style. For every defensive action, there's an equal and opposite offensive reaction. The 2006 team tried to find a way to cram another future Ballon d'Or winner, Kaká, onto the field, and lost to a disciplined French team built around Zinedine Zidane. 2010 saw Dunga, captain of the 1994 winners, leading a more conservative side that tried to find its balance by asking players such as Robinho and Ramires to cover two different positions depending on which team was in possession. It couldn't muster a second goal against the Netherlands and went out in the quarterfinals.
The 2014 team, playing a tournament at home for the first time since 1950, was meant as both a reaction to Dunga's 2010 squad and a celebration of what Brazilian soccer could be. It was going to win the World Cup at home, and the players were going to do it as closely to the right way as they could manage—with physicality, yes, but also with thrilling lightning attacks. In its soul-crushing 7–1 loss to Germany, the team proved to be naïve and too leaky at the back.
Now it might be Brazil's turn to inflict a similar lesson. Its quarterfinal opponent, a tremendously talented Belgium, is so thin on defense it may get toppled by the breeze Neymar creates as he runs past them. (Neymar, no doubt, will also find a way to fall over on the play.) Japan, who it should be noted is not Brazil, vivisected the Belgium back line in the Round of 16 but lost 3–2 after a desperate last-minute Belgium comeback. Belgium will almost certainly have to make adjustments, but at this point that might just involve finding a place to introduce the elbows and Afros game of midfielder Marouane Fellaini, which, best of luck to them (and to Neymar).
It may take a tough loss for Belgium to learn the virtues of balance. By the time they get a chance to prove they've absorbed it, the stars of this generation of players may be too old to threaten at another World Cup. That's one problem Brazil won't have.
---