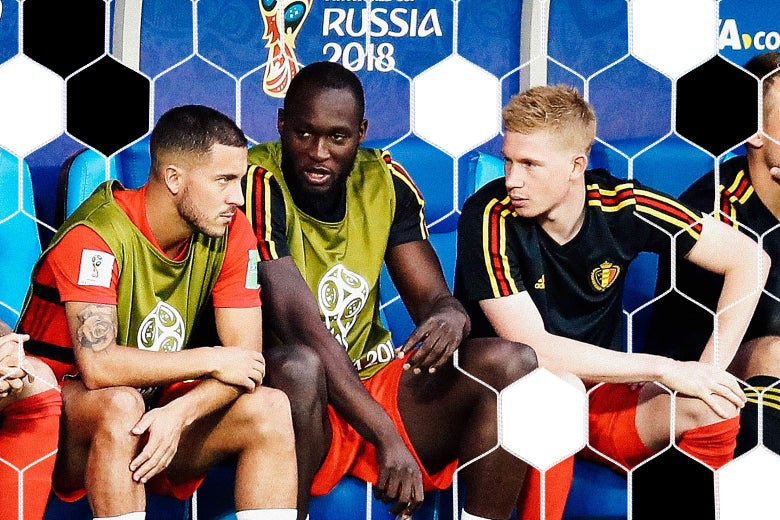 The most exciting thing in sports right now is watching three dudes in argyle jerseys run full bore at their terrified opponents. Belgium's attacking trio of Eden Hazard, Kevin De Bruyne, and Romelu Lukaku has been a joy to watch at this World Cup, and they helped weave Brazil into knots during Friday's 2–1 quarterfinal victory.
Belgium's front three have a telepathic advantage over defenses and they are responsible for engineering the team's counterattacks, which have made for some of the most thrilling moments of the tournament. Their interplay is both blunt and intricate, like if the Kool-Aid Man joined Delta Force. Fans of Belgium's astonishing, last-second winner over Japan in the Round of 16 will surely enjoy the stylistic sequel that came in the first half against Brazil.
Belgium's attacking players aren't completely interchangeable, though they're capable of doing pretty good impressions of each other. For the goal that took down Brazil, Lukaku brought the ball forward like De Bruyne had against Japan, and both players managed to place the perfect pass at the best possible moment.
Few teams are lucky enough to have someone who can run with the ball for 40 yards through defenders. Belgium has three, and they don't even have the polite decency to get in each other's way every now and then to give opponents a break.
Lukaku is the fulcrum upon which the flanking De Bruyne and Hazard balance. He allows them to run into space and at defenders, though he's no slouch with the ball himself.
The gnatlike Hazard, meanwhile, dribbles as if through osmosis, burrowing into defenses and excreting himself out the other side with moves that can only be fully appreciated with the help of an electron microscope.
Belgium's thunder trio may hinge on Lukaku's play and run off Hazard's energy, but it's De Bruyne who really makes the whole conspiracy tick. He's blessed with the kind of predictive genius that's otherwise wasted on chess grandmasters, and he can pass the ball to places his teammates didn't even realize they would be.
Opponents are assuredly tasked with keeping De Bruyne close and in check, yet he's always in acres of space whenever he receives the ball. It's as if the particles that make up his mass produce antigravity and repel everyone around him so he can orchestrate in peace. He may look like a Hergé character, but he plays like something out of X-Men.
Belgium faces France in the semifinals on Tuesday, and Les Bleus have a formidable attacking trio of their own. No one will complain if this battle of the so-called Golden Generations turns into a simple game of three-on-three.
---