Soccer matches are defined by goals, which is a shame because there's so much good stuff that happens in between those decisive moments. Were the sport scored like figure skating or gymnastics, every flick, dive, juke, and pout would be tallied to determine a winner. It isn't, and so much of what doesn't wind up on the scoreboard is purely ornamental.
Soccer is a baroque art form, however, and those doodads still provide real value. Some of the most breathtaking moments of the 2018 World Cup resulted in precisely zero goals. There were sublime demonstrations of skill, inspiring feats of cardiovascular pluck, and incidents of ruthlessly clever rule bending. The tournament is better thanks to all of them.
FIFA gives the Puskás Award for the best goal, but there is no way to honor the greatest non-goal. I'd like to take a moment to celebrate two wonderfully unimportant flashes of genius that rose above the rest. Both were great, but which one will be remembered as the pinnacle of irrelevant perfection?
Kylian Mbappé's Backheel Against Belgium
After France beat Belgium 1–0 in the World Cup semifinal, some of Belgium's stars voiced their disdain for their opponents' style of play. "France heads a corner and does nothing more than defend," goalkeeper Thibaut Courtois told reporters. "I would have preferred to have lost in the quarterfinals to Brazil. At least that was a team that wanted to play football." How do you say sour grapes in Dutch, French, German, Walloon, Flemish, and Picard?
Courtois may sound bitter, but Les Bleus did seem content to sit back and soak up pressure (when it wasn't milking the clock like a coked-up dairy farmer). Nonetheless, France did manage a few moments of éclat et élan in that semifinal, and none were more breathtaking than Kylian Mbappé's backheel.
The 19-year-old prodigy is famous for his speed and eye for goal, but his most impressive skill may be his awareness that he can do pretty much anything he wants on the pitch. Mbappé received the ball in the box in the 56th minute and slickly dragged it with his right foot before rolling a perfect pass to an onside Olivier Giroud. Just look at how calm the young striker is. I can't even clip my toenails without shaking, yet Mbappé looks like he's about to fall asleep on his feet as he performs the most audacious move of the World Cup while his team holds on to a narrow lead.
Unlike Mbappé, Giroud is probably aware of his limitations, and his slow touch gave the defender plenty of time to recover and block his shot. A goal would have been nice, but Mbappé's pass didn't even need it.
Mathias Jørgensen's Desperate and Smart Foul on Milan Badelj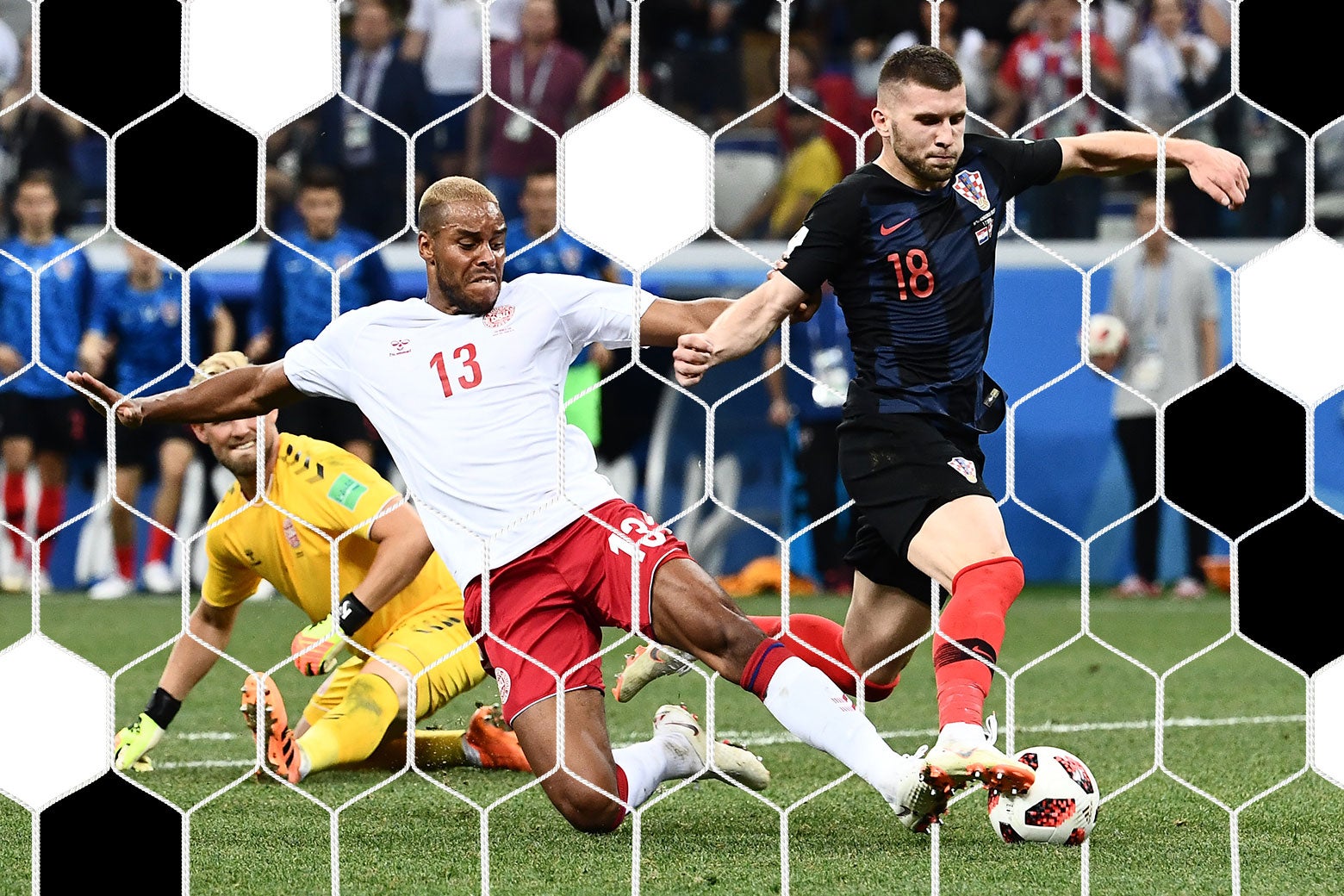 The Round of 16 match between Croatia and Denmark was hardly a classic, but it gave us one of the most dramatic moments of the 2018 World Cup. With the score tied 1–1 in the 116th minute, Croatia's Luka Modric threaded a perfect pass into the path of Milan Badelj, who rounded the keeper and needed to simply tap the ball home to give his team the victory. That didn't happen. Instead, Denmark's Mathias Jørgensen slid in to trip the midfielder before he could score, forever ruining Badelj's moment of glory.
It was as clear a penalty as you will ever see, but that wasn't the point. There is no readily available video of the foul itself, but the above picture shows just how helpless Danish keeper Kasper Schmeichel was. He'd at least have a chance against a spot kick, and Jørgensen, despite having played nearly two hours of soccer, was able to immediately analyze this risk-reward ratio while sprinting full-speed. Let's see your favorite actuary do that.
What's more, Jørgensen didn't even get red-carded. Thanks to a recent rule softening, the referee acknowledged his intent to win the ball, which made the offense worthy of just a yellow card.
This was the antithesis of jogo bonito. Jørgensen impeded a free-flowing move with an illegal maneuver. None of this changes the fact that the play was absolutely genius. Modric stepped up to take the penalty and Schmeichel, back on his feet, made a miraculous save.
Neither Mbappé's backheel nor Jørgensen's foul wound up mattering in the end. France held on to win 1–0 and Denmark lost its shootout against Croatia. But which one was better?
Determining a winner seems rather gauche, don't you think? Let goals have the Puskás Award; these moments don't need anyone's validation. They are little more than soccer garnish, and I wouldn't have it any other way.