This piece is excerpted from Soccer Style: The Magic and Madness by Simon Doonan, published by Laurence King Publishing Ltd.*
According to the Food and Drug Administration more than 45 million Americans are now tattooed. In the U.K. it's a staggering 20 million, 1 in 3 young adults. Soccer players? You would be hard pressed to find a tattoo-free inch of soccer skin at the 2018 World Cup.
They say the eyes are the windows to the soul. I believe—and I will prove to you—that body ink, not pupils and irises, provides a much clearer portal into the soul of soccer. Just read the tattoos, and the murkiest corners of the player psyche are instantly revealed. Here, for your edification, are some of the deep psychological insights that I have gleaned from a careful examination of soccer ink.
Players Get Homesick

Transplanted players frequently experience feelings of wistful melancholy. Don't mock. If you had to leave sunny Seville for rain-lashed Manchester, you might also experience the occasional mood swing. Clubs attempt to ease these transitions by employing professional relocation consultants. But the players are also doing their bit to combat relocation depression, via tattoos.

What better way to counteract homesickness than to contemplate images of one's hometown monuments, on one's own body? On Aaron Ramsey's right leg you will find a touching depiction of Caerphilly Castle, along with St. Michael and other symbols of Welshness. In a similar vein—and quite possibly on a similar vein—Toby Alderweireld, the Belgian national and Spurs central defender, proudly flaunts a depiction of Antwerp's cathedral, minus the gift shop, on his right arm.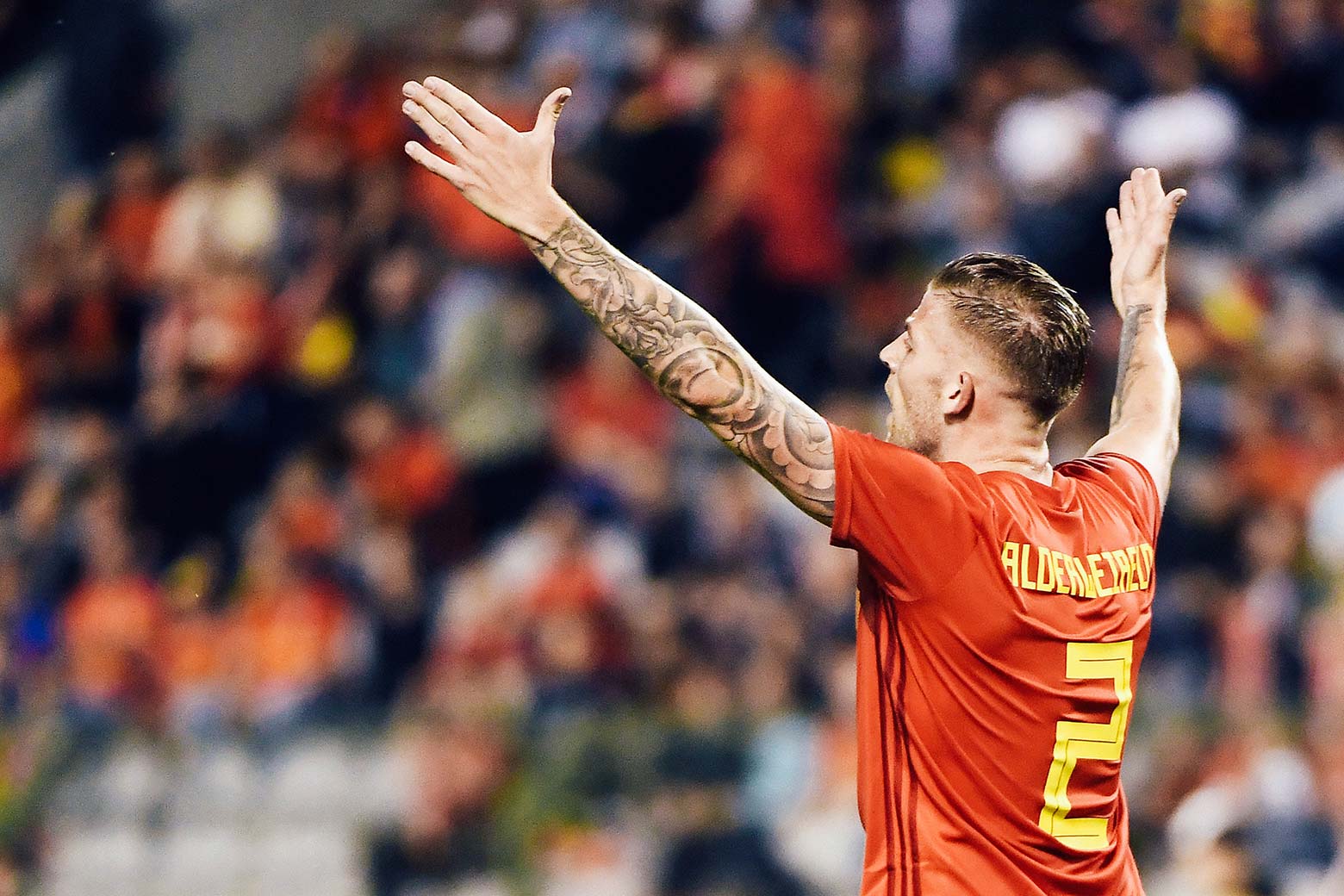 Players Derive Comfort From Heart-Warming Clichés

Too young to have developed a cynical attitude toward platitudes, players take them at face value and, in so doing, derive emotional comfort from them—which is what we were always supposed to do in the first place, so the laughs are on us cynics. For easy access—unless it's on your bum, in which case you will need a mirror or two—players archive these needlepoint-worthy declarations on their bodies.

Stoke City defender Glen Johnson's back declares that "Every man dies, but not every man lives," which is very twee, but also kind of makes sense. Making a great deal less sense, his right arm wistfully informs us that "Everything happens for a reason." This is clearly, if I may say so, total bollocks. Every soccer player's life—and every nonplayer's life—is a chaotic series of random contingencies, where nothing happens for a reason.
Players Like to Dream

The left hand of Marco Reus—attacking midfielder, winger, or striker for Borussia Dortmund—is emblazoned with the stirring Oprah quote, "The biggest adventure you can have is to live your dreams." Sorry lads, but it is hard to think of anything more sick-making than living your dreams … like the one where you are locked in a Primark WC and told to eat your own hair by a disembodied voice, while clutching an aardvark. Players do not share my qualms about living one's dreams, however, as evidenced by the fact that Memphis Depay elected to emblazon his chest with the words "dream chaser." My definition of the word dreams may well be too literal. For soccer lads, as for all sportsmen, "dreams" are a polite euphemism for "stop-at-nothing ambitions."
Players Like Foreign Languages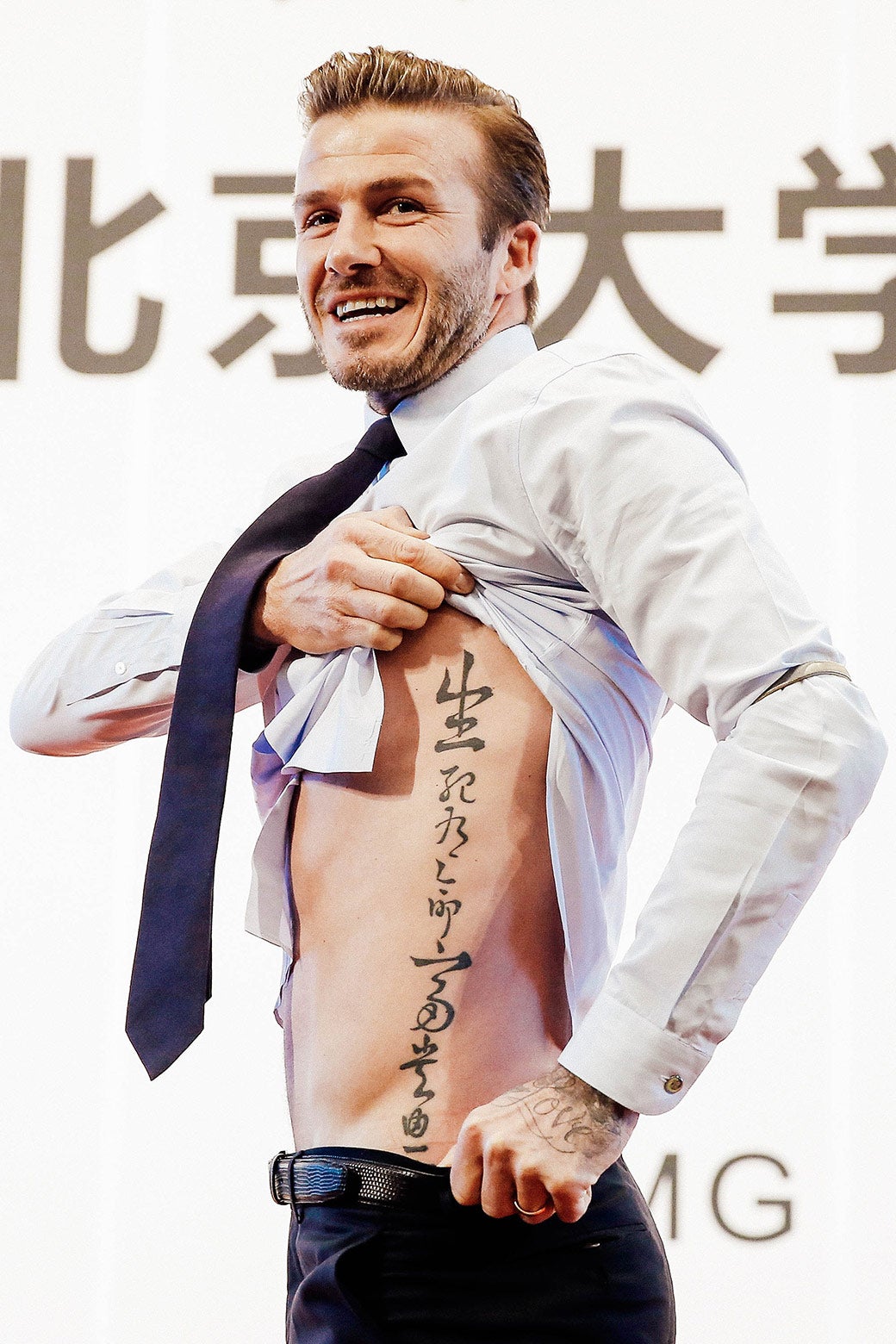 "Veni, vidi, vici" (I came, I saw, I conquered), declares Martin Skrtel's rib cage. Players love foreign languages, especially dead ones. Latin inscriptions such as "Per ardua ad astra" (through hardship to the stars) and "Perfectio in spiritu" (perfection in the spirit—see David Beckham's right arm) are popular with many lads. These ancient bursts of Latin wisdom add a whiff of Oxbridge gravitas to the "brand" of any player.
A Sanskrit tattoo on Theo Walcott's right wrist translates as "Beautiful, blessed, strong, intelligent," dedicated respectively to his sister, Hollie; his father, Don; his brother, Ashley; and his mother, Lynne. (If I were Lynne I would have rather had "beautiful" than "intelligent," but let's not start a family row.) Like yours truly, the Everton forward grew up in Berkshire, where Sanskrit, I can assure you, is the lingua franca.
The inside of Olivier Giroud's right arm declares, in olde worlde script, "Dominus regit me et nihil mihi deerit." Translation: "The Lord is my shepherd, I shall not want." In an Arsenal-sponsored YouTube video, Giroud translates it as, "God is my shepherd, and nothing will miss me."
Players Love Death

"Death," in the imagination of any player, can occur under a wide variety of circumstances: being axed, benched, bitten, nutted, hair-dryered by your manager, receiving a driving ban after you just sprang for a new Lambo, being spanked by a lesser team in front of 80,000 howling fans, having your girlfriend nicked by a teammate, or getting sent off while your children—whose faces are tattooed on your extremities—watch from the stands. Brazilian David Luiz would probably characterize the 7–1 denouement of the 2014 World Cup as a death experience.

Sheffield Wednesday striker Steven Fletcher has a terrifying gothic-horror death-skull 'n' roses tattooed on his leg, which is rad but pales in comparison to the efforts of Daniel Agger. No other player has an entire Nordic graveyard rendered on his back. Graveyard-adjacent is the phrase "Memento mori" (remember you shall die), along with "Mors certa, hora incerta" (Death is certain, the hour is uncertain).

Given the cometlike career span of the lads in question, it's not really surprising that they spend time watching the Grim Reaper in the rearview mirror. Like ballet dancers and fashion models, soccer players live with the sell-by date of Damocles hanging over their faux hawks.
Players Are in Touch With Their Feelings

"You don't choose your family. They are God's gift to you, as you are to them," reads an inscription on the lower-left torso of Liverpool center back Dejan Lovren. During my childhood, the only member of the average working-class family who received these kinds of effusive declarations was the budgie. Excessive displays of affection were met with suspicion: Clearly you had either been drinking or you were going a bit mental. Cut to 2017: Feelings and emotions are lovingly inked onto player bodies, surrounded by cascading hearts and flowers.

Arsenal right back Mathieu Debuchy sports the names of his children Manon, Lukas, and Lalou on his legs and the bottom of his back. He considers his left arm his best work of art: It's a touching summary of his family life, including his children's birthdays, his wedding, his wife's name, and a rosary.

At the beginning of the 2016–17 season, then–Liverpool midfielder Philippe Coutinho explained how he spent his post-season holidays: "I got some new tattoos, including one of my daughter. … I had it done in Brazil. It hurt a lot—it took five hours to do and was done all in one go! … I don't have plans for any more now … only if I have another child." What might be the reason for these touching displays of parental commitment? Are those laissez-faire, fag-smoking mums and dads of my youth simply a thing of the past? It is only natural that, in today's world of relentlessly conscientious parenting, a peripatetic jet-lagged player might feel he was short-changing his sprogs. His feelings of guilt can be assuaged, masochistically and expensively, by tattooing beloved names, and faces, onto his body. He is also, on a purely pragmatic level, less likely to forget their birthdays if the dates are gouged into his skin.
Players Are Impulsive

The most impulsive thing a player can do is to get inked up with the logo of his current club. Lukas Podolski's old Cologne club tattoo did not go unnoticed on the Arsenal pitch where he later played.

Though wisely reticent to tattoo their current club logo, players frequently memorialize other equally ephemeral aspects of their lives, most notably their WAGs (wives and girlfriends). Many players impulsively adorn their bodies with depictions of the mother of their children, only to divorce her shortly thereafter. In a true fingers-crossed moment, American star Landon Donovan and his first wife, actress Bianca Kajlich, acquired matching hummingbird tattoos because "hummingbirds mate for life." Sadly, they divorced in 2010.
Players Love Fashion (but Recognize That It Changes)

Welshman Robbie Savage, provocative pundit and former player, once commissioned a tattoo of the Armani logo on his arm … then had it removed.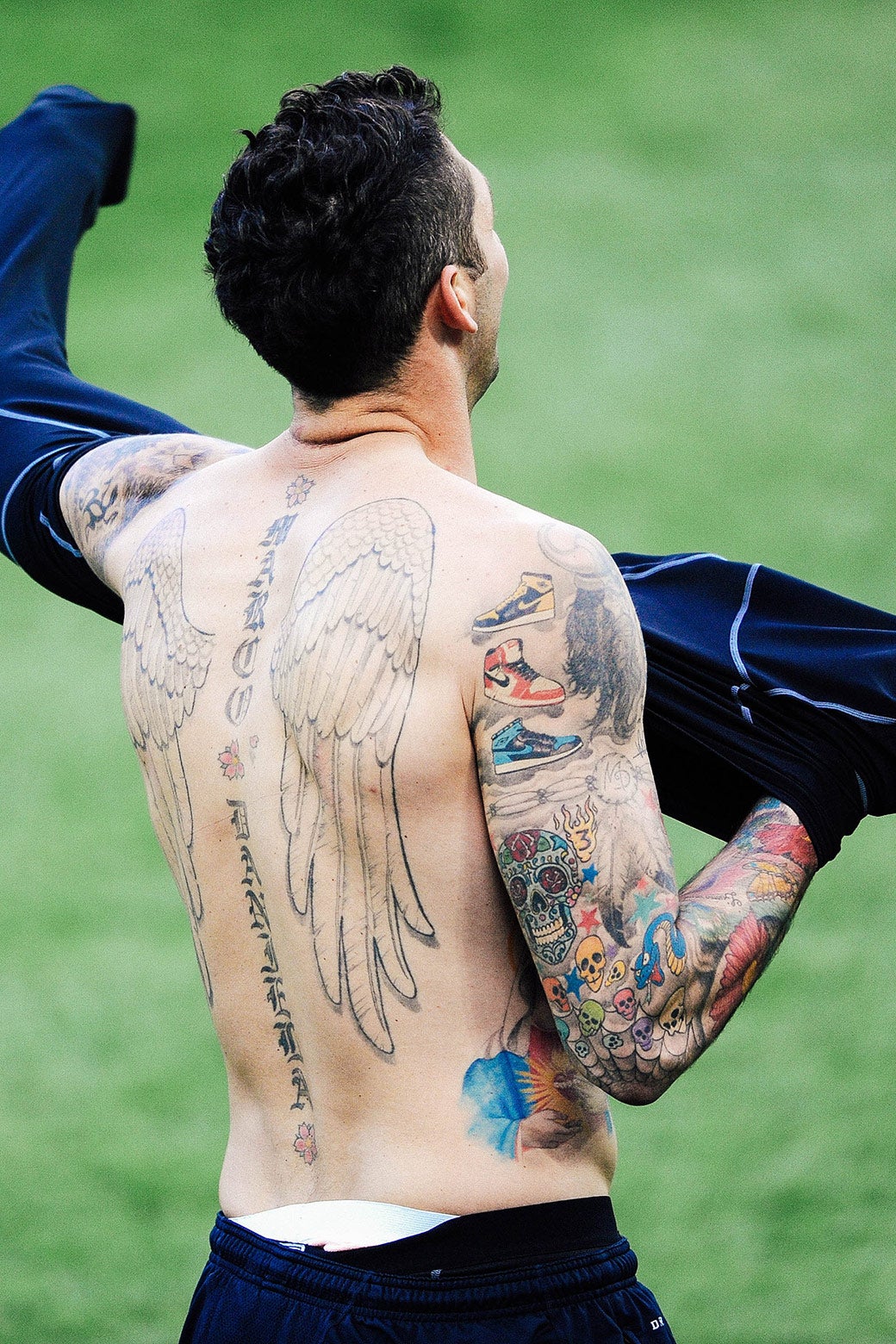 Players Identify With Angels

Angels are synonymous with miracles, something that players are frequently in need of. Angels are also benevolent guardians, which top-flight soccer stars crave but rarely have. In the absence of an angel, might one become one's own angel, simply by adding wings?

Lionel Messi has wings on his leg, like the Roman god Mercury but a bit higher up. More often players—including Djibril Cissé, Skrtel, Becks, Stephen Ireland, Marco Materazzi, Gregory van der Wiel—grow wings on their backs, channeling the angel Gabriel. Angelic is not a word that many would apply to ruthless professional players. I am assuming, therefore, that the adoption of wings—Look! I am really an angel!—might also be part of a brand-softening strategy.
Players Like Koi and Dragons

Koi fish and dragons, standard motifs in yakuza tattoos, are drenched in the kind of symbolism that appeals to soccer players. See Zlatan Ibrahimovic and Raul Meireles among others. For these lads it's all about swimming against the tide, often scaling a waterfall and reaching the dragon's gate, at which point—natch—you, the koi, turn into a dragon. Et voilà!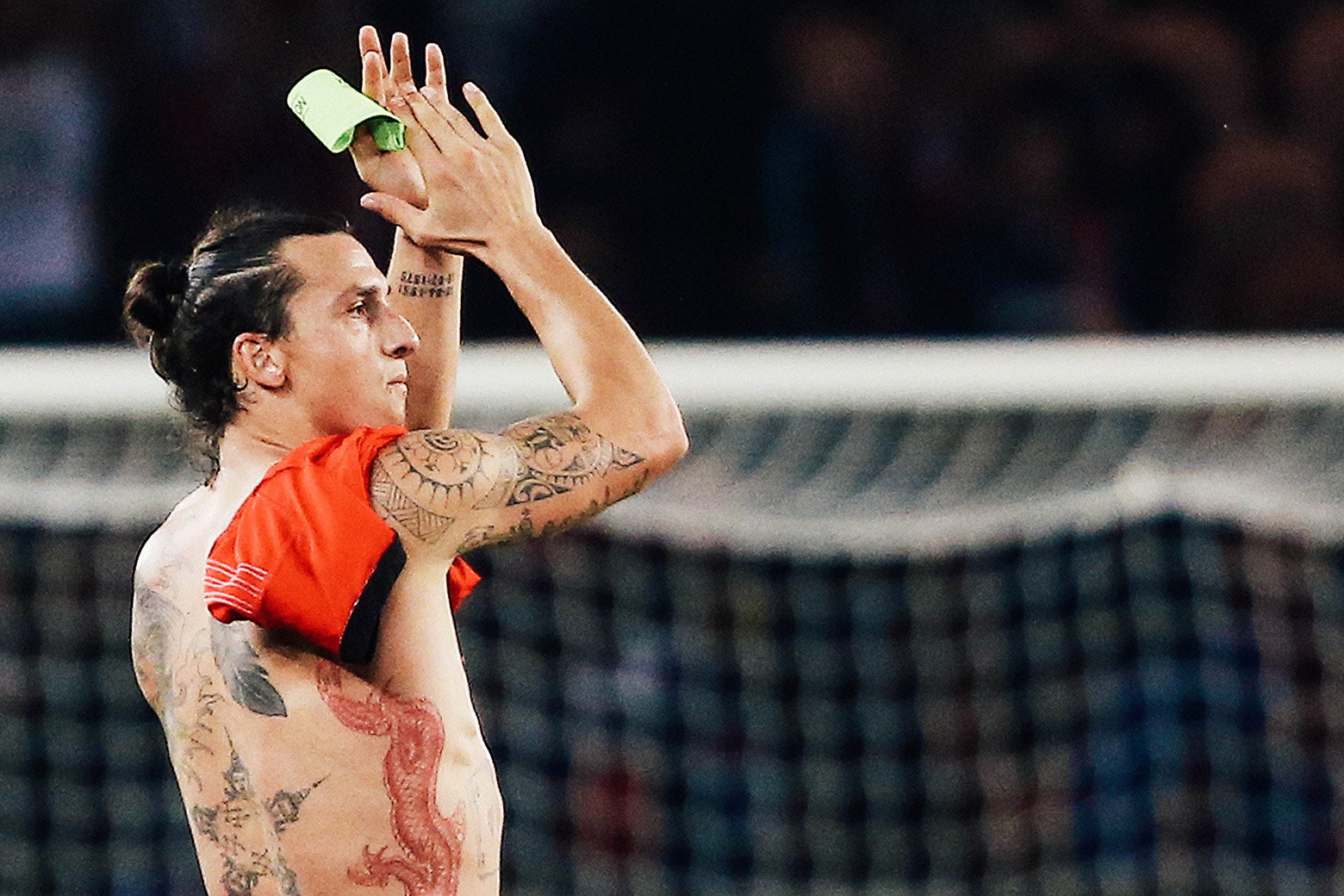 So let's get to the elephant in the tattoo parlor. The why. Why do players dig ink?
Let's start with the most obvious reason: the motivation to rebel. Just as with psycho haircuts, tattoos offer players opportunities for unbridled self-expression. You, my manager, can stuff me into a blazer and flannels, but you can't stop me from adorning my back with poems, snarling wolves, and ghouls.
Second reason: time. Lying on your face for hours while some dude enlivens your epidermis with skulls and Sanskrit seems, at first glance, like a reckless waste of time. But players have nothing but time, what with those long post-training afternoon voids—so online gambling, PlayStation, and tattooing to the rescue!
Reason No. 3: money. Spending it like Beckham. Most tattoo artists charge about $150 per hour. A full sleeve can take 40 hours. Bingo! $6,000, plus another $6,000 for laser removal when you hit late middle age and it's gone all crepe-y—no longer recognizable as a dragon but looking more like a squashed squirrel. You went from being the bloke with the dragon tattoo to the old dude with the squashed squirrel, and it only cost you the deposit on a house. But soccer players have nothing but dough, burning a hole in the pockets of their ripped designer jeans.
Reason No. 4: the sensation. As previously noted, Everton forward Theo Walcott has many tattoos, including a mysterious lady wrapped in goblins on his left arm. Theo has been candid about the pleasure he experiences during his sessions with soccer favorite Louis Molloy: "I like the sensation of it. … I did an eight and a half hour sitting, but again, I like the feel of it."
Reason No. 5: the battle of the logos. Soccer is turning into Formula One. In the past few years every aspect of the entire visual experience has become smothered in corporate logos: the stadiums, the shirts, the TV graphics, even the step-and-repeat backdrops of the pre/post-match interviews are all awash with branding visuals. If you had told players like Ricardo Zamora or Stanley Matthews that in the future players would be dribbling away with strange words like Aon, Bimbo, Plastic Box Shop, Etihad, Dafabet, and Lubrax slapped across their chests, they would never have believed you. In a commendable challenge to this blizzard of corporate logos, the players now tattoo their bodies with mysterious artworks and verbiage that express noncorporate, highly idiosyncratic thoughts and impulses, both deep and shallow.
Reason No. 6: anti-hate. Tattoos offer a way to push back against the trolls and haters. Players attempt to immunize themselves against corrosive, emasculating, diminishing social media takedowns by expressing simple old-fashioned bravado, positivity, and optimism. See Marcos Rojo's huge, blaring "pride" and "glory" leg tattoos.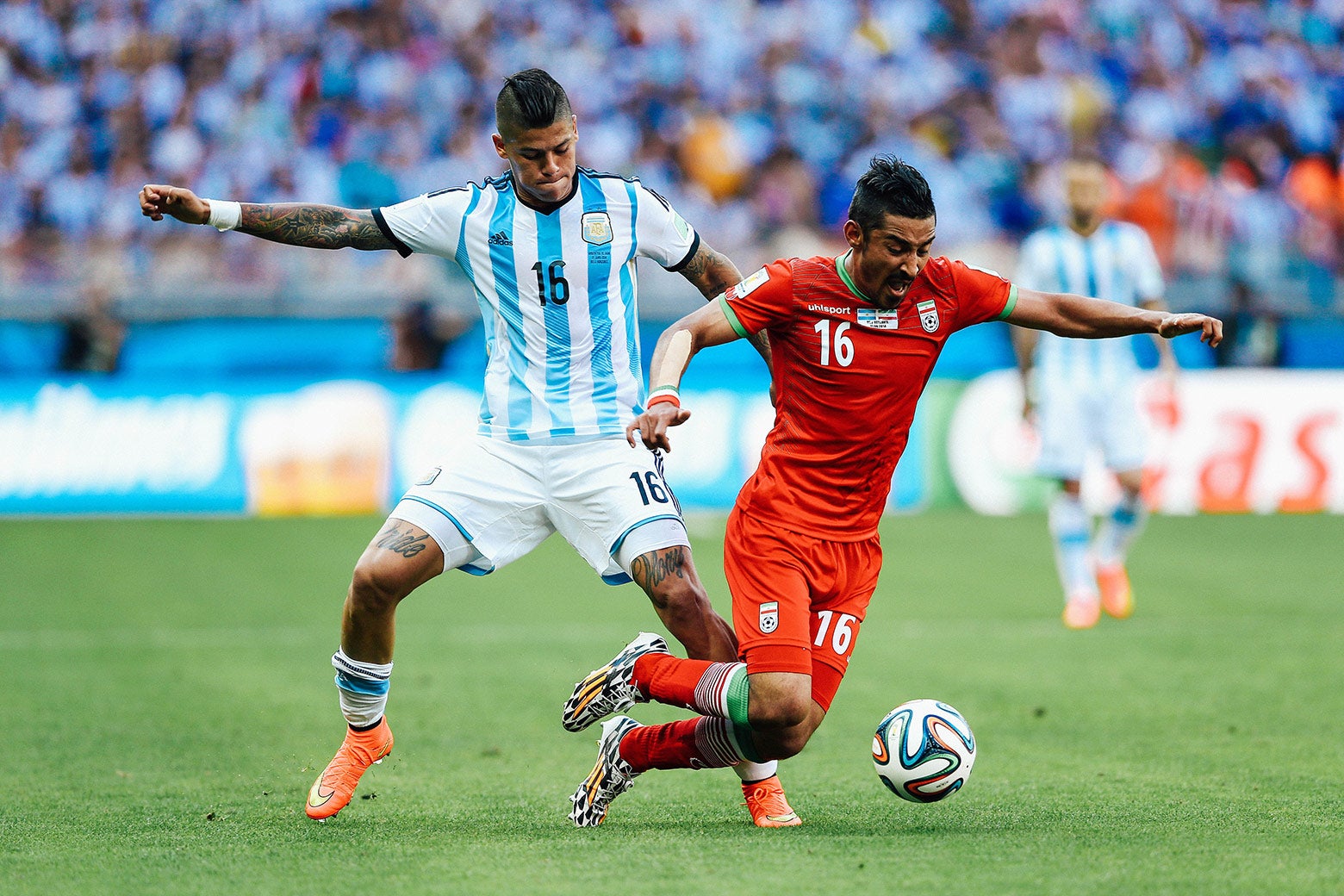 Reason No. 7: butching it up. Tattoos are a reminder to players to amp up the virility and bravery—in other words, to big up themselves. In an era of soundproofed wellness rooms, private planes, millionaire paychecks, gluten-free cuisine, perfect bods, and hyperfitness, tattoos help maintain notions of fearlessness and ferocity: As the Caligula quote on Beckham's crowded left arm says, "Let them hate as long as they fear." A word about Beckham: Even in retirement he is still the biggest influence in Soccer Style history. Regarding ink, he is unquestionably the reason why so many players embarked on a tattoo odyssey.
In the dizzying world of soccer ink, there is one legendary holdout: Cristiano Ronaldo, who claims that he has eschewed tattoos in order to be able to give blood. (The National Health Service recommends a four-month lag time between giving blood and getting tattooed or pierced.) I suspect that if he wanted a tattoo, he would get one. Which leads me to believe that he has simply opted out. Or maybe he has seized upon the concept of nontattooing as yet another way to float above the rest.
Copyright 2018 by Simon Doonan. From Soccer Style: The Magic and Madness by Simon Doonan, published by Laurence King Publishing Ltd., a division of Penguin Random House LLC.
Correction, June 18, 2018: This piece originally misstated that Laurence King Publishing Ltd. is a division of Penguin Random House.