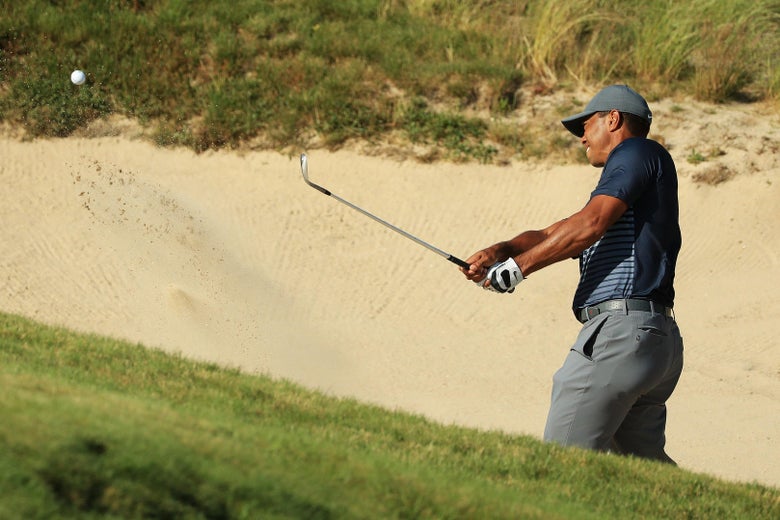 After a disgusting display last year during which professional golfers were scoring so well that they appeared to be occasionally enjoying themselves, the 2018 United States Open, held at Shinnecock Hills on Long Island, is returning to the type of tournament it should be, the type of tournament it was back in my day: hard as hell, and no fun for anyone. No one scores well, no one "feels good" playing it. There is only misery and the crushed human spirit—self-doubt given to long-avoided self-examination, all quantified by high golf scores relative to par.
Tiger Woods shot an 8-over-par 78 on Thursday. Now: If you don't count the holes where he made a double- or triple-bogey, he shot +1—good enough, as of this writing, for a tie for sixth place. But he made a triple, right there on the first hole, despite landing his tee shot square in the middle of the fairway. His approach shot sailed past the green and it took him three shots to get over the hill and back onto the green, where he two-putted. That two-putt was considerably better—by two shots, to be exact—than the four-putt he committed on the 13th, leading to a double bogey. He posted yet another six on the par-4 14th after hacking it from one section of tall fescue grass to the next.
He made a fine birdie at the par-5 15th. He's not going to win the tournament.
But Tiger Woods was not the only elite player to post a comical number of strokes. Jordan Spieth also shot a 78. Rory McIlroy shot 80. Phil Mickelson shot a 77, Jason Day a 79, Jon Rahm a 78. Some guy named Scott Gregory shot 92 and probably feels terrible. He should feel great! It's all about creating an experience for the viewers. Thank you for doing your part, Scott.
After the first round, only four out of 156 players finished under par. One of them is world no. 1 Dustin Johnson, so unfortunately not all of the top-ranked players in the world were delicious embarrassments today. No. 3 Justin Rose, too, shot a fine round of +1. Bleh.
The wind is supposed to calm down a touch tomorrow, but the conditions should be even drier, so the carnage will continue. As it should.
The problem with last year's Mickey Mouse, low-scoring Open at Erin Hills was that the United States Golf Association, which runs the tournament, didn't get the weather it wanted. The course was set up with wide fairways and intended to be played firm and fast, with wind. It rained, and the wind didn't show up. The USGA appears to be getting the weather it wants this year. It similarly widened the fairways, and 30-mile-per-hour gusts appeared just in time for the opening round. Sun will continue baking the course, and golfers will suffer. Thank God.
---