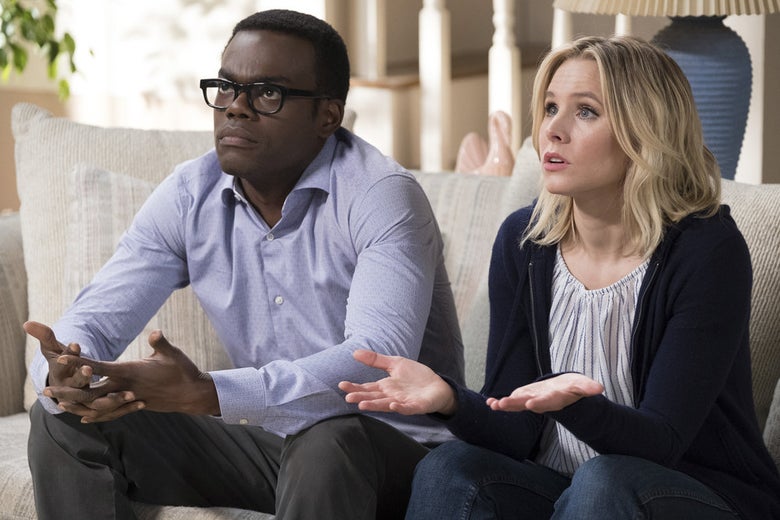 This post contains spoilers for The Good Place.
The Season 2 finale of The Good Place once again tweaked the show's formula by sending its four dead protagonists, who have spent their time in the afterlife on a self-improvement kick, back to life in the real world—or so it would seem. After the Season 1 finale twist and Season 2's many simulation and alternate realities, viewers might be reasonably reluctant to accept that the Good Place writers are not once again tricking us, but creator Mike Schur assured Rolling Stone that it's true: Eleanor (Kristen Bell), Chidi (William Jackson Harper), Tahani (Jameela Jamil), and Jason (Manny Jacinto) really have returned to their old lives.
"Normally I don't like to just flatly state what's going on, but here I don't see the benefit of people experiencing ambiguity," Schur told Alan Sepinwall. "The four of them are straight-up back on Earth, in a new timeline where they didn't die." That means that Season 3 will continue to explore whether the characters' now near-death experiences can have the same effect on them as their education in the afterlife did.
In the same interview, Schur explained one other wrench thrown into the works at the end in that season finale: Chidi's American accent. In the first season of The Good Place, we learned that we hear everyone in the Good Place speaking English, regardless of their national origin, because that's the language that main protagonist Eleanor can understand. That's why Chidi, played by William Jackson Harper, sounds American, even though he's actually supposed to be a French speaker from Senegal. It's heaven's version of the universal translator (and provides the foundation for a very good joke about how Jameela Jamil is choosing to have a British accent).
But in the Season 2 finale, Eleanor, back in the real world, watches an ethics lecture by Chidi online, and he's speaking American-accented English, which makes very little sense outside of the Good Place. "I obviously did not anticipate ever spending a long time on Earth," said Schur. "So when we wrote the finale last year, we had a long back and forth with Will where we discussed the pros and cons of Chidi speaking French, or Wolof-accented English, or something else. In the read-through, when Eleanor watches his video, Will read the lecture in a sort of pan-African accented English, and it was wonderful, and flawless. Like in a 'Meryl Streep doing a dialect' kind of way."
Harper's accent was so good that Ted Danson apparently predicted he would win an Emmy. But Schur was worried that the switch between accents would be confusing, since Chidi speaks American-accented English in Season 1's flashbacks, which also take place in the real world. "Also, he and Kristen have such a specific chemistry and rhythm, I was afraid accented English would mess with it somehow, alter it," Schur told Rolling Stone. Thus, the American accent.
Harper will just have to earn his Emmy the old-fashioned way: by constantly complaining that he has a stomachache.
---