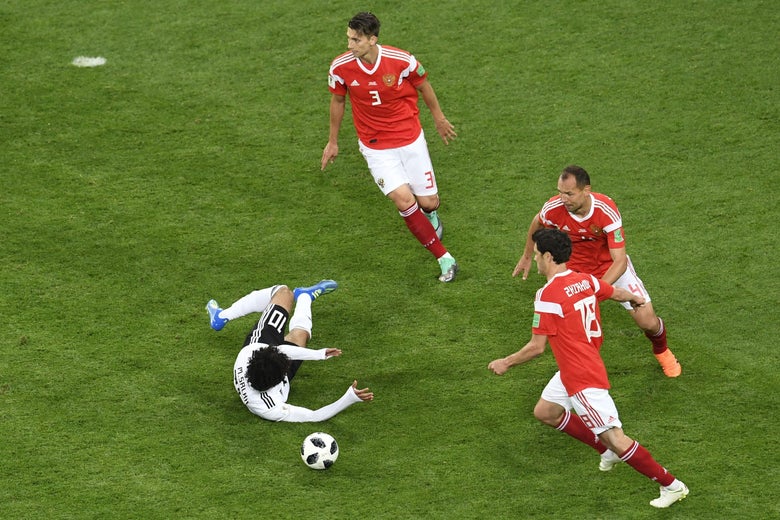 It was a show of Russian strength that sealed their 3–1 win over Egypt.
Artem Dzyuba, Russia's 6-foot-5-inch target forward, had spent much of the game throwing himself into the Egyptian defense like it was his own personal mosh pit. He earned his team's first goal when Egypt's right back Ahmed Fathy bounced off him trying to reach a bouncing ball and redirected it into his own net.
His team's third, the one Dzyuba would get credit for on the scoresheet, was the reward for his efforts. He didn't even have to hit anybody for it. The Egyptian defense was too tired and dispirited even to attempt to muscle him off the ball as he brought a long pass down off his chest, tapped it underneath the outstretched foot of a tentative Ali Gabr, and hammered it home.
As they did in their loss to Uruguay, the Egyptians held out valiantly for a time. The game was nearly even through the first half and began to turn only when Egypt started losing the battles for loose balls on both ends of the field, worn down by Russian physicality. Their energy guys sputtered. They were pushed off the ball in possession and struggled to track runners when they lost the ball. Denis Cheryshev peeled into a gap the size of the Nile delta to score the Russian second, and nobody went with him.
Soccer is the most finespun of the team sports—no other GOAT has the frame of Lionel Messi—but being bigger, stronger, and fitter than your opponent still matters.
Tuesday's match could end up being the only appearance this World Cup for Egypt's Mohamed Salah, the past year's biggest breakout star. If Uruguay beats Saudi Arabia Wednesday, then Russia and Uruguay will both be through to the Round of 16. Those two will then face off for first place in the group next Monday, while Egypt and Saudi Arabia might be playing for the honor of not finishing 32nd out of 32 teams. If the shoulder injury that kept Salah out of the opener isn't fully healed, then would he risk it there? Egypt will likely be favored anyway. Will his team trot him out on the field simply to preserve some semblance of national dignity?
The exit of Salah is especially tragic when compared to Tuesday's biggest entrance. Earlier in the day, former FIFA president Sepp Blatter arrived in Moscow to attend a pair of games as Vladimir Putin's guest.
Blatter led FIFA for 17 years—including when Russia was selected as the host of the 2018 World Cup before a corruption scandal saw him step down days after winning an election to his fifth term. Blatter is not just the awkward uncle FIFA wishes wouldn't come to reunions anymore; he's serving a six-year ban from the sport for unethical conduct. As a symbol of an era rife with scandal and kickbacks that FIFA likes to pretend is now in the past, his presence at the tournament likely won't be welcomed by anybody except his "old friend" Putin. The stars of the Russian national team, it's clear, aren't the only ones flexing.
---