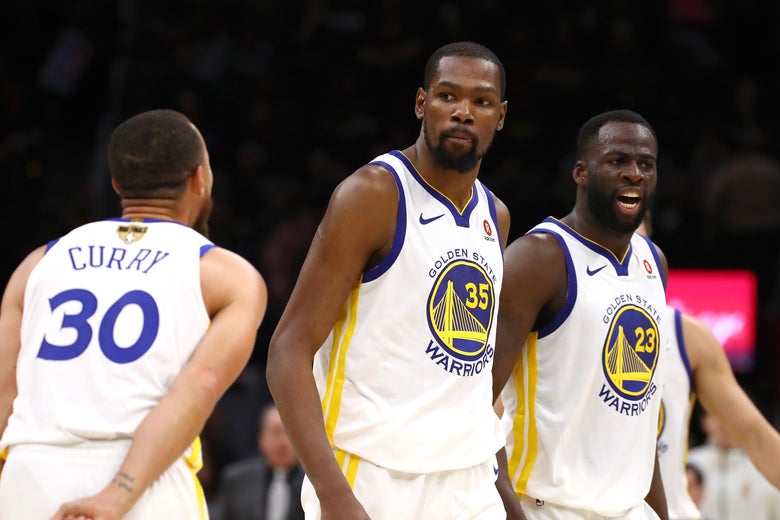 One could argue that the Golden State Warriors don't necessarily need Kevin Durant in order to win an NBA Championship, but he certainly helps expedite the process. Thanks to his ruthless and brilliant Game 3 performance, the Warriors beat the Cleveland Cavaliers 110-102 on Wednesday night and are a game away from winning their third title in four years.
While not as heartbreaking as Game 1, this was a contest that Cleveland really should have won. Steph Curry and Klay Thompson scored a combined 21 points for the Warriors, and Curry was bizarrely anemic from deep (1-for-11). The Cavs actually got decent offensive production from their role players, and Rodney Hood, who hadn't seen any action since early in the Eastern Conference Finals, reemerged from Elba to contribute 15 points off the bench. It was a recipe for a Cleveland victory, but Durant piled on enough salt to completely ruin it.
Durant is a basketball machine, efficient to the point of being unfair. He scored 43 points, shot 15-for-23 from the field, and added 13 rebounds and 7 assists. He couldn't even be bothered to muster a facial expression after sealing Game 3 with a comedically long jumper from just inside Cleveland's garishly huge half-court logo. The despondent Cavs players, meanwhile, slumped in resignation like 18th century weavers confronted with a mechanical loom.
What can you do about that? Even LeBron James, the best basketball player on the planet, doesn't have an answer. LeBron was incredible on Wednesday, which is hardly news, but he did throw an ally-oop to himself. This is now where the bar is set in order for something he does to be considered noteworthy. I expect him to easily clear it in Game 4.
LeBron had 33 points, 10 rebounds, and 11 assists on Wednesday. It was his tenth career Finals triple-double, but it still wasn't enough. Maybe he should start going for triple-triples?
The Warriors will have a chance to complete the sweep on Friday. It would be an unceremonious end to LeBron's amazing postseason, but a relatively unsurprising one considering Golden State's firepower. It might even be the game in which we finally get to see Durant, Curry, and Thompson all play well at the same time. It hasn't happened yet in these Finals, and the only uncertainty now is whether or not the series will go on long enough to accommodate it.
---