Kelly Marie Tran, the actress whose breakout role was playing Rose Tico in Star Wars: The Last Jedi, deleted or hid all of her past Instagram posts as of Monday. While Tran has not offered any public explanation for wiping the account, she has been the subject of persistent online harassment, largely from disgruntled Star Wars fans, since the movie's release in December, which seems a likely factor. Slate has reached out to Tran's representatives and will update this post if they respond.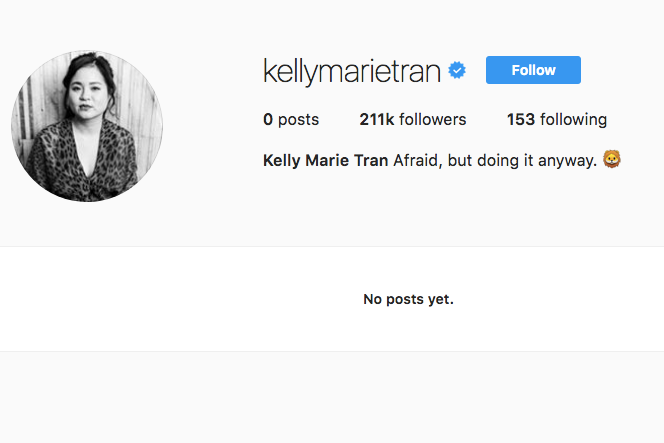 Meanwhile, Last Jedi director Rian Johnson seemed to confirm that online harassment was the cause of the actress' departure, telling a Twitter user Tuesday, "You know the difference between not liking a movie and hatefully harassing a woman so bad she had to get off social media. And you know which of those two we're talking about here."
This certainly wouldn't be the first time this pattern has played out between Star Wars fans and stars. Daisy Ridley has similarly been the subject of online harassment, especially after the release of The Force Awakens. She deleted her own Instagram account in 2016, citing the pressure of "growing up" in a public forum, while John Boyega, the first black man to take on a leading role in Star Wars, faced his own share of racist abuse after being cast as a stormtrooper in the same film. He dismissed the perpetrators in a New York Times interview as "victims of a disease in their mind. To get into a serious dialogue with people who judge a person based on the melanin in their skin? They're stupid, and I'm not going to lose sleep over people."
As admirable a sentiment as that is, The Last Jedi has received an unusually vehement backlash, and the resulting abuse, especially as directed toward Tran, has been some of the most pernicious. In addition to garden-variety racism and sexism, Tran has also been targeted by fans who specifically dislike her character and storyline, as though she should somehow be held personally responsible. That's ironic, since The Last Jedi is, in many ways, a movie about fandom and its toxicity.
Star Wars in particular and movie and television fandom in general have an undeniable problem with online harassment, the brunt of which is being borne by women and people of color as they play more visible roles in major franchises with passionate fan bases. As Disney continues to slowly but surely diversify Star Wars—in front of the camera, if not necessarily behind it—it may also have to finally reckon with some of its worst fans.