One thing to note about my first overnight impressions of Kanye West's new, seven-song album is that any music at all was bound to sound great compared with nearly two hours of watching a stack of burning logs slowly crackle, surrounded by monolithic black speaker stacks, in the middle of a field in Wyoming, with occasional guest features from some idling horses. (Was West trying to tell us his album was fire, or just lull less-committed watchers off to sleep?) It was likewise better than, later, viewing a bunch of flown-in journalists and VIPs mill around in the same field while apparently waiting for their host to finish watching basketball. Those were the opening acts on the exclusive livestream for West's album-release listening session, which required downloading and signing in to some chintzy third-party app West was cross-promoting. (Free thought meets free data mining?) That Jackson Hole meadow, the bonfire, the speakers, and a horse now reportedly also star on the album cover—in the place of his earlier concept, a photo of the plastic surgeon who performed the operation that preceded the death of his mother, Donda West, in 2007.
When West finally appeared, he wisely left the speaking duties to Chris Rock, who introduced the album as Ye—the third consecutive West project to be titled after one of his own nicknames. Rock, after some gibes about the location of this mainly black event in very white Wyoming (darkly kidding there'd be a cross on the bonfire later), instructed the crowd to remember that "hip-hop is the first art form created by free black men." Early jazz artists, among others, might have disputed him there. Then Rock winked that "no black man has taken more advantage of his freedom than Kanye West." Of course, that was a joke about West's recent string of outrages in tweets and interviews, supporting his brother in "dragon energy" Donald Trump and criticizing the supposed political conformism of black Americans (Wyoming, incidentally, hasn't voted for a Democrat for president since 1964)—most notoriously by declaring that the longevity of slavery seemed in some way "like a choice." Finally, Rock cautioned to "listen without prejudice"—an apparent cryptic nod to George Michael's much more mildly controversial 1990 comeback album—and then the record popped off, and the rest of the stream consisted of watching West and his invited guests jump up and down and snap selfies while the songs played, twice through.
So the other necessary context is that even most of us who recognize West as one of the pivotal pop-music minds of the young century, as both a sound sculptor and a provocateur, were less inclined to jump around with excitement. Maybe with frustration. We wanted to know whether the album would offer some more coherent account of his state of mind, or whether it would seem similarly impulsive and fractured. Earlier the same week, after all, West's wife, Kim Kardashian, was photographed meeting with Trump in the Oval Office. The way West has politicized his own position, any pleasures Ye offered for the non–MAGA hatted threatened to be guilty ones.
Predictably, Ye doesn't make any explicit apologies or takebacks, but it does make conciliatory gestures. The biggest is its sound, a 2018-updated throwback to the "old Kanye" (as he put it on The Life of Pablo), the one who made himself famous with collages of diced soul samples fit into original musical arrangements. There are also some of the most appealingly populist modern-gospel touches from that 2016 album. But unlike that deliberately messy record, Ye is an exercise in economy.
It's part of a series of albums that he and several artists in his GOOD Music stable have been holed up in Jackson Hole creating, each seven songs long, all to be released over the coming weeks—Pusha T's West-produced Daytona came first, over Memorial Day weekend. The brevity is a cheeky answer to the recent streaming-driven trend of album sprawl to boost play counts, but it's also a manageable way to cater to West's instinct to return under pressure to his undeniable gifts as a craftsperson: Five albums in five weeks could be a powerful strategic offensive, if they're all as innately listenable as this one and Pusha's. That record alone has already generated the conveniently distracting counternarrative of a beef with Drake, so that West's political shenanigans are no longer the biggest story in hip-hop. There are moments on Ye that could be glares in Drake's direction—like "too rich to fight you/ calm down, you light skin" on "No Mistakes"—but West mostly doesn't want to battle on yet another front, just misdirect others there.
What he does want to do is make himself more sympathetic, and that demands confessional moments—a rap mode that the "old Kanye" kind of pioneered, before the full-blown emo rap of Drake, West's collaborator Kid Cudi, and others. So on the opening track "I Thought About Killing You," he alludes to thoughts of suicide (though also to contemplating homicide), and on Track 2's "Yikes" to drug abuse and pricey hospital stays and, in a coda, the many rumors about his mental health, though not as a bug but a feature: "That's my third person/ That's my bipolar shit … That's my superpower, n—a, ain't no disability/ I'm a superhero! I'm a superhero!"
This is his pattern here, part acknowledgment and part justification. On "Wouldn't Leave," he compares his slavery outburst to his famous "How, Sway?" 2013 fight with radio host Sway Calloway about the fashion industry—equating and dismissing both incidents as the wild shit Kanye West gets up to. That song dwells on what he narcissistically judges his real crime there, upsetting Kardashian with his antics, and pays tribute to her for standing by him. That domestic emphasis is part of the general spin, with declarations of love arising in the next two tracks too and the final "Violent Crimes" digging much deeper into his fears about future suitors' sexual designs on his now-infant and kindergarten-age daughters than many listeners might want to hear. (That track ends with a voice message from Nicki Minaj, signing off on his jokes about her in the song, making sure there's no Taylor Swift–style debate about whether he's obtained his receipts.)
Still, to confirm his manhood, those testimonies all follow the hound-dogging "All Mine," which drops a Stormy Daniels reference as if in solidarity with the pussy-grabber in chief. Elsewhere, West frets over Russell Simmons and the threat of getting "#MeToo'd." He laments that his own cosmic force, his inner masculine principle (with shades of the conservative Jungian lost-boys guru Jordan Peterson), and his liberated freethinking create so many complications.
The most rousing chorus on the record is at the end of penultimate track "Ghost Town," led by the up-and-coming New Jersey artist 070 Shake, singing, "I let it all go, of everything that I know,/ and nothing hurts anymore/ I feel kinda free./ We're still the kids we used to be./ I put my hand on the stove to see if I still bleed."
As irresistible as that refrain is to sing along with, it's an übermensch vision of breaking through the Big Lie of sheeple society and being raised to a higher, invulnerable plane. It's where the beat-up kid of the "old Kanye" envisions wings breaking out of his backpack and transporting him above the hoi polloi. It's the common fantasy of the moneyed elite that they are a species apart, no longer bound by earthly rules or petty sympathies. And it's the dangerous idea of an unhealthy person that his manic acting out will permit him to stride through emotional fire without getting burned. (On the just-released album cover, which Kim says West snapped himself on the way to the listening party, appear the following lines, apparently scribbled by West himself: "I hate being Bi-Polar," and "its awesome.") I'm hesitant to say that, because his openness about his issues might inspire and help some listeners, but they feel a long way from worked through.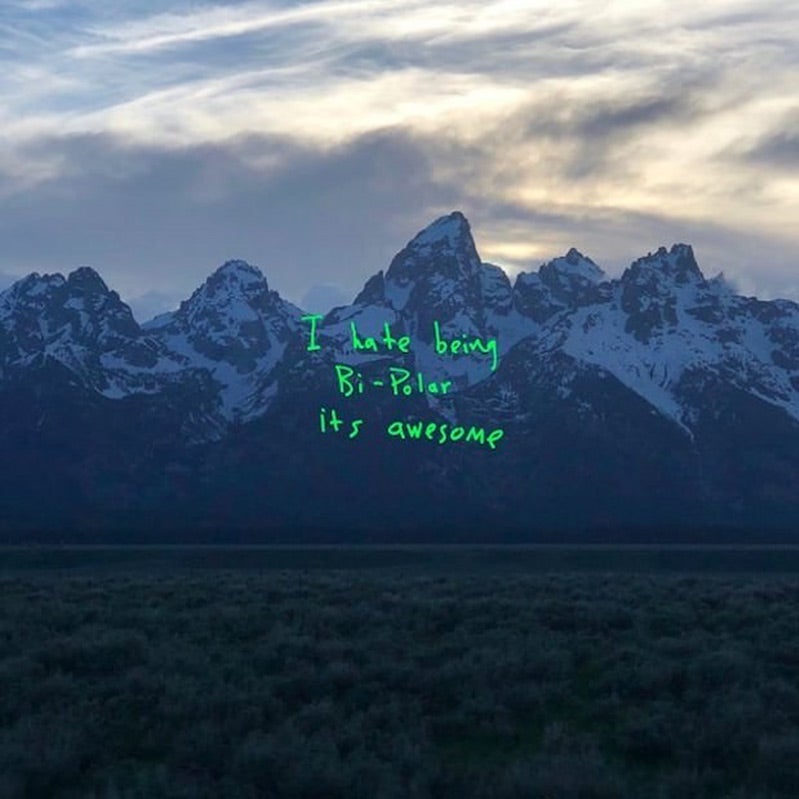 Like his urge to shrug off the whole legacy of slavery—"I ain't finna talk about it another four centuries"—these are the ways that West in 2018 has been making getting free in a white-supremacist nation seem much too simple, as if the struggle is over. While hip-hop is indeed about freedom, at its best it's not about sidestepping the truth to get there. West does draw my sympathies, but the gap between his sonic virtuosity and his perspective seems to grow album by album lately. Some would say ever since his mom's passing, due to his grief and the loss of her as a superego and reality check, though I would argue that if so it was a more delayed effect. Even on the often-disturbing Yeezus, his provocations used to rip open the social fissures that now they plaster over.
That West still can make so much of it sound so good (though much more instrumentally than verbally) really is too easy for him, with his talents. Here those musical miracles seem like mirages. That doesn't make Ye an artistic failure—as a snapshot of where he sits, its compactness lends it urgency, and his raw desire to be understood is always magnetic. But where West once drove the form forward with every move, Ye seems like a retrenchment, a backward step into the bonfire of his, and America's, vanities.