I've never once wished that I could live in a world without Kanye West, but I have sometimes—recently, more than sometimes—wished that I could live in a world without "Kanye West," the celebrity grotesquerie who haunts our culture like some perpetually expanding rough draft of a horrible think piece. I found myself wishing I could live in that latter world just this past weekend, when I spent no small handful of hours listening to Kids See Ghosts, West and longtime collaborator Kid Cudi's seven-track, 24-minute burst of sound that was dropped online on Friday. The album—which, if we're being technical, is the self-titled debut of a duo called Kids See Ghosts—has underperformed commercially since its release, the starkest sign yet that "Kanye West" is testing everyone's patience with Kanye West. If West's name weren't (figuratively) on this project, we might be listening to and talking about it more than we are now, the first time something like that can be said about any Kanye West record since 2004.
That's no one's fault but his own, of course, but it's also a bit of a shame, because Kids See Ghosts is excellent, a work of adventuresome confidence that boasts no small shortage of real beauty. Kids See Ghosts is the first full-length collaboration of its kind that West has done since teaming up with Jay-Z for 2011's Watch the Throne, but for all significant purposes, Kids See Ghosts couldn't be farther removed from that luxury-rap blockbuster. For starters, it feels much more like a Kid Cudi vehicle than a West vehicle, at least outwardly: West doesn't even take a verse on the album's first track, "Feel the Love," which features Pusha T (once again) comparing himself to Eazy-E and declaring that he "love[s] to fuck to trap music" while Cudi handles the hook, "I can still feel the love," repeated over and over, a phrase whose exultant quality is belied by the sighing, minor-key organ behind it. Cudi has been one of the most important and influential figures in West's expanded universe since 2008's 808s & Heartbreak, a landmark, career-altering album that was steeped in the then up-and-coming Cudi's influence. His lush baritone has appeared on every one of West's albums since, becoming a sort of instrumental flourish unto itself. It was Cudi who sang the haunting hook on "Gorgeous," the second track on West's My Beautiful Dark Twisted Fantasy. Six years later, he was doing the same thing on The Life of Pablo's "Father Stretch My Hands, Pt.
1."
Kids see ghosts is a phrase that sounds foreboding on its surface but inside is filled with wonderment: Kids see ghosts because sometimes that's a lot more fun than not seeing them. It's an apt title for an album that seems to be entirely driven by the enjoyment of music-making; this is the first work West has done in ages that doesn't feel like it's in an argument with something. Unlike the previous Friday's Ye, an uneven work that, even over its brief running time, frequently sagged under the myriad pressures of "Kanye West," there's not a whiff of petulance here, and the album's collaborative spirit feels distinctly liberating.
From a lyrical standpoint, Kids See Ghosts is almost studiously unambitious—much of the album is abstract sloganeering, with occasional references to struggles with mental health (a recurrent topic in both men's music) that tend to quickly resolve into exhortative positivity. Neither Cudi nor West are world-class MCs by any stretch, and neither tries to be here, although the latter achieves a few moments of inspired mischief while thankfully steering clear of misbegotten provocation. ("Might need a new intervention for this new dimension/ That's too new to mention, or fit in a sentence/ If I get locked up, I won't finish the sent—" are the closing lines of West's verse on "4th Dimension," a bit of pleased-with-itself wordplay that hearkens back to West's vaunted college trilogy, all those years ago.)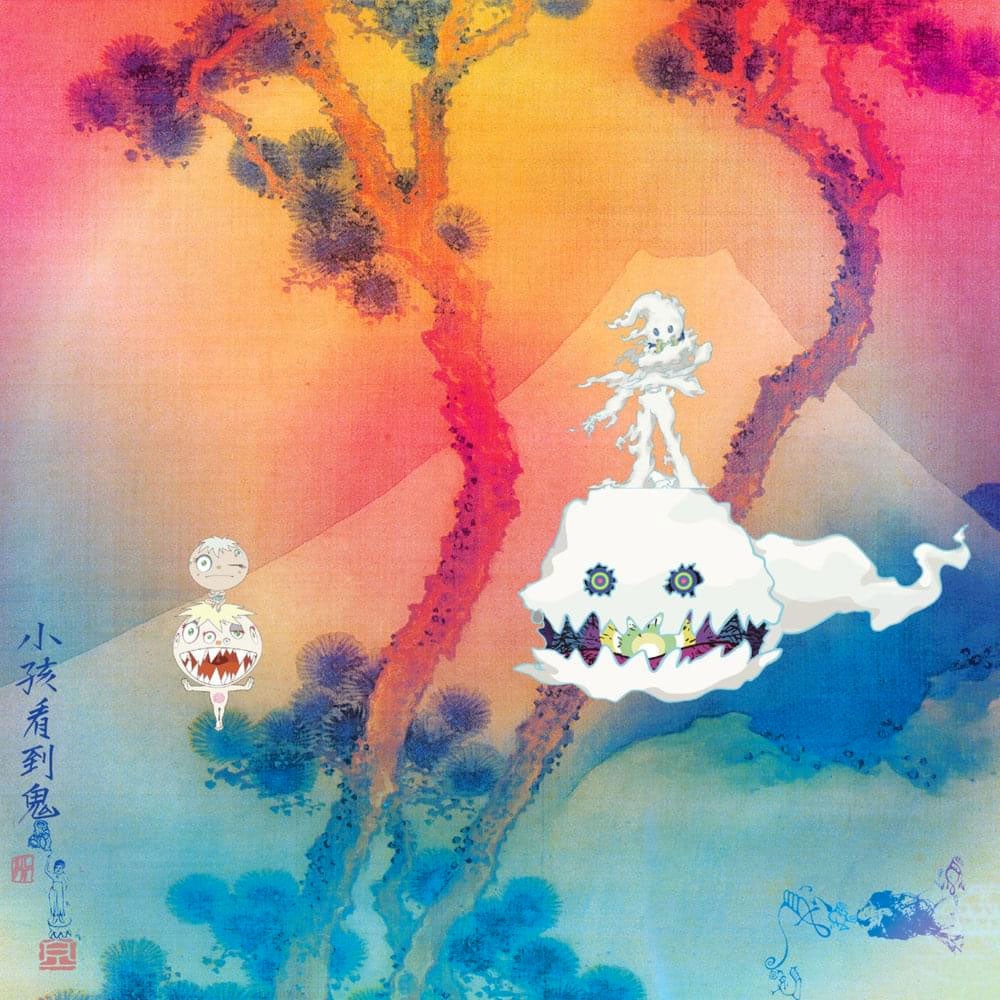 But if Kids See Ghosts only breaks even on the verbal side, it more than makes up for it in its vast wealth of sonic detail and musical intuition. "Fire," co-produced by André 3000, nicks the industrialized shuffle of "Black Skinhead" but reworks that track's sharp-toothed rage into a prayer for redemption. "4th Dimension" opens with a sample of Louis Prima's 1936 recording of "What Will Santa Claus Say?," then screws it into a droning wail that glides over a churning rhythm track. The album's title track is a fittingly jittery mix of moaning synth pads, ghostly theremin sounds, and plik-plokking percussion that sounds like some futuristic remake of Jeru the Damaja's "Come Clean" (which still sounds pretty damn futuristic). "Freeee (Ghost Town, Pt. 2)," featuring the great Ty Dolla Sign, is the album's most fun and exuberant track, as well as maybe the most inspired David Bowie homage I've heard since the late Mr. Stardust's passing, with its booming walls of vocals, gnashing distortion, and thundering drums.
The album's prettiest and most affecting moment is its closer, "Cudi Montage." (Does anyone else get the sense that West has been titling a lot his recent songs after the names the audio files are saved under?) "Cudi Montage" opens with a sample of Kurt Cobain's jangling acoustic guitar from the home demo of "Burn the Rain," which gradually recedes as Cudi moves from his opening verse to the chorus, a cavernous, incantatory repetition of the lines "stay strong" and "save me, Lord." Next comes West's verse, a murky but heartfelt rumination on violence that ends with a shoutout to Alice Marie Johnson, the grandmother who served 21 years in prison for a first-time nonviolent drug offense and was recently released after advocacy by Kim Kardashian West. West's verse ends about two minutes into the track, and the remaining minute or so is gorgeous, a soaring mass of voices and textures and chord changes that seem to move within their own incontestable logic.
Kids See Ghosts isn't anywhere close to the best music that Kanye West has ever made, although to my ears it's significantly better than the music he released just the week before. It's unlikely to do much to rehabilitate his image, in part because it's the first music he's made in a long time that doesn't seem particularly image-obsessed. (To anyone who'd knock it for this, I'd counter that the idea of listening to an album where West sets out to convince us that his politics are now informed and righteous sounds uniquely hellish.) The only headline here is that West and Cudi have made a collection of music that's perfectly content just being music, music that's occasionally breathtaking and exists entirely on its own terms. Kids See Ghosts isn't a masterpiece. But to use one of West's own favorite words, it's good.