This will be known until the Earth is engulfed by the sun as the J.R. Smith Game, and not in a good way for Cleveland Cavaliers guard J.R. Smith.
With five seconds to play in Game 1 of the NBA Finals and the Cavaliers tied with the heavily favored Golden State Warriors on the strength of one of LeBron James' most spectacular performances ever, Smith rebounded a missed free throw by teammate George Hill. This gave Smith the opportunity to:
• Attempt a game-winning shot from within a few feet of the basket.
• Pass to a wide open LeBron James, who is by consensus one of the two greatest basketball players in history, and certainly the greatest actively playing, and who'd made 19 of his 28 shots on the night.
• Call the Cavs' remaining timeout.
Unfortunately for LeBron, the Cavaliers, the chances of this series being competitive, and Smith's self-esteem, he chose Door No. 4: dribbling away from the basket until there wasn't enough time left to get a shot off because he somehow did not know the score of the NBA Finals game he was playing in and was operating under the mistaken belief that the Cavs were leading. Here it is:
Note that you can see Smith tell LeBron, "I thought we were ahead." Also look at how open LeBron was on the play (or don't look, if you're not a fanatic Warriors fan and don't want to tear your eyes out):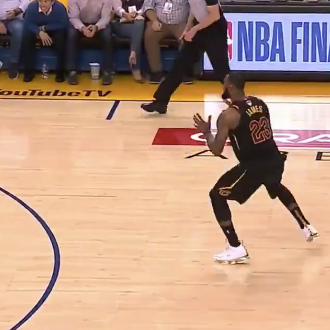 Here's your iconic reaction shot: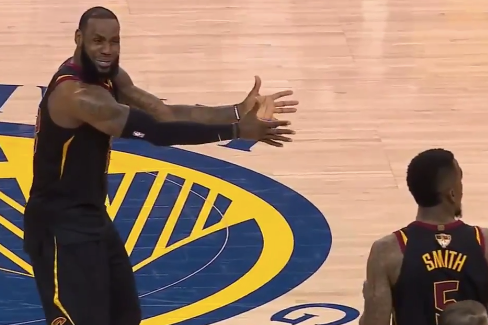 The Cavs, not surprisingly, did not recover from this self-inflicted emotional atom bomb, going on to lose 124-114 in overtime. Smith's devastating blunder—a higher-profile reenactment of a 2014 screw-up that occurred when he played for (of course) the Knicks—will overshadow yet another historically great game by LeBron, who scored 51 points despite being the obvious focal point of the Warriors' defense. Smith's insane mega-fail wasn't nearly the first time James' teammates let him down on Thursday night; they shot 38 percent from the floor and 23 percent from 3-point range and were beaten down the court for 28 Warriors fast break points. They were not good.
But hey, maybe LeBron will score 60 in Game 2!
Update, June 1, 12:50 a.m.: J.R. Smith endorses J.R. Smith's late-game strategy: