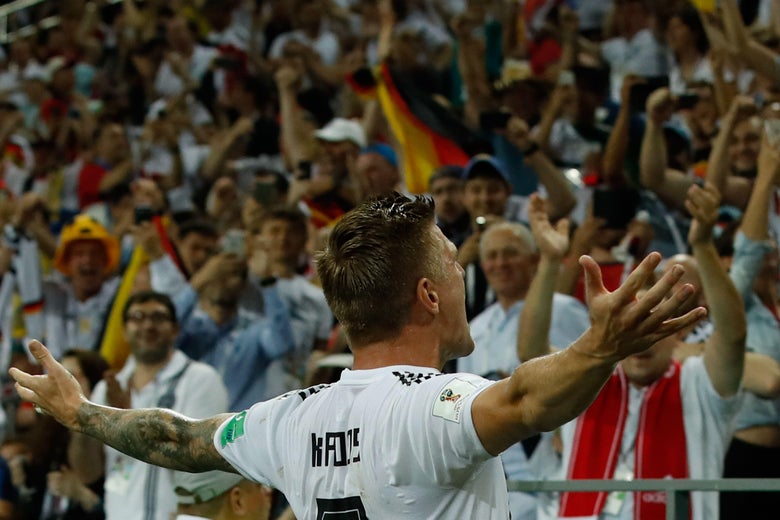 For most of the second half of its match against Sweden, Germany found itself in an unfamiliar position. The score was knotted at one goal apiece, and a draw would have put the defending World Cup champions at the mercy of others. To ensure progression to the Round of 16, it would have had to win its final match and hope for a sequence of results elsewhere in the group. You don't hear this too often, but the Germans were not in control.
But just as the soccer world was preparing to bask in an unlikely German failure, Die Mannschaft coined a new word for spoiling others' schadenfreude: Kroos, as in Toni Kroos, the midfielder who curled in a free kick from an acute angle in the match's dying moments to deliver Germany the win.
After Sweden opened the scoring in the 32nd minute, Germany's performance began to look eerily familiar. It dominated possession as it did against Mexico in the opening match, but the hundreds of passes strung together through and around Swedish defenders amounted to little beyond intricate tributes to intricacy as a concept. Despite repeated attempts to score The Perfect Goal, a breakthrough finally came in the 48th minute when Marco Reus bundled a cross off his knee and over the line.
Chances came and went, but Germany was denied by the post (once) and Swedish keeper Robin Olsen (multiple times).
German pressure became so overwhelming that, even after the referee sent off Jerome Boateng in the 82nd minute, its numerical disadvantage was only evident to viewers at home thanks to the "GERMANY PLAYING WITH 10 MEN" graphic that Fox placed on the screen. Players kept pouring forward until a foul just outside the box awarded Kroos his moment to shine.
For the majority of its two matches in Russia, this German squad has been more Rube Goldberg than battering ram. Kroos' strike was a reversal of that trend, and it helped wrestle control back for Die Mannschaft. For everyone else at the tournament, this is a pretty scary development.
---