Two years ago, if you were a betting television network looking for a culturally relevant, live-wire, get-everyone-talking drama series, would you have put your money on
a) a series about the internecine struggles of a wealthy, powerful, and famous media family, whose mercurial patriarch is in questionable physical and mental health (no, not that family, think the Murdochs);
or b) a series about an obese advice columnist who gets recruited by a feminist group working to undermine the beauty industrial complex as a vigilante cell starts graphically murdering sexual predators?
At the time, I think, the safe money would have been on the macho Murdochs. After all, they've have been tabloid fixtures for decades. Besides which, they're rich people who are, as common wisdom would have it, always fascinating.
This is why bets, whether it's 50 cents slammed into a slot machine or the many millions of dollars TV networks sink into a show, are always a risk. Two years later, the series borne out of the first premise, HBO's Succession, feels like a missive from an alternate reality, one where the financial crisis and the inner workings of a dysfunctional, wealthy family that isn't the Trumps could be on the front of anyone's mind. The other, AMC's Dietland, based on Sarai Walker's novel of the same name, is a feminist indictment of the beauty industry that brainwashes women and upholds rape culture, so timely in the #MeToo era as to be downright eerie. In a moment when being anything less than "necessary" gets a show bumped to the back of an endless queue of things to watch, only one of these shows could plausibly qualify as a show we need right now.
Dietland tells the story of Alicia "Plum" Kettle (Joy Nash), who makes a living ghost-writing the advice column of Kitty Montgomery (Julianna Margulies), the editor in chief of the women's magazine Daisy Chain. Plum is smart, well-read, and thoughtful, but she's stuck in a suffocating, insular routine, numbed out on anti-depressants, and trudging to regular meetings of "Waist Watchers." She's starving herself and saving up for gastric bypass surgery, convinced that her entire life will transform for the better if she were only thinner.
But outside forces have other plans for Plum, who narrates the show from the future, aware of what's in store for herself in a way that we, in the audience, are not. First, Plum finds herself in Daisy Chain's vast beauty closet, where Julia (Tamara Tunie) dispenses makeup with one hand while trying to undermine Daisy Chain's parent company, part of the "dissatisfaction industrial complex," with the other. Soon thereafter, Plum visits Calliope House, run by body-acceptance guru Verena Baptist (Robin Weigert), who offers Plum $10,000 to go into therapy with her and get off anti-depressants—all as a way to make amends for Verena's parents, who ran a cult-like diet group to which Plum once belonged.
And then, on top of all of this—or somehow tied to it—is the vigilante terrorist cell Jennifer, which is plucking unpunished sexual predators off the street and murdering them. One example: Jennifer whisks a fashion photographer styled to look like Terry Richardson from a shoot, terrorizes him, and then tosses him out of an airplane, his corpse kersplatting on a bustling restaurant patio. Dietland is so deeply in the groove of now that details fall into place with a satisfying extratextual click. Jennifer's members disguise themselves in grotesque witch masks. How'd they know about Jordan Peterson?
Dietland was adapted by Marti Noxon, whose long career in television has lately included Bravo's very fun Girlfriend's Guide to Divorce, a key role in the first, good season of UnReal, and the upcoming HBO adaptation of Gillian Flynn's Sharp Objects. Noxon is herself a sharp object with regards to smart, lively, caustic fun, and Dietland has the antic, overstuffed air of a show that doesn't want to waste a moment on anything boring. It's peppered with animated sequences in which Plum sees herself as a cartoon, and flashbacks are theatrically dramatized. As Plum goes off anti-depressants, for example, she has a long delusion involving a romantic tiger, a man in a kind of mascot outfit, that plays out for much of the episode.
This is all, as you can probably tell, a lot. Through the three episodes available to critics, I wouldn't say I ever quite got my bearings. (Walker says she wrote the book after seeing Fight Club, and you can tell, from the Waist Watchers meeting to the army of terrorists.) I've seen some critiques of the series that suggest less might have been more, and they have a point. An early scene, a dreary Waist Watchers meeting where Plum admits that she's always starving and is answered with a "'Hey! Good for you!" is more damning about our misogynist culture than any other moment in the show, perhaps because it's the least fanciful. Certain details suggest the show's underlying analysis might be lacking—is the beauty industrial complex really more complicit in perpetuating rape culture and disempowering women than, say, misogyny and sexism? But watching the show toss a million balls in the air is riveting, even if I have no particular expectation it won't ultimately drop most of them.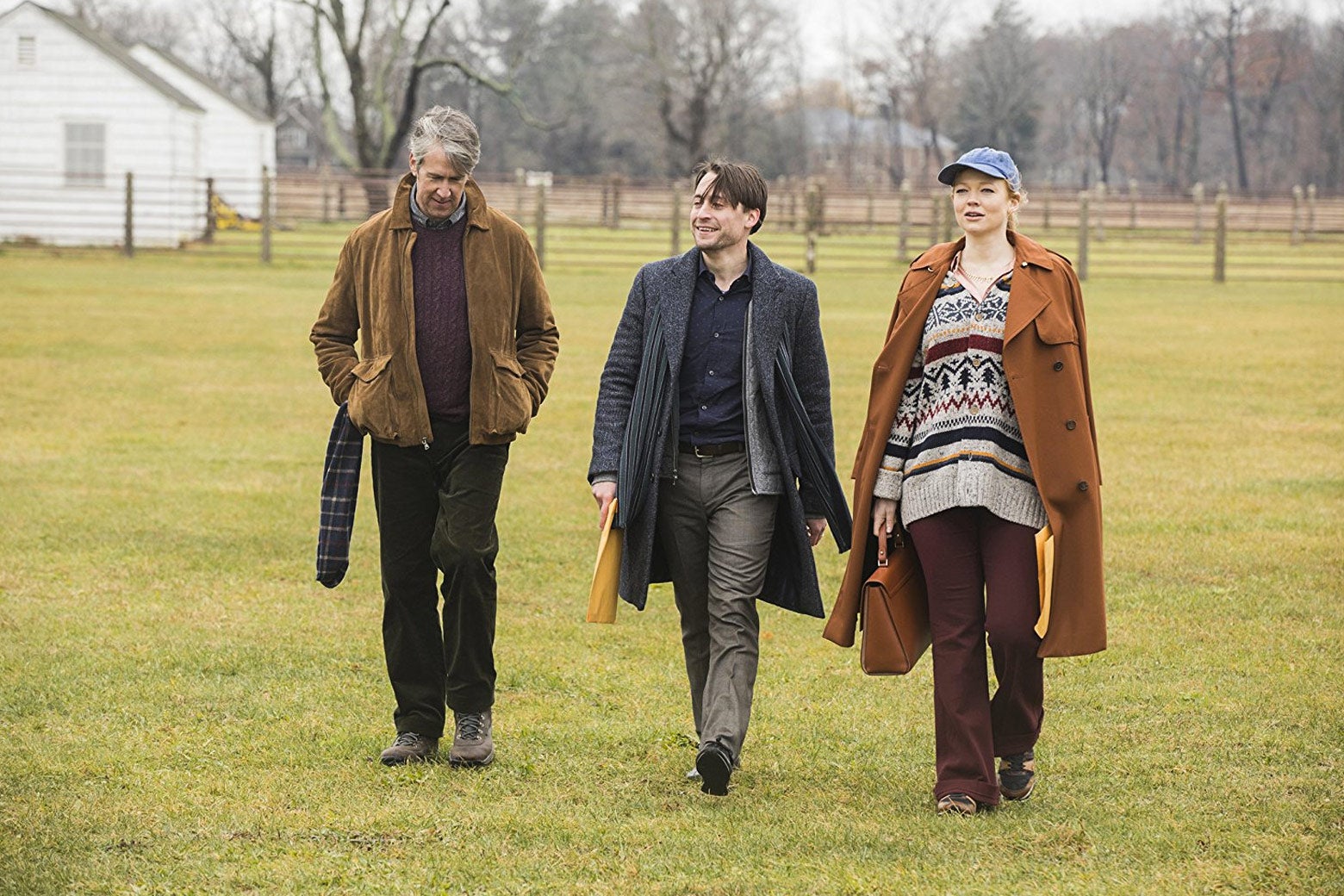 Current events feel so urgent, so raw, so fast moving, that TV can either try to keep up, or it can not choose to run the race at all. Be relevant, or be a relief. Dietland is so deeply in the scrum of current events that its tagline is "Join the Revolution," which gets points for ambition, and demerits for using revolution as an advertising scheme. (Forget the beauty-industrial complex—what's the role of the entertainment-industrial complex in perpetuating the status quo?) Meanwhile, Succession—created by Adam McKay and starring Brian Cox as aging patriarch Logan Roy, readying to pass his media empire on to his squabbling children—has no such #resistance credentials. I found it to be very watchable but totally missable: not urgent, not escapist, and not even the best premium cable show about hugely entertaining rich people. (That's Billions.)
McKay, who directed the Oscar-nominated financial-crisis black comedy The Big Short, isn't presenting some deeply aspirational rich family, but a dysfunctional one that nonetheless exerts a great influence on the global economy and the less-rich people around them. It's about the force field of wealth, which distorts even the most intimate of relationships. (When Logan's son, poised to take over the company, signs a paper his father asks him to, Logan takes that as a sign of his unreadiness: He should have had it lawyered!) But the show is not quite scathing or indicting enough to bring a sense of urgency to its study of the super-rich. In a way, Succession's lack of timeliness is a disheartening reflection of the breakneck pace of our moment and our attentions. Money, the gulf between rich and poor, the way the uber-wealthy behave—it might actually be the defining issue of our time, but in 2018 it feels less dire than other more pressing horrors. I can't say that I'd want to watch the Roys if they were in the White House, but if McKay had thought to set them there, Succession would have qualified as a show that we need right now. Instead, it's a show we don't really need at all.