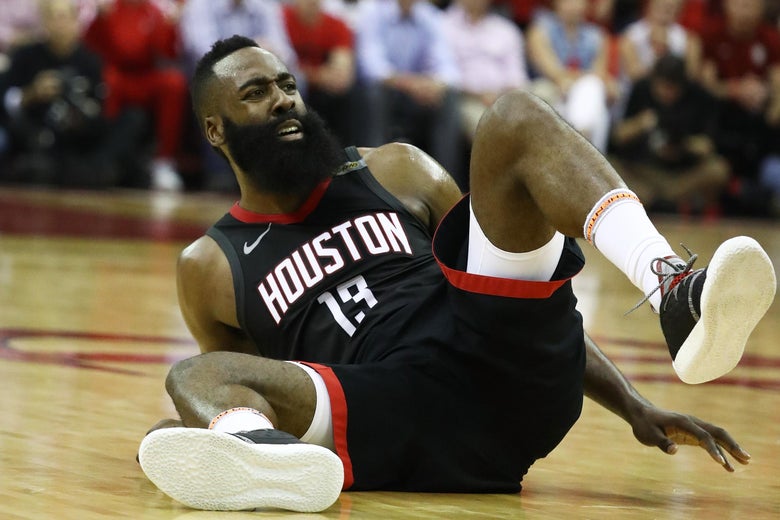 Feel free to feign surprise: For the fourth straight year, the Golden State Warriors will be playing the Cleveland Cavaliers in the NBA Finals. Golden State punched its ticket on Monday night with a 101–92 Game 7 win over the Rockets that will remembered in Houston with a level of fondness usually reserved for bouts of dysentery.
Starting in the second quarter, the Rockets went on a run in which they missed 27 straight 3-pointers. Well, run doesn't seem appropriate here, as Houston essentially did the opposite. The Rockets smoked a pack of cigarettes on the couch while eating fried cookie dough (that was delivered, of course).
Watch, if you dare.
The Rockets had a legitimate gripe with the officiating crew after a bunch of noncalls in the second and third quarters (like Jordan Bell's suspiciously mobile derrière on this screen) went in the Warriors' favor. But Houston lost any right to complain by disintegrating in a way usually reserved for abandoned Russian space stations. If anyone was to blame, it was the arena staffer who left the protective plastic wrap on the Rockets' rims, for there could be no other explanation for their historically bad shooting night.
Houston needed something special with Chris Paul missing his second straight game with a hamstring injury, but this was not the kind of special they had in mind. When all was said and done, the Rockets went 7-for-44 from downtown. They have played 99 games this season, and that percentage—15.9 percent—was their very worst. Dead last. Ninety-nine out of 99. (In their Game 7 loss, the Celtics had their third-worst 3-point-shooting game of the year. Bad!)
When the Rockets look back at this promising season and ponder what they could have done better, not having their worst shooting night during Game 7 of the Western Conference finals may spring to mind.
Golden State, meanwhile, continued their recent and hilarious habit of sending clumsy doppelgängers to play in their stead during first quarters. Klay Thompson's double was especially inept on Monday, and he picked up three fouls in the first four minutes of play. Warriors head coach Steve Kerr was not pleased, though what could he expect from a team full of blundering clones?
As it has all series, the third quarter welcomed the return of the same old dominant Warriors. Steph Curry led the way and he played all the hits.
He also tried out a few new numbers, like the corner 3-pointer from a between-the-legs Jordan Bell assist.
It took a Game 7 and a few odd detours, but the Warriors will be going for their third NBA title in four years against LeBron James and the Cavaliers. We've outgrown the trilogy and are now exploring the expanded universe. (This one has Nick Young!) Game 1 is on Thursday night in Oakland. You should know the drill by now.
---