Nigella Lawson—domestic goddess and champion of home cooks—has for years been a supporter of the laziest form of sheet pan dinner, or traybake, a British term that used to be reserved for sweets, till the quick-dinner revolution got ahold of it. "When I'm frazzled," she once wrote. "I firmly believe that the traybake is the safest way to go."
In Lawson's uncomplicated style, all the ingredients pile onto the sheet tray together—no taking turns in the pan, or adding in carefully-timed succession. While there's nothing wrong with these more advanced methods in the name of a good meal and fewer dishes, they may not be what you had in mind when you set your brain to autopilot just after googling "sheet pan dinner."
And now, in her brand-new cookbook At My Table, Lawson tackles the traybake in an even juicier way, while still keeping the endeavor hands-off. She piles up a good bed for her chicken thighs, then mostly leaves them to commingle in the oven. The chicken thighs end up juicy within and crisp up top; the bed a deliciously schmaltzed-up, well-melded—and not burnt—spring vegetable medley, ready to be dished up over smashed baby potatoes or grains or all on its own.
None of this luxurious convenience is by accident—here's how she got there: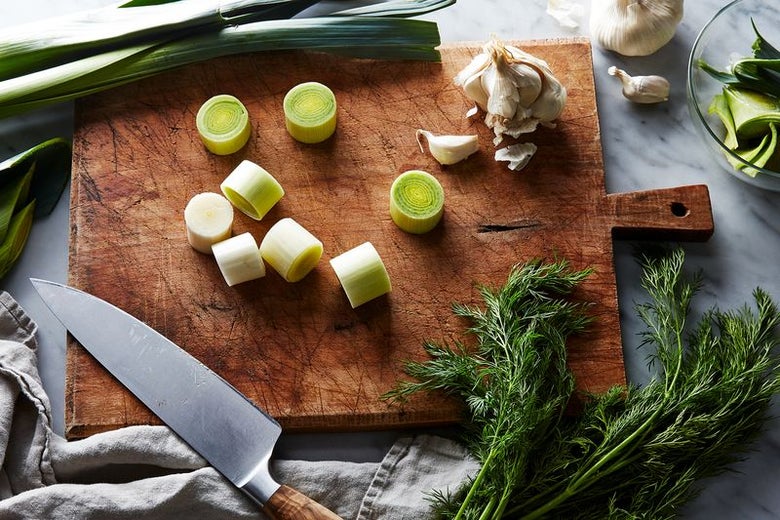 1) The peas. The most influential ingredient here is frozen peas—quite a lot of them, still completely frozen. She tosses them, or rather "clatters" them, onto the pan in a thick layer with leeks, fresh dill, dry vermouth, and some basics like olive oil, garlic, salt, and pepper. As she explains, "The steam they produce as they bake makes the chicken beautifully tender, its skin crackly and crisp on top."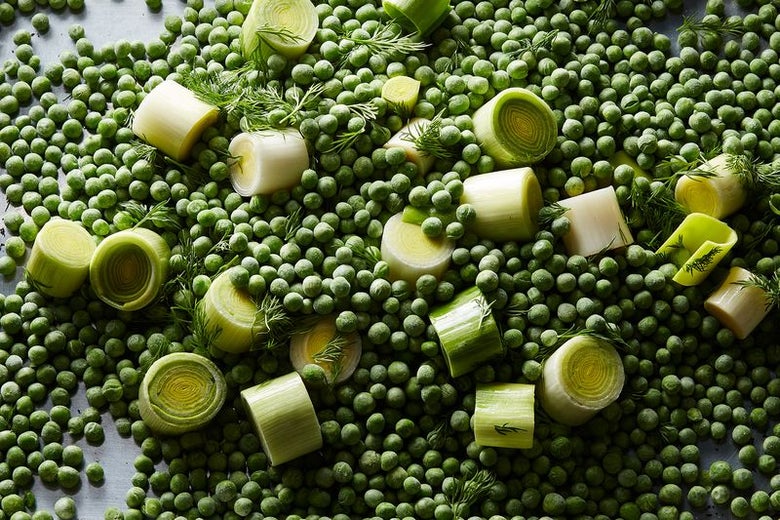 2) Yes, the very, very cooked peas. Frozen peas technically only need a few hot seconds to cook, and these braise for much longer. But part of the genius of this dish is in revisiting our expectations for peas, which "become soft and sweet in the heat—duller in color, but so much more vibrant in flavor," Lawson writes. Unlike the clean, sweet green of merely warmed petit pois, these have more in common with French bottled peas, as she says, their flavor slowly developing and mingling with the other parties in the pan.
3) The leeks. In suitably lazy fashion, the leeks are chunked up quite large, which means they melt inside and any exposed surfaces caramelize in the oven. At your mid-bake check-in, you'll poke any exposed peas under the juices so they don't go too crinkly and dry, but the leeks are deliberately left out to singe.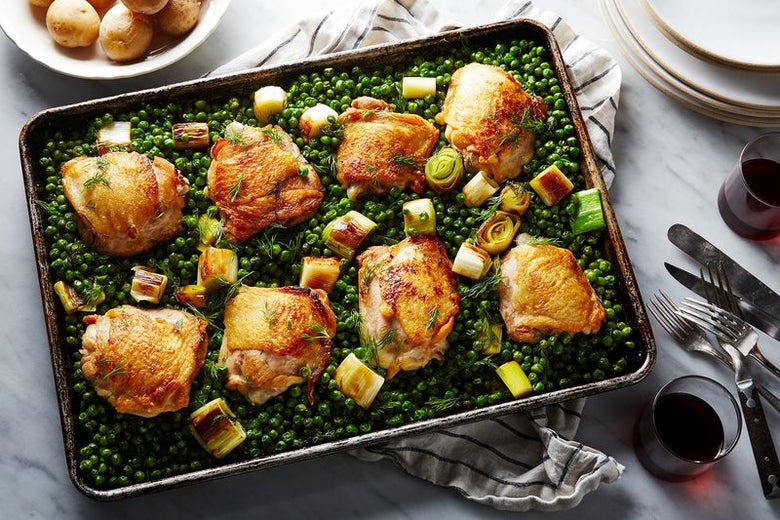 4) The pan. The one important bit of technique to get your chicken cooked right is simply a matter of size: The pan needs to be big enough so that the thighs have a little breathing room to not crowd and steam one another. I found my jellyroll pan to be perfect, but you could go bigger.
5) The dill. You'll save some of the fronds to tear over the top, for a spritz of freshness and brighter color to layer on top of the sleepy peas. If you don't like dill, that's okay—just use the herbs you like.
Like this recipe, the rest of At My Table is a proud ode to the creativity, resourcefulness, and glorious anarchy of home cooking. Lawson intentionally buys chicken breasts with the skin on even when she doesn't need it, so that she can crisp it up in a pan to sprinkle over iceberg lettuce, then recommends saving the rendered chicken fat for toast.
She saves the starchy, garlicky cooking water from making garlic mash for an instantly flavorful pea soup. (Then turns any leftover mash into savory waffles.) She also calls cranberries cheek-squeaky and one meal rather a fandango. But I'm getting ahead of myself. Start with the traybake. Then proceed to the fandango.
Serves 4
7 cups frozen petit pois (about 2 pounds)
5 medium to large leeks (about 14 ounces trimmed weight), cut into 1-inch slices (note: if the light green part of the leek looks dirty in between the outer rings, remove the outermost layers and rinse them well)
2 fat cloves of garlic, peeled and minced
¼ cup dry white vermouth
2 tablespoons olive oil, plus more for drizzling
2 teaspoons sea salt flakes or kosher salt, plus more for sprinkling
1 small bunch dill, torn into pieces
8 bone-in, skin-on chicken thighs
To serve: steamed or boiled baby potatoes, mashed potatoes, or rice or other grains (optional)
See the full recipe on Food52.
More From Food52
• How to Build an Entire Meal on a Humble Sheet Pan (& Celebrate Your Smarts)
• Yes, Salads Can Be Cozy Comfort Food. Ask Your Sheet Pan.
• Crispy, Speedy Chicken Dinner, All in a Sheet Pan's Work
• 5 Smart Tips to Make Sheet Pan Dinners Even Easier
• It's Time to Start Cooking Your Eggs on a Sheet Pan
• A Chicken and Cabbage Sheet Pan Supper You Can (Practically) Set and Forget