The problem with chef Roberto Santibañez's category-defining classic guacamole recipe is that once you try it, you stop acknowledging that others exist. This is why I've made but one guacamole since 2012 (you, too?).
But Santibañez himself hasn't been quite so afflicted. From his same fateful cookbook Truly Mexican alone, there are nine others in the guacamole chapter (chapter!), from smooth sauces that drizzle evenly over your tacos to hunky mounds, studded with seafood or fruit. Six years of monogamy later, I was finally ready to peek past the first page.
You can read more about the original recipe here, but essentially Santibañez took the minimum standard set of guacamole ingredients—avocado, chile, onion, cilantro, lime—and upended the textures many people have come to expect. Instead of avocado mush with crunchy onions and sneaky chiles lodged in it, his avocado stays largely intact while the chile, onion, cilantro are smashed into a fiery-bright sauce.
It's five ingredients and a perfect food, and will make you both an excellent guacamole provider and a terrible guacamole snob.
This new riff might too, but in the process you're probably going to get a little side-eye. Because in this version, Santibañez not only chars the chile first, he then goes off the deep end, adding apples steeped in tequila and lime, plus toasted pecans tossed in butter and salt. There are pops of juicy-sweet crunch and richer, nutty snaps, none of it getting in the way of what you came for. Curiously enough, it all just works in easy harmony.
Some of you will say this just should not be. Or that the real problem is it's missing garlic or tomatoes or, I don't know, mustard. Santibañez has an answer for all of you.
With guacamole and in life, it's not simply about the rules of in or out, yes or no, peas or no peas—it's about how you follow them. That contentious garlic? Sure, Santibañez says, if it's rubbed gently on the inside of the bowl as in Caesar salad; not if you throw in a few chopped cloves without tasting. "Red onion and garlic—it can become a big mess," he told me. "You have to be very conscientious about what you're adding and respect the flavors of the other ingredients."
In making his case for tequila-apple-pecan, he's very specific. The apple needs to be sweet and crunchy (not Granny Smith-tart) and diced not too fine, to contrast just vocally enough with the guac's salty heat and richness. The pecans should be tossed in butter after toasting, not before, so you get fresh, unbrowned butter flavor, too.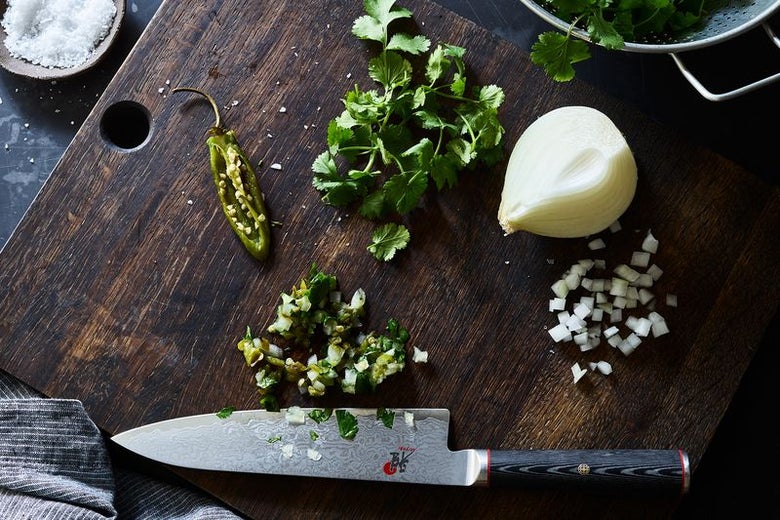 In other moods and seasons, he's added asparagus tips or not-too-soft mango, and right now the most popular guacamole at his soon-to-be five restaurants is the one with blue cheese and grapes. "This of course made Diana Kennedy cringe one day," he said with a warm laugh, then a quick impression. "Roberto, blue cheese in guacamole?? What a horror!"
"When I hear that, I truly love it," he said. Just try to tell this man his guacamole doesn't sound right or good to you. Or better yet: don't, and give it a go for yourself instead. (Just don't let it take you six years.)
Makes 2 cups
For the apples and pecans
1 large crisp, sweet apple, such as Gala or Macintosh, peeled, cored, and finely diced
1 tablespoon silver (blanco) tequila
1 tablespoons freshly squeezed lime juice
¼ cup pecan halves, sliced crosswise or coarsely chopped
1 teaspoon butter
⅛ teaspoon fine salt, or ¼ teaspoon kosher salt (or to taste)
For the guacamole
1 fresh serrano or jalapeño chile, stemmed
2 tablespoons finely chopped white onion
1 teaspoon coarse salt, or ½ teaspoon fine salt (or to taste)
3 tablespoons chopped cilantro, divided
1 large or 2 small ripe Mexican Hass avocados, halved and pitted
See the full recipe on Food52.
More from Food52

What's Worse: Peas or Edamame in Guacamole?

How to Plate Guacamole with Style

Amanda Makes Smashed Pea Guacamole with Cilantro, Ginger and Lime

Dinner Tonight: Coconut-Lime Pork Tacos + Guacamole Quinoa

How to Make Guacamole Without a Recipe

Literally These Bacon Chicken Guacamole Bombs are the Most Genius Recipe Ever