LeBron James is conducting a virtuoso, one-man space opera in the 2018 NBA playoffs. A slew of remarkable performances and a few absurd game-winners have sent the sporting commentariat into a rightful tizzy. Naturally, the conversation has shifted beyond the actual games and to the issue of how LeBron stacks up against Michael Jordan.
This is what always happens when LeBron finds himself at the center of the sports universe, and so it's unsurprising that ESPN and FS1 have dedicated hours of airtime to this debate, even if it's not always coherent. "This is not, in my mind, a referendum on 'LeBron is better,' " ESPN's Mike Greenberg said last week, "but it is a referendum on 'Michael is not better than LeBron, either.' "
"LeBron James deserves this conversation," Jalen Rose added. Whether or not you agree is irrelevant, as the debate is now inescapable. Chances are you will find yourself in an MJ vs. LeBron argument in the coming weeks. Please consult the following guide to ensure you have your talking points in order.
DO: Watch 1,772 hours of film to establish context.
A LeBron vs. Jordan argument requires two high-information participants who can draw from a well of empirical evidence to back up their claims. It is important to work with a shared knowledge base, so sit down with your debate partner and watch all 1,072 of Jordan's NBA games. Once you have completed that, closely examine every minute of LeBron's 15-year NBA career, which consists of 1,143 games. Only then may you proceed.
How can you trust someone who says Michael Jordan is better but hasn't seen his 18-point performance against the Atlanta Hawks from Feb. 25, 1989? That's just sloppy.
DON'T: Argue about the wrong players.
It can sometimes take hours to realize that you haven't been debating Michael Jordan vs. LeBron James, but rather Eddie Jordan vs. Henry James. While both arguments are certainly worth having, it would be a shame to have to restart from the beginning after exchanging so many good points with your adversary.
DO: Mention LeBron's Finals record if you are a Jordan fan.
He has won three and lost five, which is almost as bad as the NBA's most hated son, Jerry West (1-8).
DON'T: Mention Jordan's on-base percentage with the Birmingham Barons if you are a Jordan fan.

It was .298.
DO: Ask random athletes for their opinions on the matter.
Once Tiger's done answering, see what Andre Agassi has to say.
DO: Use the acronym "GOAT" to describe your preferred player.
It stands for "greatest of all time," and you sound very hip when you say it.
DON'T: Use the acronym "GOAT" to describe your preferred player.
It stands for "gratingly oafish and terrible," and it hurts your argument.
DO: Spend at least three hours talking about hand-checking.

The rule, which was fully enforced in 2004 to give perimeter players more freedom, either prevented Jordan from scoring 80 points per game or did absolutely nothing, depending on whether you think he was better than LeBron.
DON'T: Suggest a dunk competition to decide the debate.

LeBron doesn't participate in dunk contests, so this will get you nowhere.
DO: Feel free to say Bill Russell is better than either player.
Unless you had Celtics season tickets in the 1950s and 1960s, there's no way you've seen much more than grainy highlight footage of Russell, but go ahead, no one's stopping you from making the argument.
DON'T: Say players were tougher in the '90s.
Sure, they may have gotten away with harder fouls back then, but I think LeBron could have handled a few shots from what appears to be the cast of SCTV.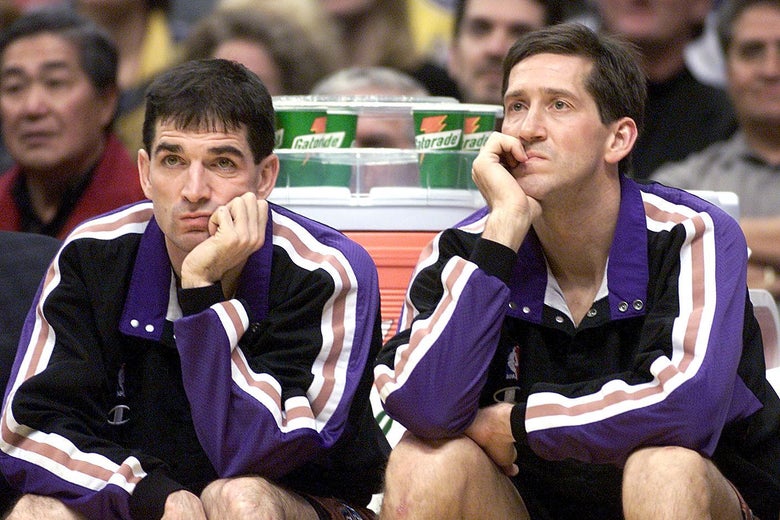 DO: Use statistics when they benefit your case.
If the numbers don't back you up, who cares? Stats are for mondo nerds. You can say, "Don't talk to me if you've never played the game." If the person with whom you are arguing has, in fact, played in the NBA, mock them for not having any rings. If they have won one or more NBA championships, claim they were a scrub who rode teammates' coattails. If they were the standout star of that Finals-winning squad, find a statistic that undercuts their argument.
DON'T: Change your mind, ever.

One guy's the greatest and the other is a bum. End of story.