"Journalism by women is the price the man's world pays for having disappointed them," a (male) reviewer at the Christian Science Monitor opined on Joan Didion's essay collection Slouching Towards Bethlehem on its publication in 1968. Anachronistic enough now, the review wore its chauvinism on its sleeve, reducing a work of trenchant cultural criticism to a stink bomb chucked over the fence in the battle of the sexes and framing a voice as distinctive as Didion's as a mere riposte to men's writing, or maybe just men, period. With one weary sigh, the critic relegated not just Didion but women's literary work in toto to the status of a footnote in the all-subsuming Great Book of men's writing.
It's a telling detail, of the sort I wished I saw more of in journalist and critic Michelle Dean's deeply researched, engaging, yet tentative first book, Sharp: The Women Who Made an Art of Having an Opinion. Though the quote in its idiocy functions as a juicy little hate-read, the faltering egos and performative fear of literary men past aren't—for good reason—something Dean gives much space. To let them have their say would only perpetuate the misconception her book seeks to correct: that the history of American letters in the 20th century is rightfully the province of men. Dean sets out to dismantle the myth.
These days, the women of Sharp—presented in roughly chronological order progressing through the century, the critics Dorothy Parker, Rebecca West, Hannah Arendt, Mary McCarthy, Susan Sontag, Pauline Kael, Joan Didion, Nora Ephron, Renata Adler, and Janet Malcolm—don't exactly need reclaiming or shoring up against the backhanded compliments that at times greeted their work. Yet it's true, as Dean points out, that in the typical literary accounting of the last century, male novelists loom overlarge: Fitzgerald and Hemingway, Mailer, Roth, Bellow. The so-called New York intellectuals, the incestuous group of editors and writers to which many of those profiled in Sharp belonged, also tend to be remembered as a male set, though the men of the group are fast fading from larger cultural memory.
Dean's hypothesis is that her subjects' exceptional work wasn't necessarily, during their time, fully recognized; on the contrary, for the sting of their judgments, they were often loathed and attacked by contemporaries, a rejection strong enough to have had lasting effects. To build her case that these female writers and thinkers were, in fact, entirely central to the progression of intellectual life, Dean traces their literary biographies in lucid prose, following the arcs of their careers.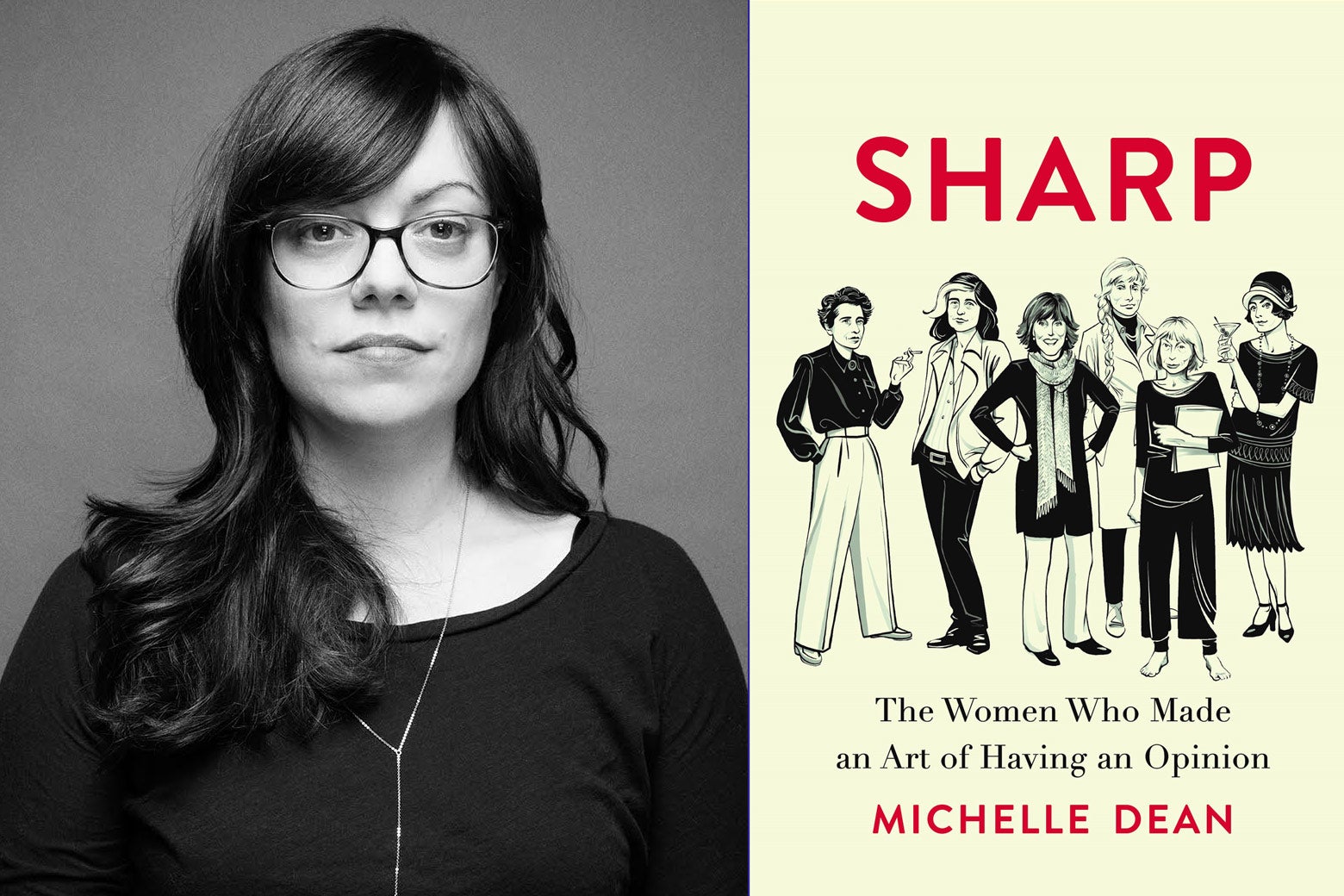 The difficulty is that each woman's story is rather self-contained, although Dean does sketch the friendships or acquaintances among some of them, particularly the bond between the very different McCarthy and Arendt. It's clear that she sees her subjects as intellectual role models, but Sharp—different from recent books in the minigenre of women writing on their artistic or literary crushes—doesn't dip into memoir. Unlike Kate Bolick, Lauren Elkin, or Rebecca Mead, Dean doesn't twine her own story with those of her subjects or explicitly look to their works or lives for creative or life guidance. I didn't miss that kind of personal excavation, yet reading Sharp I longed for some sort of interstitial tissue that might bind these women together—something more substantive than a tendency toward brilliance, lacerating judgments, and ambivalence toward feminism. Despite identifying at the outset that part of her project is making plain "the connections I felt I could see," Dean doesn't, until quite late in the book, offer much on the ways their works may speak to or past each other either stylistically or thematically. (She also quotes little from their major works, drawing mostly on lesser pieces, interviews, and letters, presumably because of copyright fees.) For the most part, what she offers is close to a primer, one that may nonetheless inspire female critics and essayists seeking a broader set of forbears than Didion or Sontag, both of whom are frequently cited and celebrated in the essays of contemporary writers like Leslie Jamison, Eula Biss, and Valeria Luiselli.
Dean's subjects are connected by the derision, sexism, and resentment that sometimes greeted their work or their perceived abrogation of gender roles. Any woman who's been criticized for being "unapproachable"—not to mention any podcaster deleting emails about her vocal fry—will wince in recognition at the lectures on niceness that listeners to Kael's Berkeley radio program in the early days of the Mad Men era felt compelled to deliver. A (female) listener wrote in: "Miss Kael, I assume you aren't married. One loses that nasty, sharp bite in one's voice when one learns to care about others." Kael, reading the letter on air, refuted the virtues of female placidity:
I wonder … if you have considered that perhaps caring about others may bring a bite to the voice? And I wonder if you have considered how difficult it is for a woman in this Freudianized age … to show any intelligence without being accused of unnatural aggressivity, hateful vindictiveness, or lesbianism.
The writers of Sharp also endured subtler putdowns, sometimes in the form of friendly fire. When Didion's husband and screenwriting collaborator, John Gregory Dunne, wrote about introducing her to Kael at a party, he summed up their meeting thus: "Two tough little numbers, each with the instincts of a mongoose and an amiable contempt for the other's work, putting on a good old girl number." With Didion's canonical, even totemic status long since established, it's startling to come across Dunne's faux compliment. A man who will, at best, be remembered as the impetus for a luminous grief memoir couldn't help but neg her.
"We tell ourselves stories in order to live," goes the much cited and abused Didion observation that opens her iconic essay "The White Album," typically pressed into service nowadays as a self-help slogan or a rah-rah for storytelling. But as Dean reminds us, the essay zooms in on a catalog of "delusional fantasies, finally concluding that writers especially are guilty of imposing a kind of narrative order on existence that simply 'freeze[s] the shifting phantasmagoria of our experience.' " Didion's critique of "telling stories" is an invitation to view the woman behind the curtain, to question the authority of the writer, and in that sense it represented a revolutionary idea; the male literary patriarchy had not been in the habit of calling attention to its methods of artifice, or acknowledging its selectivity. Questions of who is seen as credibly taking up authority or deciding what subjects are important are matters Dean has explored before, in feminist critiques of Important Literary Men like James Wood and the relegation of women-authored memoirs to the realm of self-absorbed confessional.
Janet Malcolm, who continues to publish with the New York Review of Books and the New Yorker, is another Sharp writer whose major subjects are her ambivalence about the artifice of narrative and the unreliability of the authorial voice. "Any journalist who is not too stupid or too full of himself knows that what he does is morally indefensible" is the resounding first line of Malcolm's The Journalist and the Murder, which examined who was the parasite and who was the host in the relationship between writer Joe McGinniss and his subject, the killer Jeffrey MacDonald. Her "bit of rhetoric" acknowledged a suppressed truth of journalism, that it can involve a sort of vampiric exchange between writer and subject, an extension of Didion's thoughts on the manipulation of story. (Didion had also observed, in less hyperbolic fashion than Malcolm, "Writers are always selling somebody out.") The comment provoked much lamentation and a tide of recrimination from defensive journalists. As Dean sees it, though, the observation ultimately pushed many to change the way they thought about the practice of reporting, and, with Malcolm's book now routinely taught in journalism schools, is gaining acceptance as axiomatic.
One of Dean's most satisfying observations is that a destabilized I is among the greatest contributions of nearly all the writers profiled in Sharp. For her, Malcolm's notorious statement "added something to the robust first person that had been built down through the century from Rebecca West to Didion and Ephron: a certain degree of uncertainty." "This invitation to distrust even the writer herself," Dean writes, "is a small skeleton key not just to Malcolm's own work, but to that of nearly every person in this book." This point comes in the book's penultimate chapter, on Malcolm, where Dean at last begins to makes more forceful connections, mining the accretion of detail and drawing conclusions.
Her observations on distrust and the I relate to the built-in uncertainty of "having an opinion." The book's subtitle credits its women with making art from opinion, and Dean trains her focus here; though most of the women in the book also had careers as fiction writers, she finds their greatest cultural impact in the critical world. While the male novelists—Hemingway et al.—typically seen as dominating midcentury American letters cloaked their ideas in fiction, the women of Sharp had, as Dean sees it, a more significant, specific, and lasting effect on the culture while writing in their own voices—even if, as Malcolm would have it, those voices may be crafty simulacra. Sontag's ideas about illness, camp, and photography changed the culture irrevocably; Arendt's ideas about totalitarianism and the "banality of evil" towered over the postwar writing of her male counterparts and remain apposite today in a way The Naked and the Dead does not.
When it came to feminism, the women of Sharp were an ambivalent lot—and often had some choice words to say on the subject. (Feminist women, Didion once mocked, claimed to be "raped on every date.") On the whole, they distrusted the idea and felt it had little to do with them (in their somewhat privileged bubbles), though the writers who overlapped with the rise of second-wave feminism, from McCarthy and Sontag forward, tended to arrive at a wary co-existence with the movement. At one extreme, German-born Arendt maintained until the end of her days that feminism was so much silly piffle and endorsed rigid gender roles—except when it came to herself. "It just doesn't look good when a woman gives orders," she said in an interview. "She should try not to get into such a situation if she wants to remain feminine … The problem itself played no role for me personally … I have always done what I liked to do." The Malcolm of 1970, who during the first seven years of her daughter's life "did not publish a single word," attacked mothers who chose to work outside the home: "A woman who chooses to put her baby in someone else's care so she can pursue a career shouldn't be hypocritical about her decision … she ought to see what she is doing and be willing to pay the price in affection that parental neglect often exacts."
Ephron, who with her 1972 essay "A Few Words About Breasts" helped launch the conversation about body image that writers like Roxane Gay and Lindy West are extending and reshaping today, had a "sympathetic but skeptical" stance toward feminism. "Like all things about liberation," she wrote in one Esquire column, "sisterhood is difficult."
The overarching difficulty of the movement for women of color, then and now, is their exclusion. And so the exclusion of their voices from a book profiling 10 writers, which inevitably coalesces into a (white, middle-class, mostly Jewish) canon of sorts, is confounding. Zora Neale Hurston makes a brief appearance in Sharp, as someone who would have provided superior coverage of a lynching trial for which the New Yorker instead dispatched Rebecca West, whose subsequent piece was riddled with racist "analysis"—but aside from these few pages, Dean dispenses with intersectionality in her preface: "In a more perfect world … a black writer like Zora Neale Hurston would have been more widely recognized as part of this cohort, but racism kept her writings at the margins of it."
Sticking rigidly with this cohort, many of whom wrote for a core set of high-toned New York publications, feels like a missed opportunity, especially given Sharp's inherent argument that historically excluded voices bring valuable insight to public discourse. As critic Parul Sehgal pointed out during a panel on women and criticism organized by Dean in 2013, "Women and people of color have something interesting to say about how power operates."
I closed the last page of Dean's book with the sense that she'd held herself back. I regretted her choice to stake out but a few of her own ideas in the ongoing conversation about criticism, gender, and power, one she's been thinking and writing provocatively about for years. Without the flush of new ideas to elevate its subject matter, the book can also feel a bit like a deftly assembled compendium—a consistently entertaining Lives of the Literary Ladies, perhaps. Eschewing the bold ways of the tough numbers she profiles, Dean delivers her observations on contemporary matters in chutzpah-free mode. "Certain doors of perception are more open to women," she muses at one point, "but it doesn't mean that men can't see what women are pointing out, if only they'd settle down, listen, and look." Who could raise a fuss about that? A polite suggestion, terribly reasonable! Sharp, however, it ain't.
Sharp: The Women Who Made an Art of Having an Opinion by Michelle Dean. Grove Press.