Liz Phair's 1993 debut, Exile in Guyville, reissued this month in a 25th-anniversary box set called Girly-Sound to Guyville, is at once an indisputably canonical rock record and one weighed down by a quarter-century of praise, criticism, rumor, misunderstanding, and Phair's own complicated later career. It's like a speedboat with its hull crusted over by invasive zebra mussels. In 2018, when music is dominated by rap and R&B-leaning pop, and nearly all the new rock 'n' roll worth talking about is female and/or queer in origin, a document of a young white middle-class woman talking back to the male chauvinism of rock as a genre (particularly in her own local scene, Chicago's pre-gentrification Wicker Park) could seem dated. But it could also meet fresh ears as the common genetic code of current artists such as Soccer Mommy, Mitski, Girlpool, Jay Som, Big Thief, Waxahatchee, Snail Mail, Lucy Dacus, and scads more. I wouldn't be surprised if Solange or SZA had listened to her, too. Phair's 25-year-old voice—as caustic and funny as it was candid and vulnerable—still sounds immediate and, for better and worse, relevant in a period again marked by women speaking out about the intimate crimes of men.
There's something about Exile in Guyville that makes each successive line seem like a new revelation, almost as much to the singer as to the receiver. And I don't mean only the ones about blow jobs and fucking, which reviewers almost always quote out of context. Those lines foregrounded the awkwardness of reaching for a vocabulary of blunt female erotic desire left out of the culture, but on the flip side they were also very '90s-underground-style art gestures of shock-as-critique, of self-exploitation in order to highlight exploitation, to present (on the model of, say, Kathy Acker) obscene imagery for an obscene world. Not to mention that this was the height of the AIDS crisis, in which silence about sex added up to death—Phair's lyrics were no more explicit than the imagery of an ACT UP poster. And if some listeners, male or female, were turned on by it nevertheless, or by Guyville's breast-flashing, photo-booth cover shot, why shouldn't she also get to be lusted after, the way she had after rock-star dudes? Unfortunately, predictably, that last option was the only one that seemed to occur to much of the press.
But beyond all that, it was the way Phair seemed in each moment to be discovering words for feelings, questions, and grievances that had never been aired in music quite this way. Like the frustration, in "Help Me Mary," of having a bunch of rock dudes hunkered in your apartment who "bully the stereo and drink" and "leave suspicious stains in the sink"—and concluding that the only way to beat them was at their own game, by making better rock music than they did: "Weave my disgust into fame/ And watch how fast they run to the flame." Which was a remit, of course, for the album itself. When it came out, many of the alt-boys in bands were aghast and in denial that this pretty, diminutive suburban girl could create songs that made most of theirs sound like cold burnt porridge. (Thus all the spiteful gossip.) And she didn't do it by trying to out-tough the men like, say, Joan Jett; or on the other hand by taking a radical outsider-experimentalist approach, like the Slits or the Raincoats or Mecca Normal; or even as explicit protest, like the Riot Grrrl bands of Phair's own moment. She just wedged open a space her own shape in the music and occupied it like it had always been there.
That Phair framed her Exile as a song-by-song response to the Rolling Stones' Exile on Main Street was an analogy for the way she was challenging the forever-rocksplaining dudes around her, on their own turf, but on her own terms. Few of them understood her fluid approach to creative citation, as a recent art-school grad: She was referencing what was missing from the Stones' songs as much as anything they contained—for instance, the viewpoints of Mick Jagger's various lust objects but also what it might be like if Mick were a woman, one with the same will to power and ethical flexibility. To the oddly numerous doubters who sneered at the conceit as a PR gimmick, Phair sometimes replied that she had proof, in the form of a recording notebook in which she'd charted out the correspondences between the Stones' 18 tracks and hers. Oh, except that she couldn't find the notebook anymore. Like the hairpin turns Phair often took in her lyrics and chord structures, this was a lateral sidestep that said: I could show you the evidence, but then again I don't need to, because I'm not answerable to you. The notebook was like Poe's purloined letter, an explanation present by dint of its apparent absence. Which of course was also what one Exile was to the other.
The notebook story seems too like a symbolic substitute for the actual hidden document behind Exile in Guyville—the three cassettes of songs Phair had made on a four-track recorder in her bedroom, before most people around her even knew she'd written songs. The Girly-Sound tapes, as they were known, have been shared in degraded copies among collectors, mined for songs for Guyville and many of Phair's subsequent albums, and released in bits and pieces as bonus tracks. But for longtime listeners the remastered and nearly complete collection of the tapes is the real event of the 25th-anniversary box set.
At the time, Phair was still primarily intent on her visual art, and the tapes were dubbed and circulated without her participation by the couple of friends she'd reluctantly shared them with, primarily Tae Won Yu of the band Kicking Giant. Phair had to be coaxed into making an album, though once she started, she had definite ideas on how to go about it. The results disappointed some early admirers, including Yu, who at least at first preferred the low-fidelity interiority of the tapes to the brighter sound and arrangements on Guyville.
Hearing the Girly-Sound songs now, I find that easy to understand, because they sound much more similar to Kicking Giant and other lo-fi, female-led acts of the period—Tsunami, Tiger Trap, Heavenly, Lois, etc., on labels like K, Kill Rock Stars, or Simple Machines—than ever occurred to me when listening to Guyville. Likewise, the spectrum of styles and subjects Phair explores across the tapes' 40 tracks (two are missing from this set because they interpolate and parody other copyrighted songs) situates her in her era differently than on her official albums, where she selected and edited to present a more tightly focused persona. As on Guyville, there is the thrill of hearing a brilliant personality discover what it's possible for (and forbidden for) her to say, here more tentatively but also with a wider, wilder range.
For one thing, the Phair of the tapes is more brashly political and satirical than the more familiar Phair, with tracks such as "Hello Sailor," in which a sex worker propositions a Navy man just returned from the first Gulf War by asking, "How does it feel to be back on American soil/ Hearing 'no blood for oil'?" and escalating into a series of verses that mash together sex, politics, and capitalism, cussing like a sailor (or a prostitute) all the way. In the light of "Hello Sailor," the Bush-1-era politics of "Shane" (later recrafted to appear on Whip-Smart)—which opens on "the night the war broke out," addressed to a guy "in touch with the draft resisters"—also leap out more starkly.
Likewise, the original version of "Money" here seems more crankily anti-social and anti-success, describing various scenarios that "[look] like shit and feel like America," and ending with Phair putting out a call for "rich dirty old men" willing to pay her way. Once it reappears as "Shitloads of Money" on Whitechocolatespaceegg in 1998, the repeated key line has become, "It's nice to be liked, but it's better by far to get paid," which at the time seemed more like her own middle finger to everyone who'd accused her of being a conniving self-marketer (a situation that would only get worse when she "went pop" with her eponymous album in 2003). On Girly-Sound, she's still a kid who's been forced to crawl back to her parents' house in the Chicago suburbs after her cash ran out in bohemian San Francisco, and she's pissed that it has to be an issue.
I'm not saying that the songs are shallow or immature. Or at least, they can be immature but not shallow, thanks to the confidence in her own voice and the sophistication with structure she commands from the jump. The very first track of the Girly-Sound tapes, "White Babies," at first listen seems like a particular indulgence in shock-value collage-art '90s aesthetics, crudely set to the tune of "My Bonnie Lies Over the Ocean," about a "black-market white-baby dealer" who "brings back clean, fresh, white babies to me." However, in the middle, it rotates over to the "kidnapped" baby's point of view ("sit me down in your family photo/ and everyone tells me that I look just like you"), and reveals itself as a more emotionally conflicted effort by a post-adolescent Phair to process her own origins as an adopted child.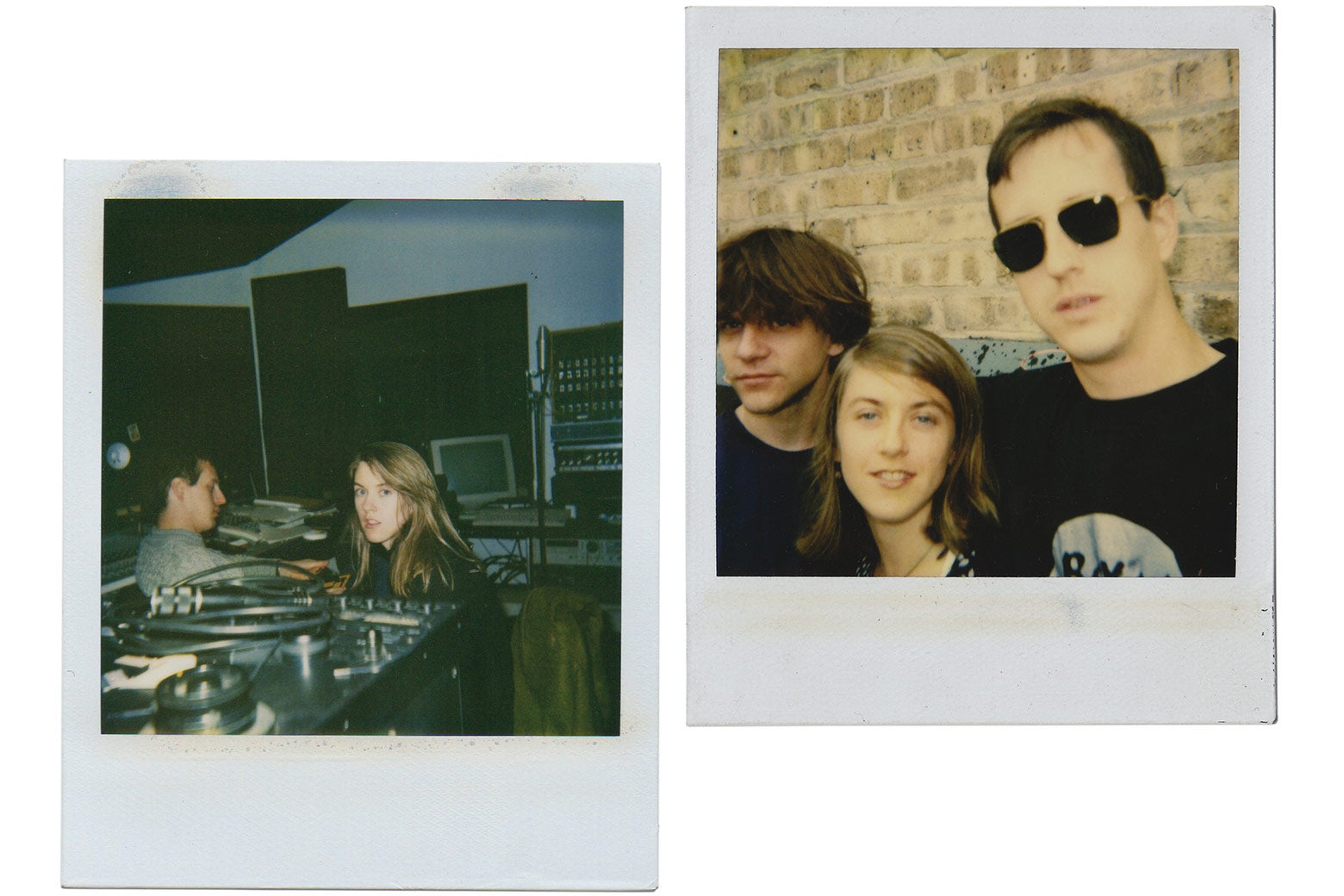 The "My Bonnie" quotation is one of many places here where Phair borrows from campfire and schoolyard songs, a technique common to novice songwriters, since old earworms are bound to pop into your head when you first start making up tunes, and making adult twists on childhood rhymes can seem like a daring and clever novelty. In "Hello Sailor," she détourns "I'm a little teapot" into "I'm a little despot" and then "I'm a little liberal," pouring hot tea on all sides of the debate. But the device starts to seem more pointed over the course of the collection—with references to "Miss Mary Mack" and "Miss Lucy" ("had a steamboat …") and the "double Dutch" on "Whip Smart" (which in the original version here samples the African vocal lines from Malcolm McLaren's 1983 single, no doubt dropped in the album version as too gauchely Paul-Simon-world-music-ish). These are hand-clapping and jump-rope songs, fundamental possessions of girl culture, which Phair is reclaiming as part of the lexicon of a grown woman. She tries out a similar process with 1960s girl-group music on "Easy Target," gender-switching the chorus of Betty Everett's 1964 hit "The Shoop Shoop Song (It's in His Kiss)" (or possibly the then-recent cover of it by Cher from the soundtrack of Mermaids) to lend a poignantly innocent note to a song that begins, "The last time that we made love/ You said my name to make me come."
Another variation from the official releases is the not-infrequent hinting at same-sex attraction. Many people have noticed that the line from the infamous "Flower" that goes "I'll fuck you and your minions too" was originally "I'll fuck you and your girlfriend too." As well, though, the final line of the (possibly) S&M-themed "Open Season" is, "I don't see what difference it makes to find a man or a woman." And the full, seven-minute long "Girls! Girls! Girls!" comes with a long litany about the superiority of girls to boys in general, including as lovers: "Girls, girls, girls don't need practice/ And girls, girls, girls don't need guns/ And girls, girls, girls don't need prisoners/ And boys, boys, boys don't ever have this much fun." The Guyville version, compressed to two and a half minutes, winnows it down to the section about taking "full advantage of every man I meet" and getting away with "what the girls call murder"—more thematically on point but a narrower kind of pleasure. Likewise, when "Gigolo" was reworked much later as "Can't Get Out of What I'm Into" for Phair's 2005 release, Somebody's Miracle, (but then dropped from the album), the line "I figure two more years, then I'll go back to queers" was blanded down to "I'll go back to school." Whether Phair decided the bisexual allusions were more of a youthful affectation or just something she didn't want to have to deal with as part of her already overloaded public persona, the pattern stands out.
Most of the revisions between Girly-Sound songs and their later versions just seem like smart editing: The original "Bomb" includes a whole subplot about a terrorist on a plane, and a Laurie Anderson–like spoken-word part from a flight attendant, broad flourishes that vanish on Guyville's perfectly stone-cut vignette "Stratford-on-Guy." Others are more intriguing, such as the ending to the Girly-Sound version of the Guyville classic "Fuck and Run," on which the man on the other side of the one-night-stand scenario turns out to be wishing for a girlfriend and "letters and sodas" as much as Phair's character is longing for a boyfriend. The generosity of the reversal choked me up a little on first hearing it, after a quarter-century of knowing the song the other way—but the final "Fuck and Run" is stronger for yielding no quarter.
Just as notable are the sonic deviations, the way that the strummy guitar patterns of the songs here tend to be diagrammed out more geometrically on the album versions (although you can hear her moving in that direction on the later tapes) and how the hangdog hush of her bedroom voice develops toward the bolder tone of the records. In places she tries out greater melodic leaps, or an almost Janis Joplin–esque rasp, bluesing out on a song like the original "Soap Star Joe," for instance. Some of the songs are more depressive or tender or just random than was on message for the Liz Phair she wanted to present to the world (or at least to Guyville), such as "Love Song" (which is about how no one wants to hear a love song and is so catchy some other '90s band could have made it a hit), or the almost country-ish "One Less Thing," or the very funny (and very '90s hipster-culture) "Elvis Song." Not to mention the many that share the concerns of Guyville and are nearly those songs' equals, such as "In Love w/Yself," or "Batmobile": "I look around here and feel/ Like somebody must be fucking with me/ I just can't take any of you seriously/ And I can't keep keeping myself company."
My basic stance on the Guyville vs. Exile on Main Street controversy was that I didn't care, because the Rolling Stones never meant shit to me: As a cis-but-sissy, straight-but-under-protest young man, I had a lot of the issues with rock's Guyville that Phair did. The many ways I still remained an agent of its ills wouldn't come clear to me till years later, fogged over as my perspective was by privilege, and abstract theory, and youthful anxiety. But Phair's narratives gave me more of a clue, on levels that even the most soul-baring conversations with female friends seldom reached. I don't think that was accidental. By her accounts, her own social life at the time was very male-oriented—she was an active but perpetually second-class citizen of Guyville—and getting the boys to shut up and listen was high on her own agenda. As Jessica Hopper wrote in Rolling Stone this week, the call was coming from inside the house.
But the Girly-Sound tapes feel especially rich because Phair wasn't talking to me or any other boys or even other girls, not quite yet, but to herself, before any invaders had attached themselves to her vessel. And yet it's utterly the same artist at work, just as it was when she made Liz Phair in 2003, or (the more justly maligned) Funstyle in 2010, and as it is now when at 51 she's reportedly nearly finished a new album of songs aimed at the Trump era (in collaboration with Ryan Adams). One might wonder whether she felt moved to do this archival project because she felt like she had things to remember, to relearn from her former self. Either way, I'm looking forward to hearing from her again. She's one amid a much more varied range of female voices now. But she remains in a category all her own.