Saturday night in Kiev, Ukraine, Liverpool FC face Real Madrid in the Champions League final. Madrid are the favorites, but Liverpool have got Mohamed Salah. The Egyptian King's season has been so spectacular that Reds fans don't just hope he can win the game for them. They believe it.
When did Liverpool and their supporters realize they had something truly extraordinary on their hands in Salah?
It certainly wasn't as early as June 22 last year, when he signed from Roma for 36.9 million pounds. If anything, the transfer fee was seen as rather inflated. Liverpool had been linked with Salah before, in the winter transfer window of 2013–14, but he had decided to join Chelsea instead. At that time, they looked a better bet.
Salah had spent most of his time at Chelsea sitting on the bench. When he did play, he had looked wasteful and puny. His most memorable contribution had been a shot against Shrewsbury that went out for a throw. English football consigned Salah to the box marked "brainless winger" and forgot him. It looked like Liverpool had dodged a bullet.
Salah had spent three successful seasons in Italy since leaving Chelsea, but that didn't necessarily mean much either. Italian football is slow and tactical, English football is fast and physical. Success in Serie A is no guarantee of success in the Premier League. So, as the summer transfer window ended, Liverpool supporters were feeling two main emotions: joy that Barcelona had not succeeded in snatching away Philippe Coutinho, and frustration that Liverpool had once again failed to recruit a top central defender. Nobody was talking about Salah.
He'd actually started well, with three goals in his first five games, but in September, Liverpool lost 5–0 to Manchester City, with Salah missing easy chances. By the first week of October, he had scored six times in 11 matches, and yet the misses had made almost as much of an impression as the goals. He was doing OK, but he wasn't changing anyone's life.
It was after the international break in October that people began to wake up. Salah returned from Egypt and proceeded to score 11 goals in 10 games, an eye-catching return by any standards, let alone from someone who had been signed as a winger. With 17 goals, this was already the second-best scoring season of his career, and it hadn't yet reached the halfway point.
The moment of epiphany arrived in the Merseyside derby on Dec. 7. The matches against Everton are always among the biggest of the season at Liverpool. With the score 0–0 as halftime approached, Salah received the ball just outside the box, muscled aside Cuco Martina, shuffled past Idrissa Gana Gueye, and then, with almost nothing to aim at, curled a sensational shot around Ashley Williams and into the top corner.
This was when people realized they were watching something more than a good player on a hot streak. They had just seen a stroke of absolute genius.
Since Salah seemed to return from the October international break a new and altogether more formidable player, it's worth thinking about what he'd experienced on that trip back home.
Egypt is a country of about 95 million people, and 61 percent of them are under 30. The last time Egypt qualified for the World Cup finals was 1990, so the vast majority of Egyptians have no memory of their country playing in the world's top international tournament. Their long exile from the highest reaches of the game is as mystifying as it is frustrating: Egypt loves football, they have been champions of Africa seven times—more than any other country—and four of those titles have been won in the 28 years since they last played in the World Cup.
The recent history of Egyptian football is a story of scarcely believable horror and trauma. In February 2012, 74 people died in a riot and stampede following a match in Port Said between Al-Ahly of Cairo and the local-side Al-Masry. The government suspended the league for a year, and when it started up again, matches were held behind closed doors, in empty stadiums. Gradually, the restrictions on fans being allowed in were loosened. And then, in February 2015, at least 22 Zamalek fans died in clashes with police at a match between their side and ENPPI. The government suspended the league again, and fans are not scheduled to be allowed back into stadiums until the beginning of the 2018–19 season, after this summer's World Cup.
The only chance for Egypt's young, football-crazy population to see big-time football comes when the national team plays at home. On Oct. 8, 75,000 people packed the Borg El Arab stadium outside Alexandria to see Egypt's penultimate World Cup qualifier against Congo. Egypt knew that if they won they would qualify for the World Cup. If they drew, then they would have to win in Ghana in their final qualifier to be sure of making it. And nothing in the recent history of Egyptian efforts to qualify for the World Cup suggested they could expect to win in Ghana.
Salah made it 1–0 to Egypt in the 62nd minute, and as he ran off in celebration several of the Egyptian staff and substitutes ran from the dugout across the pitch to celebrate with him. The premature celebrations were tempting fate, and Congo duly equalized with three minutes left. In the center of the pitch Salah crumpled to the ground in despair, then, after a few seconds, he got up and started to scream at his teammates. Get your heads back in the game. We can still do this.
Egypt piled forward, and in injury time they won the sort of penalty you only get when you have 75,000 fans screaming for it. Once again, everybody celebrated as though they had already scored the winning goal.
One player didn't join in. As his teammates formed a joyous heap next to the Congo goal, Salah stood with the ball, waiting for the latest round of premature celebrations to end so that he could take the penalty. He says he does not remember much about this moment, because he was so focused on what he had to do. The detail he recalls is all the arms in the crowd being raised, all the lights of the phones coming on, as everyone behind the goal prepared to record the moment when Egypt qualified for the World Cup for the first time in 28 years.
Salah had already decided before the match that if he had to take a penalty, he would hit it as hard as he could to the keeper's left. The force of the shot lifted him bodily into the air. At the instant when he came back to Earth, he might have been the only Egyptian whose feet were touching the ground.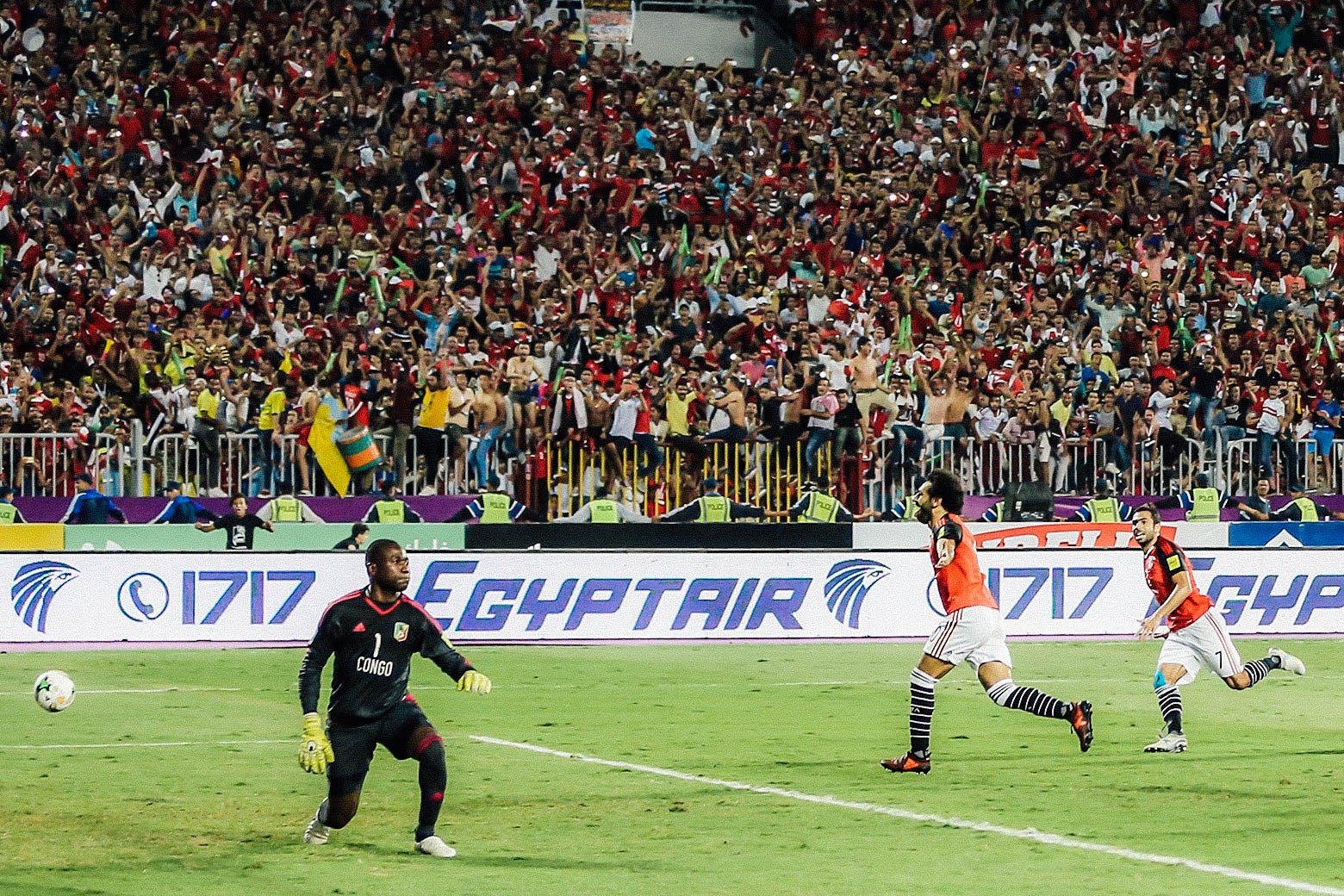 That goal against Everton on Dec. 7 signaled the beginning of true Salah-mania on Merseyside. Among the fans, there was a rapid proliferation of Egyptian flags, sphinx and Pharaoh memes, and Salah songs, one after another, and another, and another.
As the adulation grew, the goals just kept getting better. He scored twice against 2016 champions Leicester City, spinning superbly past one of the Premier League's most agile big defenders, Harry Maguire, to win a match Liverpool had looked destined to lose.
He played brilliantly as Liverpool inflicted Manchester City's first defeat of the season in January, scoring the fourth and ultimately decisive goal from 45 yards.
Against Tottenham he scored a stunning 91st-minute goal that involved beating four top-rank international players—Dele Alli, Eric Dier, Jan Vertonghen, and Hugo Lloris—in the space of about 10 yards.
Against Watford he scored four, including one where he wrong-footed three defenders twice in the same move.
By the start of April, the onetime Chelsea failure was leading Lionel Messi in the race for the European Golden Shoe, and people were beginning to speculate if he might be the man to end Messi and Cristiano Ronaldo's decadelong grip on the Ballon d'Or. For Liverpool supporters, watching in disbelieving delight, the 36.9 million pounds they had paid Roma now felt like the price of a winning lottery ticket.
As Salah's stock has risen he has been asked many variations on the question: "Why are you so good?" His stock answer is to start talking about his teammates. And this is more than just the usual lip service to the team ethic.
The single biggest reason why he has started to score at an unprecedented rate is that for the first time, he is playing in a top team that has been designed to get him into scoring positions as often as possible. If you want to score a lot of goals, the first step is getting in front of the goal. At Roma he played on the right wing, supporting a center forward, Edin Džeko, who likes to play in the penalty area. At Liverpool he plays on the right of a narrow front 3, whose central player, Roberto Firmino, likes to drop back into midfield. Firmino's wandering creates spaces in the box for Salah. Shot maps show that in league play, Salah has taken twice as many shots from inside the rectangle formed by the goal posts and the edge of the penalty area this season as compared to last. For Liverpool, he is more of a striker than the winger he used to be, and that is the main reason why his scoring rate has increased so much.
Team context aside, Salah is bringing a lot of exceptional individual attributes, the most obvious of which is speed. In football there is straight-line speed and speed of acceleration, there is speed of foot and speed of thought, and Salah has got all of them. He can leave defenders trailing as he sprints on to a through ball; he can materialize in front of an empty goal to tap in a rebound; he can shuffle past opponents in impossible spaces in a blur of microsteps.
But everyone already knew he was quick. The thing that has emerged as the season has gone on is that the man once widely dismissed as a brainless winger is a player of formidable mental strength.
If we go back in time a bit … since the day I left Egypt I made a decision that I will stay in Europe. I said to myself that I don't want to be like any other who traveled to Europe and returned back. I want to adapt to the atmosphere here. I want to be someone different in all aspects. I had it in my head from day one: "I am not going to go back after a month or two. I am not going to be like the others. I want to be myself, a different person. I want people to look at me as someone big and someone to follow." … I wanted to be a public figure whom everyone admires.
—Mohamed Salah, interview with Amr Adib, May 11
Salah has explained that when he first arrived in Europe as a 19-year-old, it was a culture shock. In Egypt he was used to sunshine and street life, evenings surrounded by family or friends, eating, hanging out, talking, having fun. Now he was in Basel, a neat, orderly, discreetly wealthy, ostentatiously boring town in buttoned-up Switzerland. Training finished at 1 p.m. and everyone went home. The shops closed at 5 p.m. and the streets were empty—nothing to do and nobody to do it with.
He had already worked too hard at becoming a footballer to be discouraged by boredom. As a boy he would spend eight hours a day on buses to and from training. Loneliness was a struggle, but he had work to do. He learned English, the lingua franca of multinational dressing rooms all over Europe. He put in extra hours in the gym and in the pool. He started to teach himself about sports psychology, and you can hear its influence now in the way he talks about the game. Don't dwell on your mistakes. Don't get depressed after defeats. Focus on the next game. Visualize success. When he was asked if he could score the goal he needed to take the single-season Premier League record jointly held by Cristiano Ronaldo, Luis Suárez, and Alan Shearer, he replied, "It's broken already, just wait for Sunday. It's broken."
He's delivered now in so many big games that it's hard to believe he was ever regarded as an erratic finisher. The rate of improvement is uncanny, from match to match, like seeing a deep-learning A.I. go from zero to grandmaster in 45 minutes. Take the experiment with chips he conducted over several matches last month. On April 10, he scored a nerveless chip against Manchester City in the Champions League. He liked the goal so much that on April 21, he scored another chip against West Bromwich Albion.
On April 24, he scored another against Roma. On April 28 he tried another against Stoke City, and missed. Chips fully explored, time to move on to a new technique.
He is also extremely competitive. When he was asked to nominate his favorite goal for Liverpool, he chose the one he scored at Anfield against Spartak Moscow. It was the seventh goal in a 7–0 win, and if you asked supporters to rank his 44 goals for Liverpool this season in order of importance, it would have a good chance of finishing dead last. The reason it was Salah's favorite is the feeling of relief it brought him. Coutinho, Firmino, and Sadio Mané had all scored already, and he would have felt humiliated if he hadn't scored too.
In recent weeks, Salah has become the subject of international media attention far beyond the world of football. Muslim commentators have written think pieces talking about the pride they take in the emergence of such a positive Muslim role model. CNN sent Becky Anderson to interview him in April; on Tuesday the BBC did a story from his home village, and Channel 4 broadcast a documentary on his rise to fame.
Some footballers might be uncomfortable at the idea of becoming a role model and representative not just for their country but for their faith. But as Salah told Amr Adib, he embraces his status as a pioneer for Egypt.
This is what makes me feel something different. People are watching me as I was watching other superstars on TV long ago. Imagine that there are kids just like you were, but they have a superstar from their country. They see their superstar capable of reaching that high, therefore they feel like they can do it too. That is the most pleasing feeling to me. That people feel someone from their country can do something—so why not them?
At the World Cup, Salah will lead Egypt's attack against host Russia, Uruguay, and Saudi Arabia. They have a good chance of making the knockout stage for the first time in their history.
The restless nature of football dictates that many people will decide he has already outgrown the club where he has become one of the world's most famous players. For 20 years, wealthier clubs have been plundering Liverpool's stars: Steve McManaman, Michael Owen, Xabi Alonso, Fernando Torres, Javier Mascherano, Luis Suárez, Raheem Sterling. In January, Coutinho left, agreeing to that long-rumored deal with Barcelona.
Liverpool's chronic inability to stop this talent drain has been the biggest obstacle to the Reds recovering their former superclub status. In this case, the decision will belong to Salah. He said that when Liverpool bid for him last summer, there were those who told him he would be better off staying where he was.
Before I came [to Liverpool], people advised me to stay in Roma, since I was happy there, and recommended that I take no risk. I don't like to feel relaxed or in the comfort zone, or have the impression that I'm happy. I don't like this attitude … They said, "You already had the chance in the Premier League before. It wasn't as successful as in Roma, so stay in Roma where the players love you, and you are in harmony with the fans and club." But I saw something they couldn't see.
The meaning of this for Liverpool is clear. Playing with these teammates and this manager has been great for Salah, but if Real Madrid or Barcelona decide they want him, he will go. Not just for himself, but for Egypt. If he can, he will give the people of Egypt their first galáctico.
English football often grumbles that La Liga's exalted status is a myth—that besides being more popular around the world, the Premier League is also stronger and more competitive. The truth is that a decade of Lionel Messi– and Cristiano Ronaldo–led domination of the sport has established the two Spanish superclubs as the best in the world. If you want the world to know you have reached the very top as a footballer, the surest way to prove it is to sign to Madrid or Barcelona.
If English clubs want this to change, there is a simple first step, which is to start matching the salaries on offer in Madrid or Barcelona. They have shown no inclination to do so and must therefore accept that, for reasons of both profit and prestige, the best players will continue to aspire to play at the Bernabéu and the Nou Camp.
Since Salah is consciously on a mission to prove to his people that if they only believe in themselves, they can become the best in the world at whatever it is they do, the prospect of moving to one of the two top clubs in the world would surely prove irresistible.
The only problem is that, right now, Madrid and Barcelona don't want him. He has only had one phenomenal season. Liverpool would demand a stupendous price. He hasn't quite done enough to prove he would be worth it.
He'll never have a better chance to change their minds than Saturday night against Real Madrid.