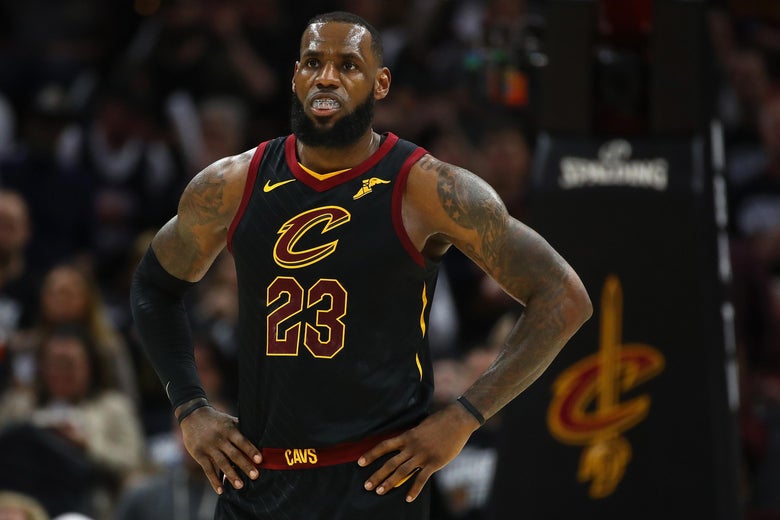 The Cleveland Cavaliers were supposed to have a switch. After a damp squib of a regular season where they stumbled to the fourth seed in a weak Eastern Conference, LeBron and company were primed to flip that switch in the postseason and resume business as usual. That still can happen, of course, and the fact that the Indiana Pacers pounded them into veal scallopini on Sunday won't change that.
Credit should go to the Pacers. They deserved their 98-80 victory. It was a true blowout. They never fell behind and calmly dealt with everything Cleveland threw at them. Keep in mind, I am not overreacting here, because there is no reason to overreact. It was just one game.
LeBron James had won 21-straight first-round games before Sunday's loss at home to Indiana. He has never lost a first-round series in his entire career. Why would he start now? Sure, the Pacers were sharper and more balanced than the Cavs, who looked simultaneously tired and panicked, like they had just been woken up by turbulence somewhere over the Atlantic. But it would be foolish to doubt Cleveland after just one game, even if the performance was terrible enough to warrant a cascade of boos from the home crowd.
On the bright side, LeBron James played great. He notched a triple-double, scoring 24 points with 12 assists and 10 rebounds. It's hard to imagine just how large the defeat would have been had he not been playing for the Cavs. Of course, he is a free agent this summer, and Cleveland may have to confront that scenario should he prove the rumors true and leave the city yet again. In an interview with ESPN, Cavs forward Kevin Love said the prospect of James bolting in the summer "definitely could affect" the team's playoff run. He did not mention whether the effect would be positive or negative, however.
Why would LeBron abandon his home team? Sure, playing on a roster that isn't good enough to get out of the first round would be a reason, but that won't happen. If you think it will, then you are overreacting after just one game, and that would be silly.
Rather than clutch pearls over the Cavaliers, a better use of your time would be to watch some Pacers highlights.
They were great in transition.
They were great on defense.
Victor Oladipo, their star guard, was great as well.
It was just your run-of-the-mill, 18-point playoff blowout. Anything beyond polite applause would be gauche, so please don't overreact.
Support our journalism
Help us continue covering the news and issues important to you—and get ad-free podcasts and bonus segments, members-only content, and other great benefits.
Join Slate Plus
Join
---