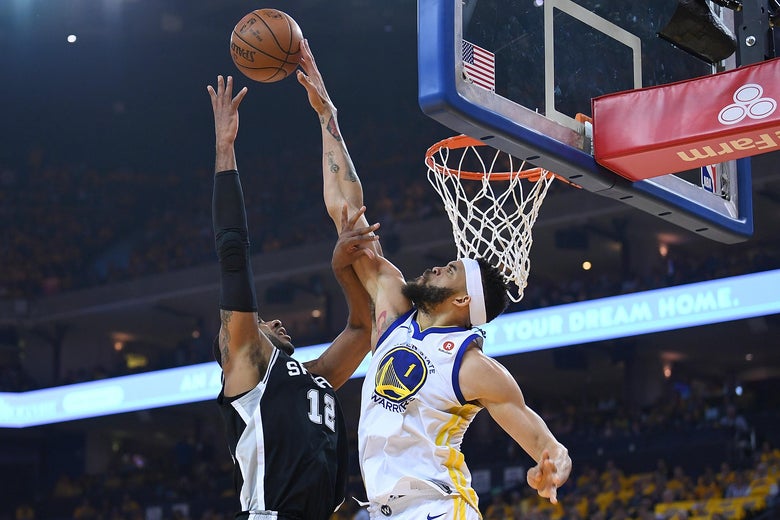 They may have finished the regular season in uncharacteristically sluggish fashion, but the Golden State Warriors didn't have a difficult time dismantling the San Antonio Spurs on Saturday. The playoff opener was a breeze for the Warriors, and they strolled to a 113-92 victory.
The Spurs didn't have a lead all game. At times, they looked fortunate to have any points at all. Golden State's defense was excellent from the get-go, and plenty of credit should go to Coach Steve Kerr, who selected a starting lineup that had played a grand total of zero minutes together during the regular season. They didn't play like strangers, however, and that lineup promptly dismantled San Antonio's sputtering offense with little fuss.
With Steph Curry sidelined for at least the first round, Kerr opted to start without a point guard and played forward Andre Iguodala in his stead. He also started JaVale McGee in place of Zaza Pachulia, and it didn't take long for the move to look like a stroke of genius.
A few years ago, McGee was an NBA journeyman and the butt of nearly every joke on Shaquille O'Neal's weekly blooper segment on TNT. With the Warriors, he is an effective role player, and he proved to be Golden State's secret weapon in Game 1 against the Spurs.
McGee defended LaMarcus Aldridge, and he smothered San Antonio's most talented offensive player like a fire blanket. Aldridge went one-for-six from the field in the first half when McGee was guarding him. At times, it looked like the All-Star big man was trying to shoot over a telecommunications tower.
McGee was just as effective on the other end, converting all sorts of looks to whip the Oracle Arena crowd into a noontime frenzy.
I am legally obligated to say "playoff series are long and anything can happen," but unless something drastic occurs, the Spurs are in deep trouble. They don't look capable of pushing the series to six or seven games. Hell, they don't look capable of giving the Warriors a proper cardiovascular workout. If this remains the case, JaVale McGee highlights will be the only things to look forward to for neutral fans. With any luck, he'll start shooting 3-pointers around Game 2.
The seven-footer only attempted six 3-pointers all season, and he failed to make a single one. He's one-for-15 from deep throughout his entire career, but, rest assured, he has been practicing his long-range jumper. If Saturday's pregame shoot-around is any indication, it is ready to be unleashed.
There was a brief moment in the first half of Game 1 when McGee picked up his dribble outside the 3-point line. The crowd buzzed with giddy excitement, and it sounded like Elvis was preparing to walk out at center-court. But something even better was shaping up: it looked like McGee was about to take a 3-pointer. Sadly, he opted to pass the ball, letting the air out of the arena in the process.
Let's hope he shoots it next time. After all, the element of surprise helped the Warriors win Game 1. What's more surprising than a few JaVale McGee 3-point attempts in Game 2?
The answer is a few dozen McGee 3-pointers. Make it happen, please.
Support our journalism
Help us continue covering the news and issues important to you—and get ad-free podcasts and bonus segments, members-only content, and other great benefits.
Join Slate Plus
Join
---