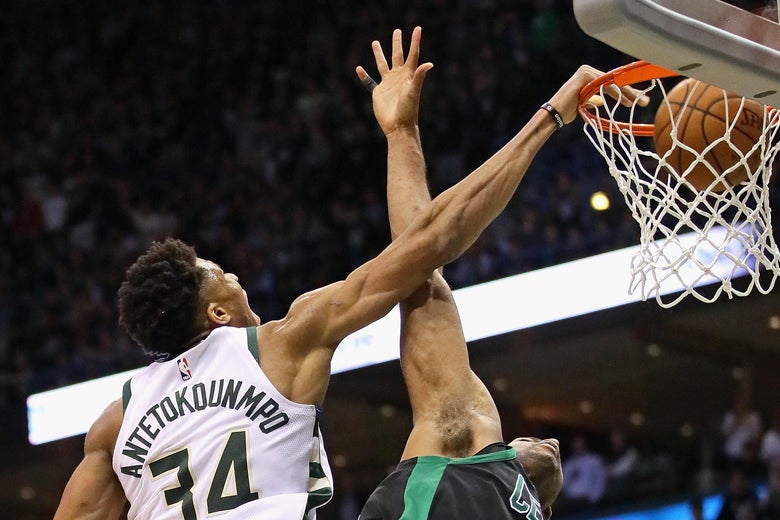 The Milwaukee Bucks had a mixed afternoon. They built a 20-point lead against the Boston Celtics, only to see it slip away late in the fourth quarter. Game 4 had all the makings of a disappointing loss for the Bucks, but it also had Giannis Antetokounmpo, who wasn't about to let any Milwaukee hearts go home broken. Thanks to his big plays down the stretch, the Bucks won 104-102, and the series is now knotted at two games apiece.
Antetokounmpo tipped home the game-winner with seconds remaining. The put-back was made possible by his Inspector Gadget arms, which telescopically extended high above the gathered Celtics players. As mere mortals, they are cursed with limbs of flesh and bone, and so they didn't stand a chance.
Giannis steadied the Bucks during a shaky fourth quarter. His vicious posterization of Al Horford was a good reminder for the home crowd that they shouldn't worry—they have a legitimate superstar on their team. After all, Steve Kroft doesn't fly out to Wisconsin to film 60 Minutes profiles about role players.
Giannis has come a long way. Five years ago, he was a teenager playing against part-time ballers in the Greek second-division. After being drafted by the Bucks, his most notable NBA moment was a very adorable tweet about smoothies.
Now, he's mean-mugging and dunking all-star centers into the obits. Jared Dudley, Giannis' former teammate, was quick to jump on Twitter and let everyone know that this was all thanks to practice—the scowling, that is.
Game 5 is on Tuesday, meaning the Celtics have a few days to prepare for any other facial expressions Giannis has been rehearsing.
---