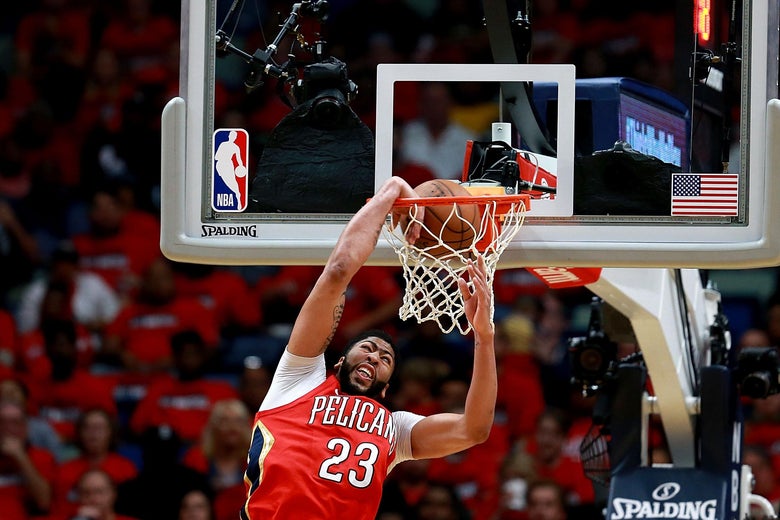 The New Orleans Pelicans are on a rampage. They completed a first-round sweep of the Portland Trailblazers on Saturday, winning Game 4 131-123. The ease with which the Pelicans dismantled the higher-seeded Blazers is downright terrifying. Each game was a statement. If you have a favorite team, you do not want them playing New Orleans in the next round.
The Pelicans do so many things well, but they also have a cheat code: the Anthony Davis alley-oop. Davis is a giant with Baryshnikov-like spring, and all his teammates have to do is toss the ball up in his general direction. The pass doesn't even have to be good; Davis will easily fetch even the most optimistic and errant of throws. Without the aid of stilts and a tuna net, I just don't know how players are expected to stop him
For opponents, Davis alley-oops aren't plays so much as they are terrifying inevitabilities. They are like the wistful guideposts you encounter as you get older, and each one is more doleful than the next.
I've paired Davis alley-oops from the first round with corresponding life events. You can't do anything to stop either, so you might as well appreciate your own powerlessness in the face of time and/or Anthony Davis.
Your yearly physical starts to include tests that your doctor has never performed on you before.
Why is she silently taking notes? You didn't have to undress last year. Were you always expected to give this much urine? Is that a camera? Shouldn't you get anaesthetized first?
You lose touch with old high school friends. 
All you have to do is pick up the phone. Just a quick call, to catch up. They'd probably love to hear from you, but if things are piling up then there's nothing you can do about it. Errands aren't going to run themselves. Maybe write them a Facebook message tomorrow.
Everyone is talking about a celebrity but you have no idea who they are.
Who the hell is Logan Paul? Whatever happened to movie stars? Kevin Costner, now there's a guy with talent.
Hangovers last all day.
You only drank two beers. Sure, they were IPAs, but you shouldn't have a splitting headache at 6 p.m. Maybe the store-brand aspirin is less effective. Yeah, that has to be it.
Your children stop laughing at your jokes.
It seems like just yesterday they found you hilarious. Now, all they laugh at are Logan Paul YouTube videos. Who the hell is Logan Paul?
---