You may recall that last year, I reviewed Dolly Parton's Dixie Stampede, a long-running, super kitschy dinner-theater show just up the road from the country legend's beloved Dollywood theme park in Pigeon Forge, Tennessee. You can read my full account of the surreal experience, but suffice it to say that its depiction of the Civil War as a "friendly" North–South "rivalry" to be reinterpreted over a heaping plate of gluttonous food came off as startlingly tone-deaf in 2017, especially in the wake of the deadly events in Charlottesville, Virginia. In January, it appeared that my concerns (as well as, I imagine, those of many other Dolly fans and would-be audience members) had sparked a bit of change from the creative forces behind the show, as it was announced that the production would drop the word Dixie from its title. "We … recognize that attitudes change," the press statement read, "and feel that by streamlining the names of our shows, it will remove any confusion or concerns about our shows and will help our efforts to expand into new cities."
While this was pleasant news, the announcement didn't specify whether or not any changes would be made to the actual show itself, which was undoubtedly more troublesome than the mere word Dixie. Now, thanks to a reader who was gracious enough to report back to me after her recent visit to the Branson, Missouri, location, I have my answer: Dolly Parton's Stampede has (mostly) stamped out the Dixie and plantation imagery from the production too.
Joan Stack, curator of art collections at the State Historical Society of Missouri, reached out to me via email and broke down all the changes she spotted. Here's part of what she wrote, published here with her permission:
I was surprised by the radical changes I saw in the show. It still takes place in a building that resembles a Southern plantation, but the plantation backdrop inside the arena has been replaced by rocky natural forms. The "North" still battles the "South," in pig races and chicken catching contests, but the colors are now blue for the South and red for the North. These choices were clearly made to disassociate "Union blue" from the Civil War and de-politicize the Red State/ Blue State divide by making the North Red and the South Blue.
Indeed, all references to the Civil War have been removed. We don't hear "Dixie" and there is no mention of generals on either side.
In a follow-up email, she answered what was perhaps my most burning question of all: What about those unfortunately color-coded "Northerners Only" and "Southerners Only" bathroom stalls?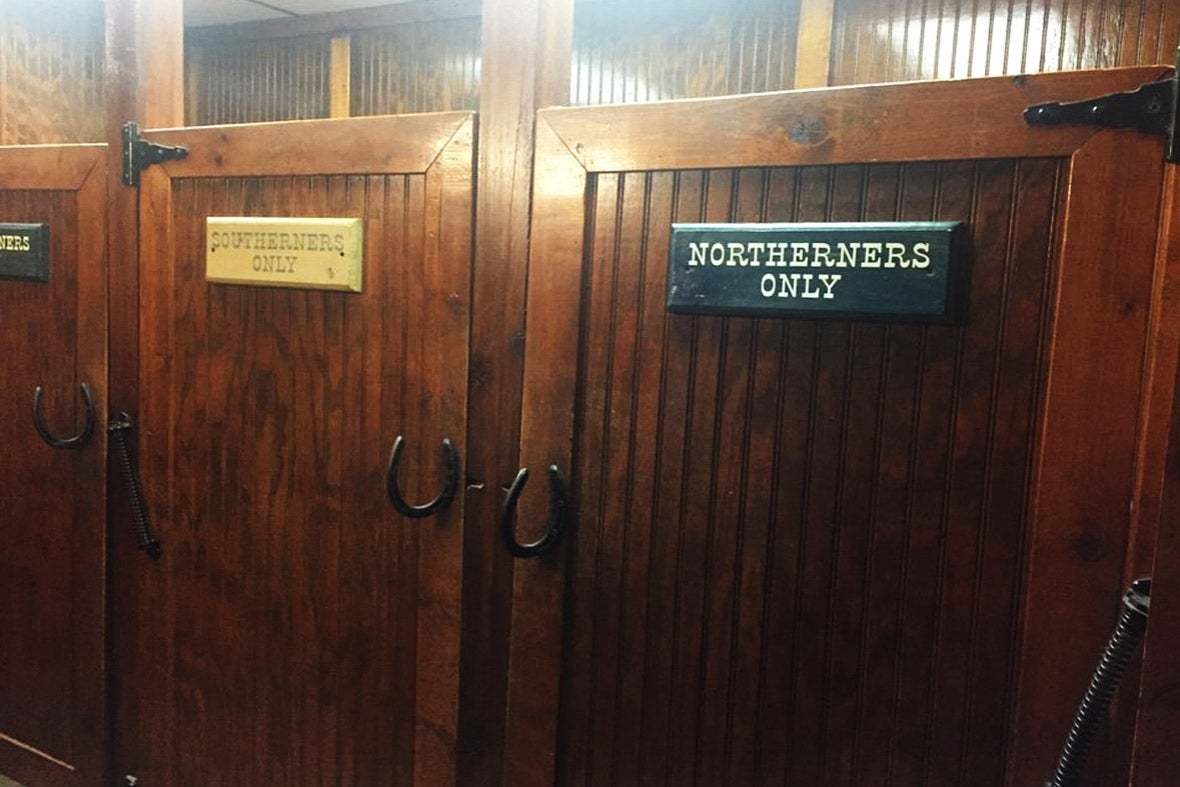 "In Branson, the bathrooms now have a cowboy/horsey theme with horseshoe handles for the stalls and saddle parts surrounding the mirrors," she wrote. It looks like a change has come.
Stack, who herself visited and pointed out the historical incongruities in Dolly's Dixie Stampede in 2013, added that the scene featuring an ensemble of women dressed in Scarlett O'Hara–like regalia are now styled in dresses from the Gilded Age. The song is no longer about Dixie, replaced instead by the popular 1910 tune "Let Me Call You Sweetheart."
Unfortunately, she told me, the show's valorization of Western colonization and awkward representation of Native Americans remains, which I guess shouldn't be too surprising considering this and this and this. Racist American myths die hard.