The title of There's a Riot Going On, the 15th album by Yo La Tengo, seems to promise a confrontation of the sort laid down by their fellow indie rockers Superchunk, whose What a Time to Be Alive is full of galvanizing anti-Trump broadsides. But instead of a blast of supercharged guitars, the first thing you hear on Riot is a wave of undulating organ that goes on for the better part of a minute before being joined by a three-note bass loop and the sound of sleigh bells. Ira Kaplan's guitar enters the swirl, tracing a path through the hypnotic, head-nodding pulse of James McNew's bass and Georgia Hubley's drums. The song, an instrumental, is called "You Are Here," but the feeling is more like being swept along than rooted in place. You are everywhere.
There's a Riot borrows its title from Sly and the Family Stone's 1971 masterpiece There's a Riot Goin' On, trading the modified American flag on its cover for a hazy phosphene. It's a puzzling choice that comes off somewhere between sincere homage and record-collector in-joke. (The band once fused the titles of an R&B instrumental, a one-off album by a Los Angeles punk band, and the surname of a fantasy novelist to come up with a song called "Pass the Hatchet, I Think I'm Goodkind," which has nothing to do with either of the three.) But the original album's title was also a misdirection, with a nonexistent "title track" running zero minutes and zero seconds. Faced with a turbulent world, Sly Stone turned inward, and so does Yo La Tengo on an album that, if hardly riotous, is one of their best.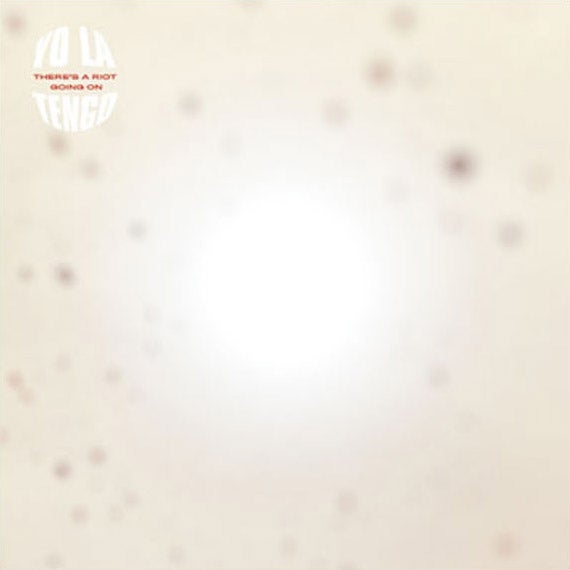 While Yo La Tengo's songs have long originated as rehearsal-room jams, Riot is actually composed of them, with self-recorded snippets dating as far back as 2007 incorporated into the songs or sometimes running between them. It's a fitting method for an album whose songs often find the singer struggling just to get out the door. In "Shades of Blue," Hubley tries redecorating to lift a depressive mood, but finds herself "staying indoors 'cause you're not around," and in "She May, She Might," Kaplan sings about a woman trying "to find a way outside her mind." In "Above the Sound," lovers go at each other like boxers over a forceful upright bass riff that recalls John Coltrane's "A Love Supreme," before opting to see if they can "look within/ to find a better way." "What Chance Have I Got" plays like a lilting ballad of romantic inevitability, until you listen more closely and hear Hubley coo "Fire at will" and "Shoot to kill."
Parsing Yo La Tengo's lyrics, or even making them out, can be something of a fool's errand, especially given how engulfing their underlying rhythms can be. There are songs I've seen them play dozens of times, and probably listened to a hundred more, that I'd be more easily able to identify by humming McNew's bass part than singing the words. Kaplan's whispered croak often disappears into the sound mix as if he's sitting at the next table in a crowded bar, having an intimate conversation whose contours you grasp despite missing every other word. Three of There's a Riot's songs are instrumentals, and others, like "Dream Dream Away," feel like hybrids, with several minutes of leisurely strumming finally giving way to harmony vocals so awash in echo it's hard to tell if they're saying anything at all.
"Forever," which leads into the album's home stretch after the movie-theater intermission ditty "Esportes Casual," is the closest Riot comes to acknowledging the turmoil raging outside the band's practice space, and even then, it's a tribute to endurance and not resistance. "Laugh away the bad times," Kaplan sings, "Lie about what's to come/ The less said the better/ Let's drink until we're dumb." But for all its introspection, the album feels expansive instead of insular, reaching out in uncertainty and despair and allowing the music to provide hope where the words cannot. On "Forever," Kaplan's tear-streaked lyrics are cushioned by McNew and Hubley's softly harmonized "Shoo-wop shoo-wop." Last week, Kaplan told an interviewer, "It's a political statement to sing 'La la la.' "
One of the most startling things I've ever seen a rock band do came at the end of Yo La Tengo's concert in Brooklyn's Prospect Park in 2002. The summer after 9/11, public gatherings in New York still felt dangerous, and even though the band's home base of Hoboken, New Jersey, was across the river, they'd been a part of the city's musical life for decades. As their set neared its end, they pulled out one crowd-pleasing cover song after another, but the capper was a L.A. punk obscurity called "Let's Get Rid of New York." Even before Kaplan got to the lines "Airplanes there are always crashin'/ King Kong knew what he was doin'/ When he left New York in ruin," I remember reeling from the force of the song, and the idea that someone could take the crowd's collective anxiety and effectively turn it into joke. But the band kept throwing themselves into the song, and the snotty, symbolic vision of the city's obliteration replaced, at least for those few minutes, the memory of the real attack. By the time the band got done acting as if it were OK to imagine such a thing—as a joke, because clearly there was no way it could ever happen for real—it actually was OK. There's a Riot Going On is that kind of a political record, the kind that will hold your hand through the tough times until you muster the strength to face them.