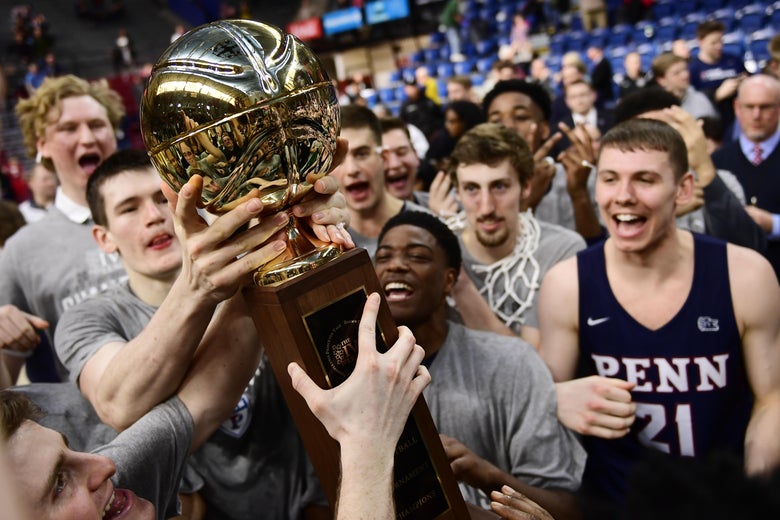 A team coming from three games down to win a playoff series. A cursed franchise finally winning a championship. A guy fumbling the ball after running into his teammate's butt.
Sports are at their best when they give us something we've never seen before. That's why the prospect of a 16 seed taking down a 1 seed is so tantalizing. There have been 132 such match-ups in the men's NCAA basketball tournament over the years, and not once has the underdog come out on top. (No. 16 Harvard beat No. 1 Stanford in the women's tournament in 1998.) It's a little surprising that, for a tournament that traffics in upsets, March Madness has never treated us to the Big One.
There are rumblings, however, that this year might be different. The University of Pennsylvania Quakers will try to make history against top-seeded Kansas on Thursday, and some in the world of college basketball see it as an intriguing matchup.
FiveThirtyEight, for its part, says Penn is "history's best 16 seed." Advanced stats also suggest Kansas is vulnerable defensively and have an efficiency margin unbefitting of a No. 1 seed. My own super-duper-advanced proprietary analytics point to something even more telling: The 16 seeds are due, baby!
Of course, there will be three other 16 seeds that could theoretically do the job in the first round. Rather than mention them in this article, I will instead provide them with bulletin board material by ostentatiously excluding them from my analysis. If that doesn't motivate you, University of Maryland, Baltimore County, then I don't know what will.
Basketball fans who've been begging for decades to see this most elusive tournament result don't really have a right to be picky. This upset to end all upsets will be great no matter when, where, or how it happens. And yet, some possible 16-over-1 victories would certainly be better than others. Does Thursday's mismatch between the Quakers and Jayhawks check all the boxes? Let's take a closer look.
David needs to be tiny; Goliath needs to be rather large.

Being history's greatest 16 seed is, to put it in terms Penn grads will understand, like being at the top of your class at Dartmouth. The Quakers are still expected to lose by double digits on Thursday, and even a narrow loss would be considered an impressive result. And while Kansas may not be an analytical darling, the Jayhawks still rolled to their 14th-straight Big 12 title and have conference player of the year Devonte' Graham playing the best basketball of his career.
The Quakers played only one ranked opponent this year—Villanova, in November—and they lost that game by 28 points. Another one of Penn's losses came against Toledo, a team Kansas waxed 96-58.
Simply put, a Penn victory on Thursday would be an upset of staggering proportions. This hypothetical result should excite you. If it doesn't, I can maybe guess why.
The underdog should be an underdog in more than just seeding.

While a 16 seed has never taken down a 1 seed, there have been eight 15-over-2 results in NCAA tournament history, and these give us an idea of what makes for a truly special upset. A major ingredient is getting to see a small, disregarded school achieve success on a grand stage.
Consider the historically black college trio of Coppin State (who beat South Carolina in 1997), Hampton (Iowa State's conquerers in 2001), and Norfolk State (2012 victors against Missouri). HBCUs are often underfunded and overlooked, and those teams' tournament performances were more than just inspiring. They directed some much-needed attention to each school and helped earn recognition from a general public that would have otherwise ignored them.
The University of Pennsylvania, meanwhile, has an endowment of $12.2 billion. It is the alma mater of Donald Trump. Until last month, students on campus strolled through the Wynn Commons, named for casino magnate, Penn alum, and accused sexual harasser Steve Wynn. (It is now called the Perelman Quadrangle.)
The less attention paid to Penn the better.
The underdogs need to wear really crappy uniforms.

Part of what made Florida Gulf Coast's 2013 tournament run so much fun was that they looked like a Slamball team, both in playing style and appearance.
And Lehigh's win over Duke in 2012 was made all the more special because C.J. McCollum's Mountain Hawks wore what appeared to be Trader Joe's bags.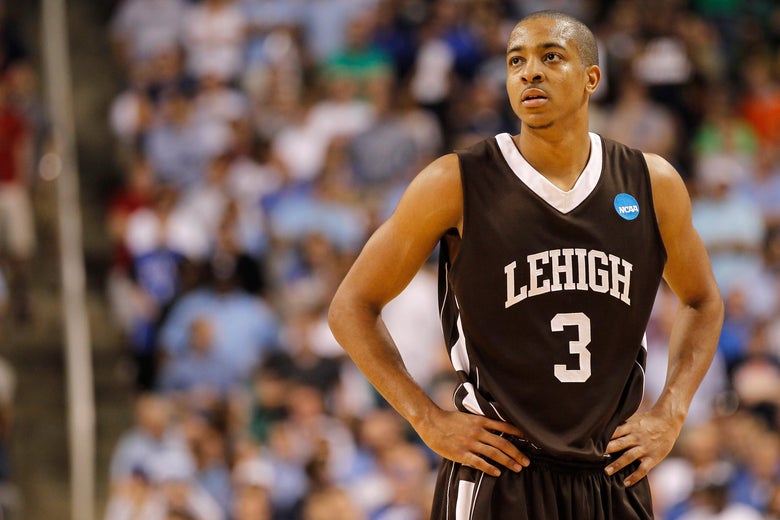 While you would never describe Penn's uniforms as "cool," they aren't nearly ugly enough for true underdog status. Their blue jerseys are respectably muted, and the home whites are simply boring. We can only hope that someone throws a red sock in their wash before Thursday's game.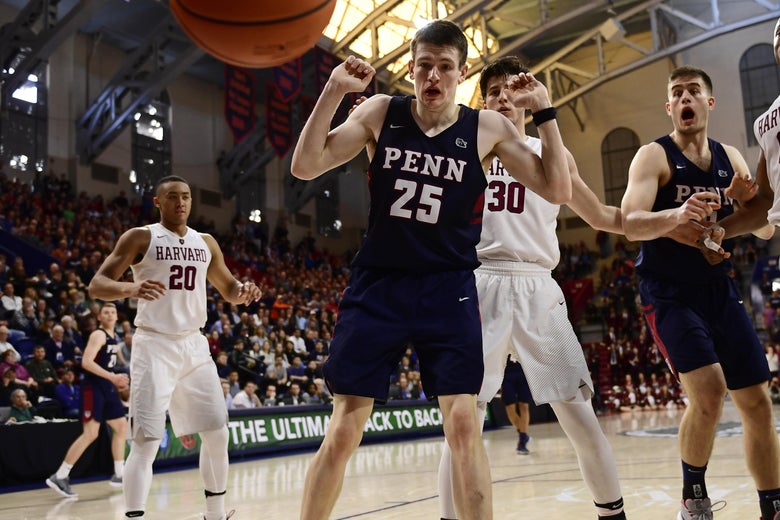 There needs to be hubristic comeuppance.

If a 1 seed is going to come tumbling down, ideally they will have deserved it.
According to Kansas fans, Kansas is college basketball, and they're not completely off base in saying so. The Jayhawks' first coach was none other than Dr. James Naismith, and, despite having invented the sport, he only managed to put together a career winning percentage of .478 in Lawrence (55 wins, 60 losses). It wasn't until they got rid of the guy who literally wrote rules of the game that they found success on the basketball court, and they have been a juggernaut ever since.
But while Kansas has been in great late-season form, the Big 12 champs aren't exactly swaggering into their first-round matchup like Muhammad Ali. "I don't think there's much of a difference between a 1 and 4 seed or 5 seed this year," Jayhawks coach Bill Self told reporters. They are also giving the Quakers plenty of respect. "They are really, really solid," Self said. "[Penn Coach] Steve [Donahue] has done a great job with them. They've got our attention."
The Jayhawks are also sadly lacking in the hatable player department. Their stars—sophomore center Udoka Azubuike and the aforementioned Graham—are hardly the Cobra Kai villains you'd want to see humiliated in front of a national audience.
Still, the Jayhawks have bullied the Big 12 for so long that, for the thousands upon thousands of men and women who support their rivals, seeing Kansas lose would inspire feelings of joy and liberation that few Americans have ever experienced.
The crowd needs to get behind the underdog.
The closest a 16 seed has ever come to beating a No. 1 came in 1989, when Princeton lost to Georgetown, 50-49. Watch the tape, and you'll notice how the crowd at the Providence Civic Center gets steadily more unhinged. By the final two minutes, you can barely hear the commentators after big plays.
This won't be the case on Thursday, as Penn will have to try and pull off the upset in Wichita, meaning this will essentially be a Kansas home game. Even if you ignore the talent disparity between the two teams, the location alone puts the Quakers at a huge disadvantage.
In fact, Penn is getting such a raw deal location-wise that none of us should hesitate about supporting the Quakers' heroic quest. If they manage to do the impossible and win on Thursday, they will become the NCAA tournament's greatest-ever underdog—even if their jerseys are somewhat decent.
---