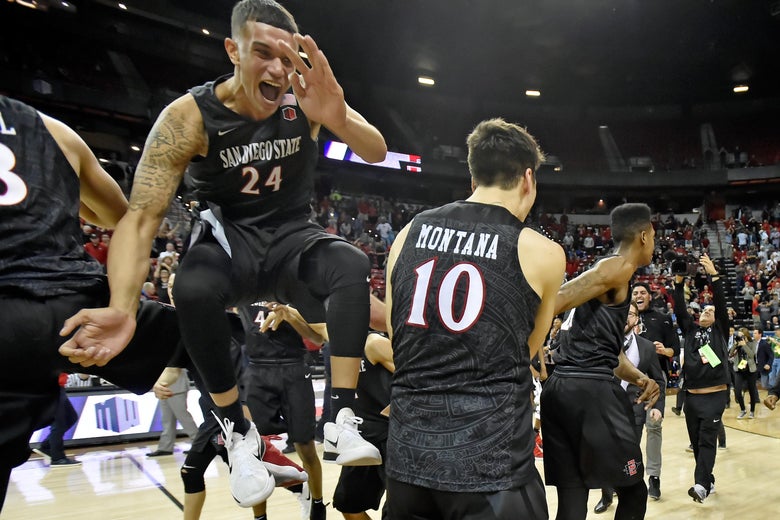 You aren't going to win your office tournament pool. Sure, you might "win" in the sense that your picks will be the least error-ridden, but that will have nothing to do with you. The real winner will be the inscrutable cosmic whim that randomly facilitates your modest success. It never loses.
Show me a March Madness bracket made with considerate study and preparation, and I will show you a bracket filled out by a fool. It's a cliché, but the person who chooses each round's winner based on the cutest mascot or a preferred color scheme will usually come out on top. That's the nature of the beast, and it's about time you bought in. But if you're going to ride ignorance all the way to bracket immortality, you should at least figure out how you want to flippantly get there.
The following suggestions have been curated for idiocy and are an insult to the men and women who work hard to provide statistically sound bracket advice—advice that will assuredly be trumped by each of the methods listed below.
Pick the school that has the shortest walking time to Urban Outfitters.
College kids love two things: wearing dope threads and decorating their dorm rooms with the flyest trinkets and/or framed record covers. One would assume that student-athletes who live closer to Urban Outfitters would perform better, as they would exert less energy on their commutes to buy colorful shorts and logo tees. However, there isn't much correlation between a team's seed and the time it takes to walk from the center of campus to the nearest Urban Outfitters. The only explanation is that the selection committee did a terrible job ranking each school. As a result, there are going to be a lot of upsets according to these projections I found on Google Maps.
-No. 10 Texas over No. 7 Nevada (13 minutes vs. 3 hours and 34 minutes)
-No. 9 Florida State over No. 8 Missouri (11 minutes vs. 41 hours)
-No. 10 Providence over No. 7 Texas A&M (52 minutes vs. 33 hours)
-No. 15 Lipscomb over No. 2 North Carolina (1 hour and 17 minutes vs. 2 hours and 33 minutes)
-No. 9 Alabama over No. 8 Virginia Tech (20 hours and 15 minutes vs. 51 hours)
-No. 13 Marshall over No. 4 Wichita State (44 hours vs. 55 hours)
-No. 14 over No. 3 Texas Tech (50 hours vs. 95 hours)
-No. 10 Butler over No. 7 Arkansas (2 hours and 21 minutes vs. 39 hours)
-No. 15 Cal State Fullerton over No. 2 Purdue (1 hour and 6 minutes vs. 20 hours and 7 minutes)
-No. 16 Penn over No. 1 Kansas (4 minutes vs. 37 minutes)
-No 13 Charleston over No. 4 Auburn (4 minutes vs. 36 hours)
We are in for a wild March.
Pick the school whose name is most tenuously connected to the institution itself.
This immediately knocks out all the state schools, as their names provide geographic context. The University of North Carolina at Chapel Hill is a little on the nose, which is why, using this method, you should pick Lipscomb to pull off the first-round upset. Lipscomb gets its name from David Lipscomb, one of the school's co-founders. Unlike North Carolina, he is just a dude.
While more obtuse than a simple place name, a moniker derived from a school's founder or early benefactor still makes a certain kind of sense and will thus be vulnerable later in the tournament. Besides Lipscomb, Duke, Purdue, and Creighton all fall into this category, as do Bucknell and Butler.
Sitting one step above this level of contextual appropriateness are the schools named after theological figures. Members of this club include Gonzaga, Villanova, Seton Hall, Xavier, and St. Bonaventure. If St. Bonaventure faces Butler in the Sweet 16, pick the university named after the Cardinal Bishop of Albano. While these are all schools founded by religious scholars, none of their namesakes actually had a say in their establishment. Also, 16th century canonical literature is vague about St. Francis Xavier's opinions regarding recruiting in the Ohio River Valley versus finding talent via transfers, so it really is a rather tenuous connection.
Finally, the highest-regarded schools based on this bracket methodology are the ones named after states that aren't even states. Wright State, Murray State, San Diego State, Wichita State, and Stephen F. Austin State are this division's heavy hitters. Wright State is the clear favorite going into the tournament. The university, which was founded in 1964, is named after the Wright brothers (who were people, not a state).
Pick the school where Jennifer Coolidge has filmed the most movies on location.

Jennifer Coolidge is an absolute joy whenever she appears on screen, and fans of the comedic actress would be wise to use her as a guide when filling out their brackets. Coolidge appeared in Legally Blonde and American Pie 2, which were both filmed at UCLA. That's two more than any other school in this year's field, so every other matchup is just a coin toss. Assuming the Bruins make it through the play-in game on Tuesday, they will be the de facto favorites, barring the surprise release of any Christopher Guest trilogies set at Cal State Fullerton or the University of Maryland, Baltimore County.
Pick the team whose home arena is named after the person or entity you dislike the least.
Chances are you don't have strong opinions on Creighton basketball. However, if you live in the Four Corners region of the country and happen to be annoyed by your cable and internet service, you may be interested to hear that Creighton plays at the CenturyLink Center. A similar tack can be taken by Wells Fargo customers with regard to the Villanova Wildcats, as well as Prudential claimants who are just finding out where Seton Hall plays.
Being a modern American consumer can be a hopeless enterprise, so why not at least get something out of being rudderless dinghy in the torrid sea of capitalism? This strategy is not without risk, however, especially in the event that Wichita State hangs a national championship banner from the rafters of Charles Koch Arena.
Pick the school whose name sounds the best if you put your last name at the end of it, like you two fell in love and are getting married.
After writing it in my notebook 150 times, I am now backing New Mexico State Greene to go all the way.
---