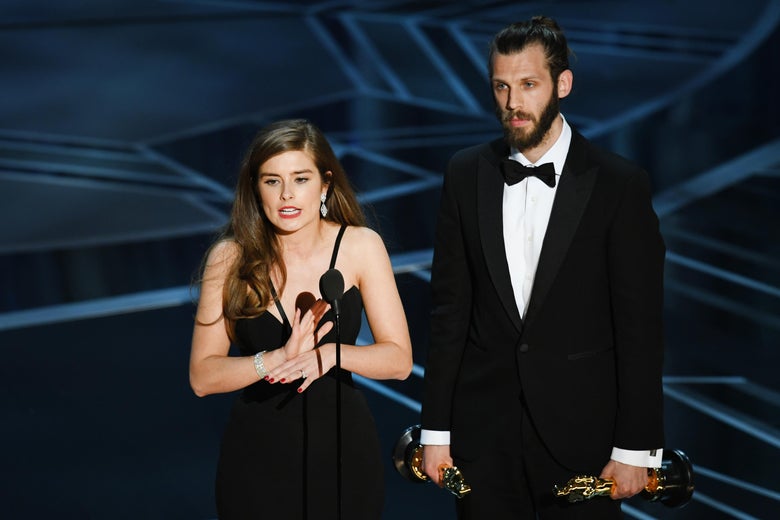 Is it time we start getting used to the use of sign language during award shows? In January, Pink performed "Wild Hearts Can't Be Broken" with an American Sign Language interpreter on hand, and during Sunday night's Oscar ceremony, writer and actress Rachel Shenton signed her acceptance speech in British Sign Language after winning Best Live Action Short Film for The Silent Child.
"I made a promise to our six-year-old lead actress that I'd sign this speech, but my hands are shaking a little bit, so I apologize," said Shenton, referring to Maisie Sly, who plays a profoundly deaf girl taught to communicate using BSL by a social worker, played by Shenton. "Our movie is about a deaf child being born into a world of silence. It's not exaggerated or sensationalized for the movie. This is happening. Millions of children all over the world live in silence and face communication barriers, and particularly access to education."
"Deafness is a silent disability. You can't see it, and it's not life-threatening, so I want to say the biggest of thank-yous to the Academy for allowing us to put this in front of a mainstream audience," Shenton concluded. She has explained behind the scenes of The Silent Child that she became involved in the Deaf community after her father lost his hearing and that she insisted on casting a deaf child in Sly's role.
It was especially heartening that the Oscars telecast did not cut away from Shenton as she gave her speech, unlike the Grammys, where it was often difficult to see the interpreter as Pink sang. Baby steps! This year's telecast also included a clip of Marlee Matlin in her Best Actress-winning role in Children of a Lesser God during a montage, as well as nominations and wins, respectively, for Baby Driver and The Shape of Water, two films that prominently featured characters using ASL. Hopefully, this will all help bring sign languages into the mainstream, both in award shows and in the films they honor, and create more opportunities for deaf actors and filmmakers.
You can watch Shenton's full speech, as well that of The Silent Child director Chris Overton, below.
---