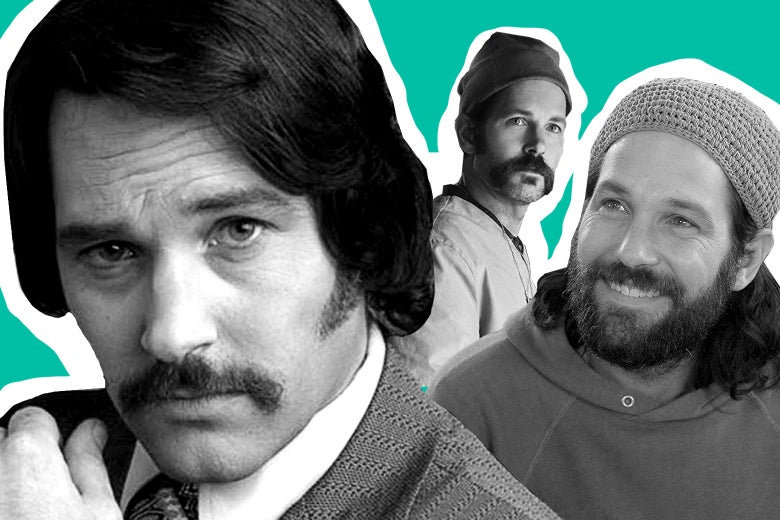 Paul Rudd, the internationally beloved, insanely handsome, irresistibly adorable, impressively quick-witted, and seemingly ageless 48-year-old comedic A-lister and superhero star is not without his fans or praise. But there's one very specific—and very crucial—area where the Ant-Man and Wet Hot American Summer superstar hasn't been given his due. It needs to be said, loud and clear: Paul Rudd's mustache game is impeccable.
Whether his upper lip is sporting a fabulously full handlebar 'stache, a bushy, bristly walrus, or, as in his new film Mute, a healthy Hulk Hogan, the funnyman's mustache game is more than simply "on point." Rudd is in the big leagues. He's one of the heavy hitters. He's with the best whisker warriors in Tinseltown. Yes, right up there with Burt Reynolds, Sam Elliott, Nick Offerman, and, dare I say, even Tom Selleck. Indeed, Rudd brings something that even those mustache maestros generally lack: a chameleonic versatility.
Rudd's stubble skills were first made evident in 2004's rightfully treasured Anchorman: The Legend of Ron Burgundy. As the salacious, cocksure Brian Fantana, Rudd plays one crude, oversexed individual. He's a lewd, outspoken gentleman—a weatherman by trade—who prides himself in owning a stinky cologne called Sex Panther. But we like spending time with Brian Fantana, not only because Rudd has a delightful knack for making assholes endearing, but because of that amazing crumb catcher in the center of his face.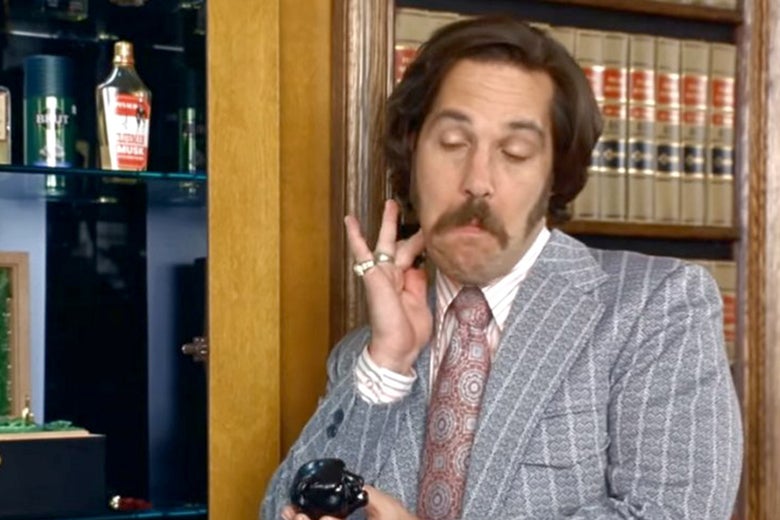 Yes, that furry caterpillar is a thing of beauty, and it's the first sign of things to come. Like certain whiskeys and select cheeses, Paul Rudd's facial hair–growing capabilities have only gotten better with time. They weren't seen again until Our Idiot Brother in 2011, a fine, if unremarkable, little dramedy charmer that was quickly forgotten. But in that film, Paul Rudd's wandering, unsophisticated titular "idiot" carries with him one fantastically full beard. Though it lacked the stylish trims seen in the other films listed here, it nevertheless announced the arrival of Rudd's ongoing golden era of facial hair.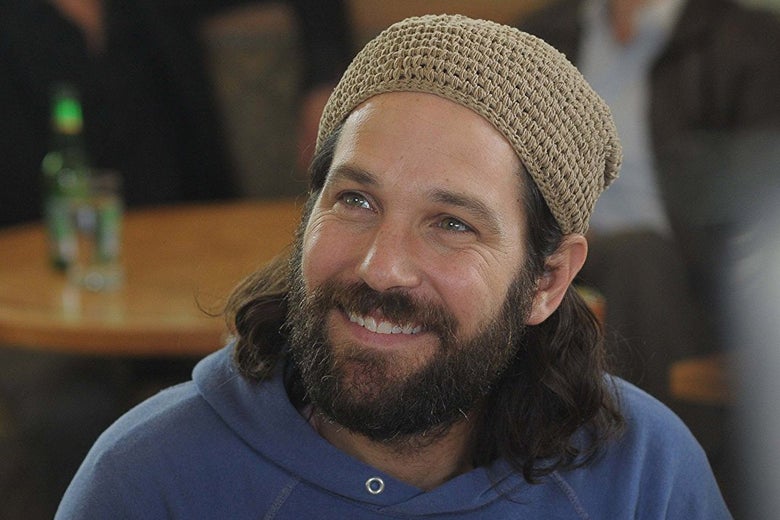 A mere two years later, Rudd once again demonstrated his great mustache-accessorizing skills in David Gordon Green's overlooked 2013 indie dramedy Prince Avalanche. Though Alvin, the character Rudd plays, is a more subdued, less outspoken individual, Rudd's 'stache is bold and confident in all the right ways. It has an exceptional sense of presence and purpose. It is also the crown jewel of Rudd's Luigi-like appearance. In fact, when the filmmakers decided that Rudd and Emile Hirsch's leads would be outfitted to resemble Mario and Luigi, and then decided that only one of them would be allowed to wear a mustache, it wasn't hard to decide which of them it should be, the director has said. Hirsch's facial hair was simply outmatched.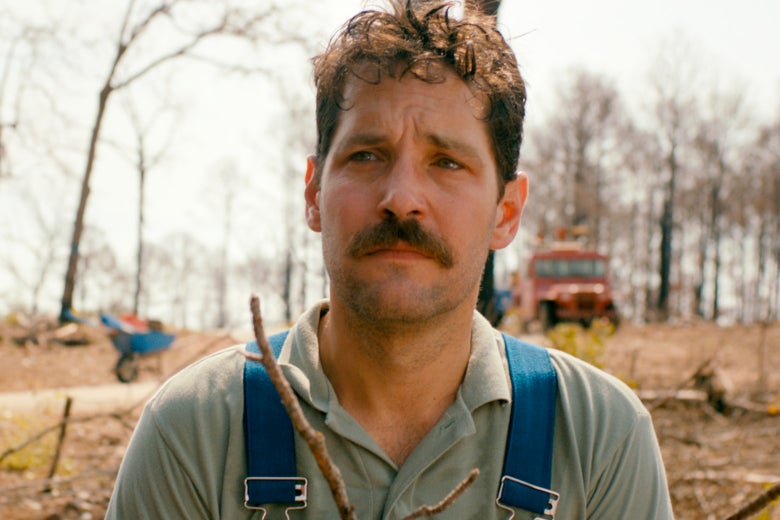 It didn't take long for moviegoers to be reunited with Rudd's astonishing mustache. Later that year, Rudd reprised the role of Brian Fantana, the mustachioed man who started it all (facial hair–wise, at least). Nine years later, Paul Rudd's face furniture was even more handsome than it was in the initial comedy classic. While the sequel film may have struggled to live up to the quotable brilliance of the original, in this one respect it surpassed it.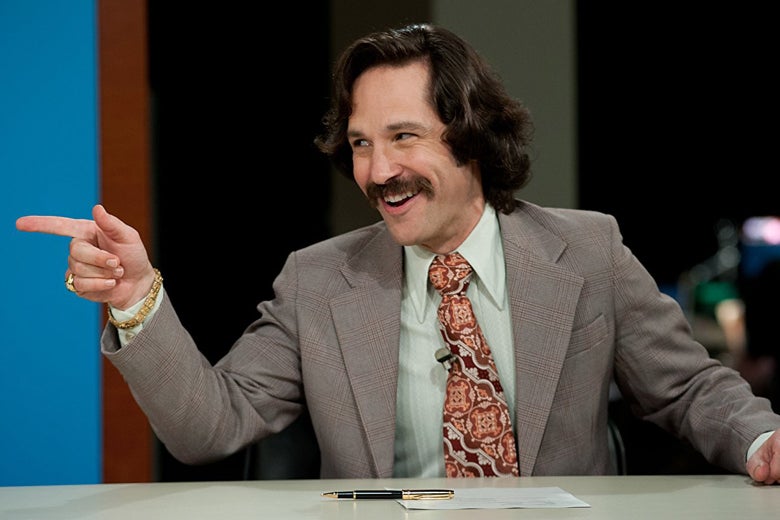 This year this golden age has reached its full flowering, as Paul Rudd recently presented his mustache masterpiece. As the wild, unnerving Cactus Bill in Netflix's Mute, Rudd played against type in a darker, more menacing role. In the process, he also produced a walrus mustache for the ages. From its volume to its distinguished shape, the mustache is a stunning work, fit to be the envy of peach-fuzz carriers everywhere, even if the rest of the film never measures up to it.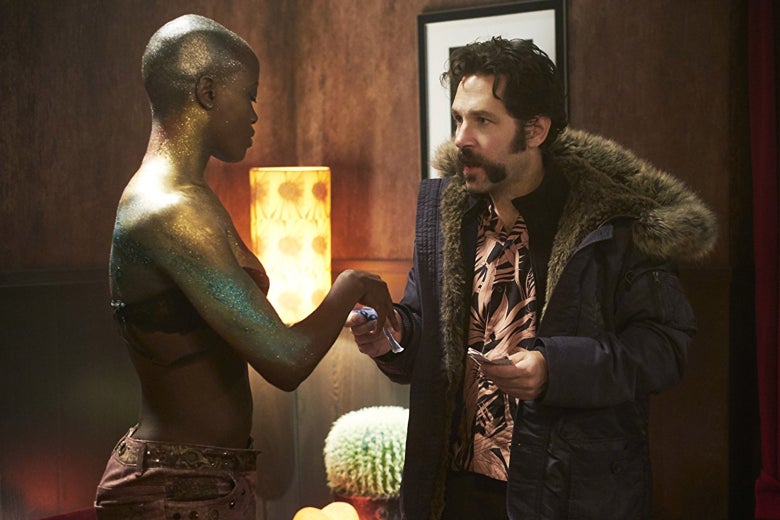 This is a recurring theme in Rudd's career. No matter the quality of the film, Rudd's facial grooming can always be counted on. And so we salute these mustaches. Long may he grow them.
---