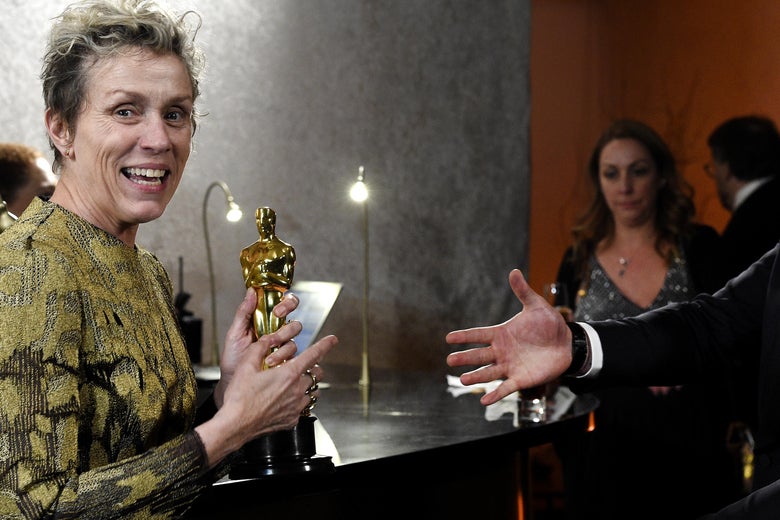 Margot Robbie may have been figuratively "robbied" at the Oscars on Sunday night, but one Oscar winner was literally robbed of theirs. Frances McDormand's Oscar statuette was stolen from her table at the post-ceremony Governor's Ball, and the suspect, 47-year-old Terry Bryant, did us all the favor of posting a Facebook Live video of his endeavor.
The video shows Terry spinning around with "his" trophy while exclaiming standard Oscar-winner phrases, such as "I got this! This is mine!" and "Who wants to tell me congratulations?" With so many Oscars going to composers, designers, sound mixers, and editors that many in the crowd might struggle to recognize, Terry had no problem passing off the Oscar as his own to those around him, who congratulated him and posed for selfies. "Look, this is the real deal, right here, mwah" says one women to the camera, after asking to hold it. She's technically right—it is a real Oscar—but boy is she going to be embarrassed when she sees this.
"What did you win for?" asks another woman, to which Terry replies "Best Producer" (not Best Picture, Best Producer, apparently). At another point in the video, he says it's "for music." (The original Facebook video has been deleted or made private, and has been replaced with an embedded copy.)
One can only wonder what was going through Terry's mind when he decided to create an online record of his crime. (He's since been arrested on felony grand theft charges.) He sounds so happy—it's almost as if by finding an Oscar and saying "I got this! This is mine!" he convinced himself it truly was. For just a moment, Terry, whose bail has been set at $20,000 had the attention of the world … or at least that of 10 or so people around him.
Congratulations, Terry. Hope it was worth it.
---