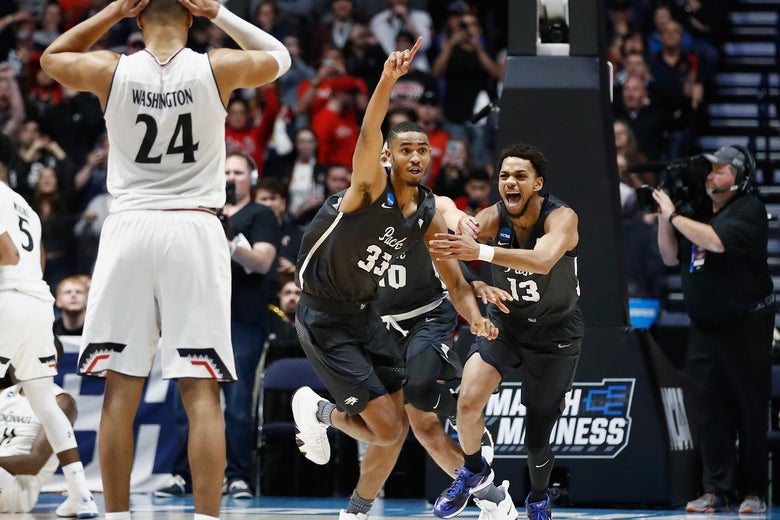 The Cincinnati Bearcats are supposed to hold on to big leads. According to advanced stats, they have the second-best defense in the entire country, so you would be foolish to spot them, say, 22 points. But that's exactly what the Nevada Wolf Pack did during Sunday's second-round NCAA Tournament game. With 11:34 left on the clock, the Bearcats scored a layup to go ahead 65-43.
According to ESPN's "win probability" calculation, Cincinnati had a 99.9 percent chance to win the game at that point.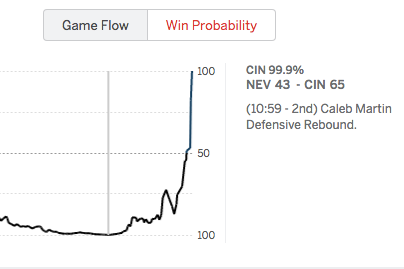 Of course, the laws of probability don't behave the way they're supposed to in March. Nevada had already come from 12 points down to win against Texas in the tournament's first round, so this was relatively familiar territory. The Wolf Pack didn't just nibble away at Cincinnati's lead; they took loud, impolite chomps that could wake Emily Post from the grave.
With just under a minute remaining, super twin Caleb Martin hit a 3-pointer to even the score at 73. The Bearcats missed a jumper on their end, which set up a frantic and ill-advised final offensive possession for the Wolf Pack. Seeing as it was chaos that had taken them that far, it worked out beautifully for Nevada.
The Bearcats couldn't respond, and Nevada held on to win 75-73. Everyone then took a deep breath and calmly returned to their benches.
Just kidding. Absolute insanity ensued.
It was the kind of game in which the winning coach gives his post-game speech shirtless and no one blinks an eye.
Though, we really should expect Eric Musselman's locker room pep talks to be NSFW by now.
The official Nevada Basketball Twitter account provided an eloquent and thoughtful recap:
Took the words right out of everyone's mouths.
On Thursday, Nevada will play the tournament's other cardiac kids, Loyola-Chicago, in the Sweet 16.
kljasdj;das;ew8fwer89ywef;hwero32p8efh;uasjkasd;asdhuasdiuasdjkhsd;ewioawethasdi;hasdfiohafioewrho;asdgasdgiohawoihawetb;agio;asdioawty8tiouhasgu;aefiohwe8yeroasdgj;basdghr3289y[ew;has;ads890y[fewaiohewohasuhasduhiodfsajkhasdfuior8yasjhafds;huasdu;hadsfioewhuewhuoafds8afs;hdhakdj, indeed.
Support our journalism
Help us continue covering the news and issues important to you—and get ad-free podcasts and bonus segments, members-only content, and other great benefits.
Join Slate Plus
Join
---