If you missed Meredith Gran's award-winning Octopus Pie the first time around, here's your second chance. As of Monday, Gran is running the slice-of-life webcomic again from the beginning on a daily basis, with some new commentary. It's a rare opportunity to experience Octopus Pie all over again, if you've been a longtime fan of Gran's decade-long masterpiece, or for the very first time, if you're new to Gran's work entirely.
Octopus Pie follows the exploits of protagonist Everest "Eve" Ning, a twenty-something woman living and working in Brooklyn. While various characters flit in and out of Eve's story over the years, there are two real constants in her life: her dead-end job at Olly's Organix, a grocery store with borderline-inedible food, and her stoner roommate Hanna, a free-spirited foil to cynical Eve, with a pastry business, Bake 'n' Bake, and a boyfriend whose eyes are nearly always shielded by his hair. Eve's perpetual quarter-life crisis, and those of her friends and love interests, are frequently funny, occasionally angsty, and always steeped in the anxiety and giddiness of young adulthood.
Gran's webcomic originally debuted in March of 2007, when, as Gran puts it in her introduction to the re-launch, "George W. Bush was president, the housing bubble was full of hot air, people had only vaguely heard of iPhones, and nobody had read that epilogue at the end of Harry Potter yet." The webcomics landscape was different, too, with the medium undergoing something of a quarter-life crisis of its own: Facebook, Twitter, and the nascent Tumblr were changing how fans engaged with their favorite strips, while the combined rise of ad blockers and declines in merchandise sales forced many creators to rethink their business model. Octopus Pie's long run saw the rise of Kickstarter, and, eventually, Patreon, which gave audiences new ways to support artists financially.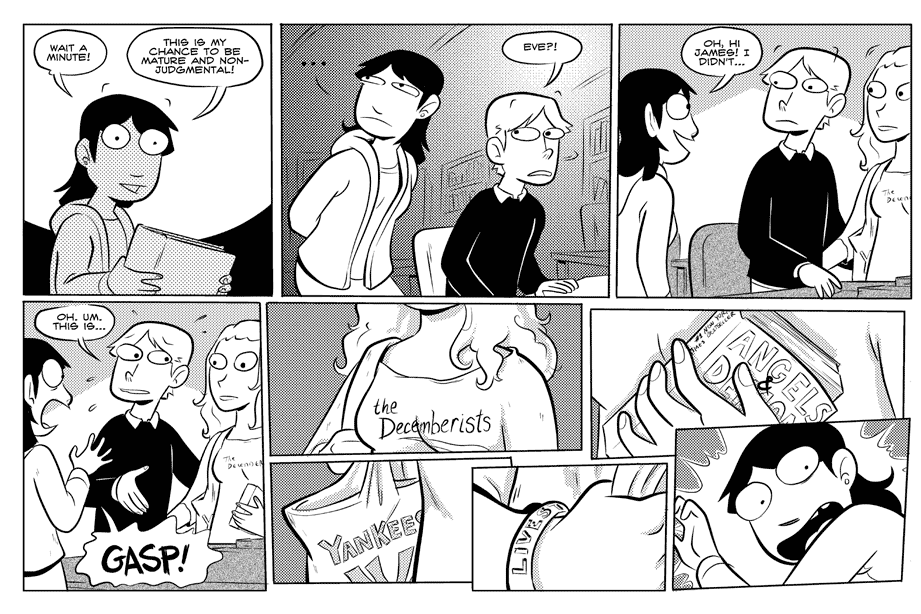 If you've already read Octopus Pie, the re-launch isn't just a chance to experience it all over again (although it is that, too). You could easily zip through the archives at your own pace if you wanted to, but the daily schedule offers a unique opportunity to watch Gran's art and storytelling change, if not quite in real time, then at least spread out over the two-and-a-half years or so it'll take to get from start to finish—ten years worth of Gran's work condensed into about a quarter of that time. The most obvious shift is the evolution of Octopus Pie's art, especially the gradual creep of color into the comic before taking the complete plunge, with help from colorist Sloane Leong and, later, a lush palette by Valerie Halla.
Halla's colors in particular are perhaps best appreciated in Octopus Pie's print volumes, but there are advantages to experiencing the comic in its web format, especially on those occasions that Gran plays with gifs or capitalizes on the limitlessness of infinite scroll that you can't get on a physical page. Those advantages include the subtle shifts in Gran's storytelling, which starts out more sitcom-y and episodic but eventually allows for long, meandering arcs that invest in the characters and let them evolve into fully realized people over time. The Eve in the comic's final strip isn't the same Eve we met on the first page, and that's a development that hits so much harder when the audience has watched her flounder, mature, and backslide over the course of years.
In June of last year, Octopus Pie finally came of age and said goodbye after a ten-year run—funnily enough, around the same time that webcomics as a whole entered their own "grownup" phase. That same month, the Library of Congress launched a brand new archive devoted exclusively to webcomics, about as respectable a recognition of an otherwise underappreciated medium as you could ask for. The Webcomics Web Archive's inaugural class holds just 40 entries, and Octopus Pie, the quintessential millennial webcomic, is rightfully among them.
If you want to follow along with Octopus Pie, you can find the first page of the re-launch here. Then, once you've caught up, bookmark this page, which Gran will update daily, and go through a quarter-life crisis with Eve and Co. all over again.