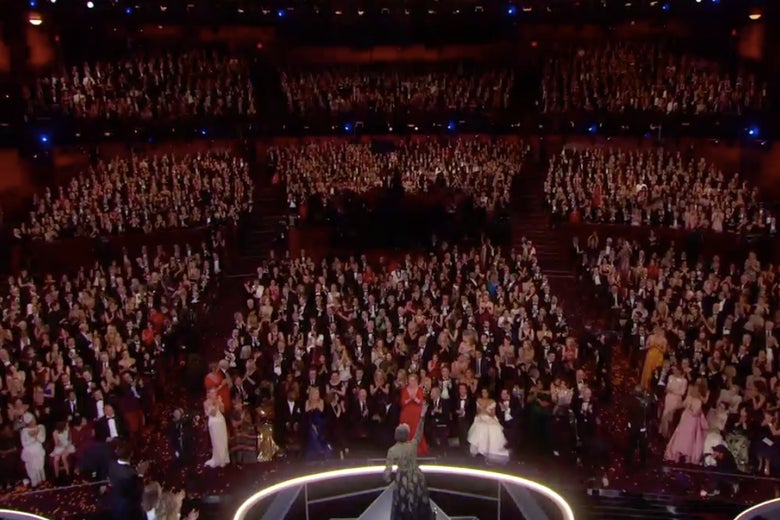 And the Oscar for Best Acceptance Speech goes to … Frances McDormand, who used her Best Actress award to recognize and champion all the nominated women in the room, most of whom did not get a chance to take the stage.
McDormand, who took home an Oscar for her role in Three Billboards Outside Ebbing, Missouri, announced at the outset of her speech that she had "some things to say." After thanking her team, McDormand put down her statue, saying she wanted to "get some perspective," and asked all the nominated women to stand with her. "Meryl, if you do it, everybody else will," she added.
The cameras panned across dozens of inspiring women who have fought to reach the top of their fields—be that in acting, directing, producing, writing, composing, editing, sound mixing, or cinematography—all in spite of a hostile industry. Meryl Streep, Saoirse Ronan, Greta Gerwig, Lesley Manville, Sally Hawkins, Octavia Spencer, Allison Janney, Laurie Metcalf, and Rachel Morrison were shown standing and applauding (and giving enthusiastic thumbs up, in Meryl's case). Sadly there wasn't time to see them all, but they were joined by: Margot Robbie, Mary J. Blige, Nora Twomey, Darla K. Anderson, Dorota Kobiela, Dana Murray, Ru Kuwahata, Dee Rees, Emily V. Gordon, Vanessa Taylor, Julie Goldman, Agnès Varda, Rosalie Varda, Joslyn Barnes, Laura Checkoway, Elaine McMillion Sheldon, Kate Davis, Rachel Shenton, Katja Benrath, Tatiana S. Riegel, Mary H. Ellis, Sarah Greenwood, Katie Spencer, Alessandra Querzola, Sarah Greenwood, Kristen Anderson-Lopez, Diane Warren, Lucy Sibbick, Jacqueline Durran, and Consolata Boyle.
"OK, look around, everybody. Look around, ladies and gentleman. Because we all have stories to tell and projects we need financed," she added, tapping an invisible wristwatch. "Invite us to talk, and we'll tell you all about them." Then she left the crowd with two words: "Inclusion rider."
---