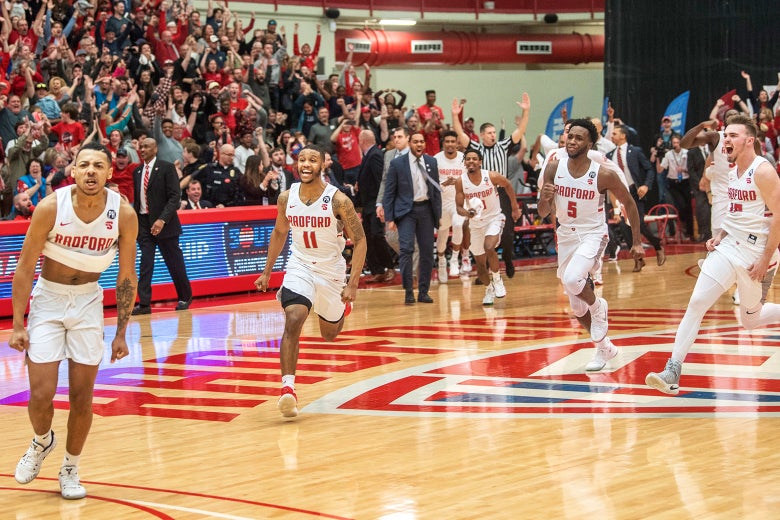 You made it to March! As a reward, watch this buzzer beater from the Big South Men's Basketball Championship between Liberty and Radford. It's a good one, with Radford's Carlik Jones draining a three to send the Highlanders to the NCAA tournament.
The end of February was cold and bleak for sports fans. Sure, the NBA creakily returned from its All-Star slumber and baseball began spring training, but without the Olympics there had been few events of any real consequence. Thankfully, those dark days are over. March has dawned, and Sunday's buzzer-beater was a blast of restorative, humid air.
Breathe it in! How about an angle from the stands?
Only in March is it acceptable to get irrationally excited about a game involving two teams you haven't watched all year. Upon checking each school's Wikipedia page, I now know that they are both located in Virginia, and, in retrospect, that information just ratchets up the thrill. I assume proximity breeds contempt? The Radford faithful will surely be rubbing this in Liberty's faces for years to come, just like I imagine they brag about their 18-to-1 student-faculty ratio and noted alumni like New River Pharmaceuticals CEO Randal J. Kirk (who is a billionaire, according to his Wikipedia page!).
I know I will.
Support our journalism
Help us continue covering the news and issues important to you—and get ad-free podcasts and bonus segments, members-only content, and other great benefits.
Join Slate Plus
Join
---