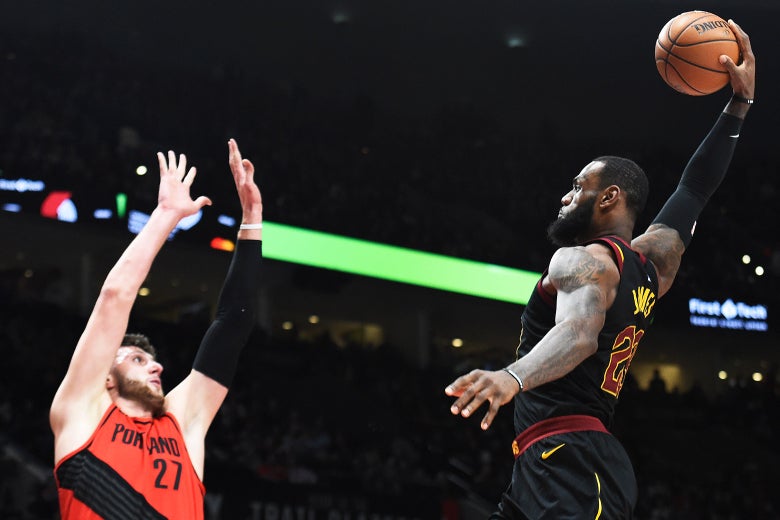 On Thursday night, LeBron James was rather mean to Jusuf Nurkić. I don't think there's a history of bad blood between James and the Portland Trailblazers' Bosnian 7-footer, but, for some reason, James felt compelled to destroy Nurkić in front of a large crowd of onlookers.
There are three things I am thankful for after watching that dunk.
1. Nurkić is physically OK.
The young center may be nursing some emotional wounds, but he managed to walk away from that dunk under his own power. He can also take solace in the fact that the Blazers actually beat the Cavaliers, 113-105, so his humiliation was not in vain.
2. The hoop is OK.
It's a testament to Arthur Ehrat and his invention, the breakaway rim. In the 1970s, Ehrat, an Illinois farmer, put the hinge and spring from a John Deere into a basketball hoop to allow for it to give. This helped prevent backboard shutterings and other accidents cause by rigid rims, and one can only imagine the extent of the damage James' dunk would have caused were it not for Mr. Ehrat.
3. LeBron's hand is OK.
This is James' 15th season in the NBA. He is 33 years old. He is at the point when most NBA players either start incorporating finesse moves that are less taxing on their aging bodies or retire from the league completely. What LeBron did to Nurkić was not a finesse move, though you could argue it had the potential to have caused an early retirement. (Not James', of course).
Could that ferocious slam have been the best of LeBron's career? That we are even asking such questions in year 15 is amazing, but it's worth examining some of his other noteworthy jams for comparison's sake.
James' Dunk Over John Lucas III
This dunk, from James' ninth season, might be more impressive than the Nurkić one because he leapt completely over, and not just through, John Lucas III. However, Lucas is not known for his defensive prowess. Rather, his defining quality was his lack of height. At 5-foot-11 (with shoes on), he was little more than a traffic cone for LeBron, making the dunk less spectacular than it might otherwise have been.
James' Dunk Over Jason Terry
This slam came during LeBron's 10th NBA season, and the 6-foot-2 Jason Terry was his victim. While not as impressive as his leap over Lucas, there's a split second where you think Terry is dead, which is a nice touch.
James' Dunk Over Paul Millsap
If you're unmoved by LeBron humiliating nativity scene-sized opponents, the above dunk, also from his 10th season, came at the expense of the larger, burlier Paul Millsap. The 6-foot-8 Millsap is a rather talented defender but, even so, James knocks him to the floor. At least Nurkić stayed upright.
There are plenty more examples, like when LeBron vaporized Damon Jones, or when he banished Delonte West to the earth's molten core. However, few can top James' dunk on Tim Duncan from his fourth season. Unlike John Lucas III or Jason Terry or even Paul Millsap, the 6-foot-11 Duncan is one of the best defenders of all time. James made him look like a drunk guy in a bouncy castle.
Picking the best dunk from a 15-year supply is a matter of opinion, and who better to weigh in than James himself? On his Instagram page, LeBron posted the video, along with his review: "Well this was ok I guess." Add it to the pile of dunks.
---