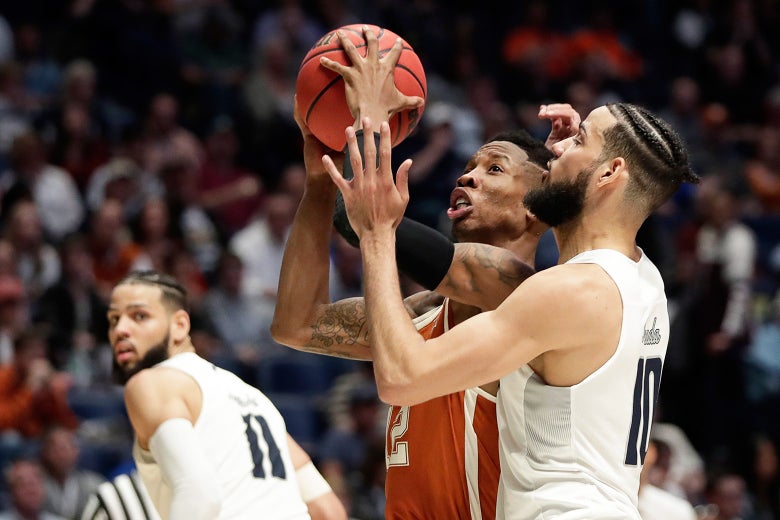 The overtime period in Friday's game between Nevada and Texas featured some of the best basketball of this year's NCAA Tournament. The teams scored a combined 34 points, and when the back-and-forth exchange of buckets eventually came to an end, the score had swayed in Nevada's favor. The Wolf Pack won 87-83, and the game was so exciting that Nevada coach Eric Musselman couldn't resist delivering a profane post-game speech that may have ended with him screaming, "The Aristocrats!" (The feed cut off before he could get there.)
It was all rather mad, even for a tournament that bills itself as such, and, to make matters more confusing, much of the late-game action went through Nevada's twin stars, Caleb and Cody Martin. Just look at the following sequence of Wolf Pack overtime possessions, as transcribed by ESPN:
4:19: Cody Martin made Layup.

3:35: Caleb Martin made Three Point Jumper. Assisted by Cody Martin.

3:13: Foul on Cody Martin.

2:58: Jordan Caroline made Dunk. [He is not one of the twins, FYI.]

2:34: Caleb Martin Defensive Rebound.

2:29: Caleb Martin made Three Point Jumper.

1:38: Caleb Martin made Three Point Jumper.

0:54: Cody Martin made Layup. Assisted by Caleb Martin.

0:46: Foul on Cody Martin.
Are we sure they got all those right? Will we ever know?
Before landing at Nevada, the Martins played at North Carolina State, where they appear to have teamed up to hit Grayson Allen in the face. Nice work, twins.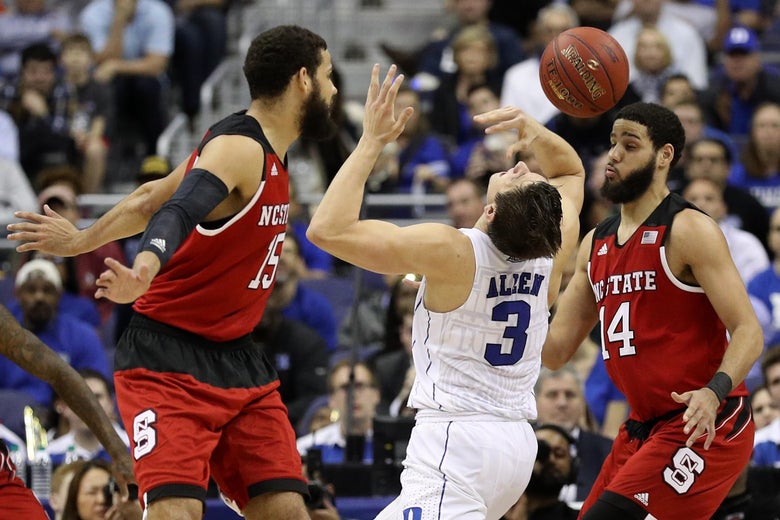 When the Martins took the court for the Wolf Pack this season, they transformed their team into a force. They were born a minute apart, which is referenced in their sequential jersey numbers. Cody, the older twin, wears 11, while the younger Caleb sports 10. (At N.C. State, they were 15 and 14 respectively.) According to a profile in the Reno Gazette Journal, "Caleb has pierced ears. Cody has a little birthmark under his eye. Caleb has a narrow face. Cody's is more round. If you look closely, you notice different tattoos."
For me at least, it was rather difficult to keep track of the Martins' birthmarks and face-roundness in the heat of the overtime action. While previous basketball twins like Brook and Robin Lopez had different haircuts, the Martins have identical hairstyles and beards. And while Horace and Harvey Grant rocked different-colored Rec-Specs, the Martins are totally eyewear-free.
When the Wolf Pack takes on Cincinnati, the Martins will be the players to watch. Here are some tips on how to keep track of Caleb and Cody.
1. If a twin scores, it's probably Caleb.
Caleb is the offensive dynamo of the two. He averaged 19.1 points for Nevada this season, and he scored three straight 3-pointers during overtime in the win against Texas.
Cody, who averaged 13.6 points, is "pass first," according to his brother.
2. If a twin rebounds, it's probably Cody.
Cody only averages one more rebound a game than his brother, though, so you might want to check the jersey number before updating your scorecard.
3. Cody wears a shooting sleeve.
But keep in mind that if he gave it to Caleb, you wouldn't be able to tell the difference.
4. If just one Martin twin is on the floor, it's probably Cody.
Cody plays, on average, two more minutes per game than his brother. However, Caleb played 43 minutes against Texas while Cody only clocked 42, so the system is flawed. In the event that only one Martin is in the game and you are unsure as to which one it is, please refer to the other guidelines posted here and use your best judgment.
5. Their high school basketball awards are different, should they be carrying those trophies around.
Caleb won the 2014 Oak Hill 3-point shooting award, while Cody was the team MVP.
If all these fail, just shout "CODY!!!" in the direction of your television. If he doesn't turn around, continue screaming until he does or until someone named Cody comes over to say hello. Worst case, you'll have made a new friend. Good luck!
---